Like It or Not, Hollywood Is Recognizing Females Matter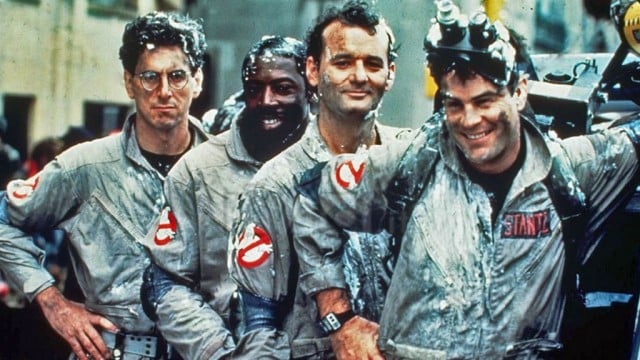 Bridesmaids director Paul Feig is now the frontrunner to direct the long-discussed Ghostbusters 3, which he's pitched as a female-fronted comedy, and which would have a new generation of female Ghostbusters doing the job done by Dan Aykroyd, Bill Murray, and Rick Moranis in the 1984 classic.
The Hollywood Reporter got the inside scoop, saying very tentatively that Sony is close to finding a director for the third Ghostbusters movie, and Feig is the studio's favorite. The director himself has shown interest in taking on the project, but the publication cautioned that "no formal negotiations have taken place and a lot must be worked out before the casual discussions turn serious and Feig accepts the job."
Feig is known for his female-fronted comedies, such as Bridesmaids and The Heat. The Internet is already abuzz, wondering which powerhouse female comedians Feig will get on board to bust ghosts in the film. Some names thrown out for the possible starring roles include Tina Fey, Amy Poehler, Sandra Bullock, Melissa McCarthy, Amy Schumer, and Wanda Sykes.
Predictably, there are already some haters. A third Ghostbusters movie is arguably unnecessary, and there have been the usual grumblings about how we live in an age of endless remakes and sequels, when it's rare an original idea makes it to a movie screen. Ghostbusters is a beloved film, and any changes are going to be met with skepticism from fans.
Bill Murray has already said he doesn't want to return to the franchise and original cast member Harold Remis passed away earlier this year, meaning a movie in which the old gang is back together would be impossible. Furthermore, some are not happy about the idea of ghosts being busted by women, whose chromosomal difference seems — to some — to make them ill-equipped for the tasks necessary to properly bust a ghost.
Deadline writer Mike Fleming Jr. was forced to recognize that recent movies like those in The Hunger Games franchise and even July's box office winner, Lucy, show that women can go to the movies and choose which picture to see, but even the small successes that women have made in leading roles recently has led him to feel as though the girls are just taking everything away from men. "What's next, a Goodfellas redo with female mobsters pulling off the Lufthansa heist? A Raging Bull redo with Rhonda Rousey? Brian's Song, set in the WNBA? Animal House at a sorority?" Fleming asks.
Another Deadline writer cautioned that the female-fronted Ghostbusters 3 could turn out like the unfunny Odd Couple with Sally Struthers and Rita Moreno, while blowing off all the successful female interpretations of male characters in Shakespeare in one sentence. So as long as Feig, who has successfully directed some of the funniest women in the business, doesn't make the mistakes of the rare exception that was Odd Couple, he should be fine. Of course, that ought to go without saying.
There was similar backlash when Marvel recently decided to make Thor, the god of thunder, into a woman. But there is a female audience out there that film studios are still criticized for not adequately tapping into. Last year, The Hunger Games: Catching Fire and Frozen were the first and third top-grossing movies domestically, respectively, and both are led by female characters. Just this July , the Scarlett Johansson-led action film Lucy went up against the Rock's Hercules at the box office and won, making $44 million during the opening weekend while Hercules limped into second place with $29 million.
If Fleming feels threatened by the idea of women taking over Hollywood now, it'd be scary to see what kind of misogyny-spewing goes into his editorials once there is actually some semblance of equality. A study released earlier this year by Martha M. Lauzen of the Center for the Study of Women in Television and Film at San Diego State University titled "It's a Man's (Celluloid) World" found that women only made up 15 percent of protagonists, 29 percent of major characters, and 30 percent of speaking roles in the top 100 grossing films domestically in 2013.
The study also found that the numbers haven't changed much since over a decade ago: In 2002, only 16 percent of protagonists in the top 100 grossing films domestically were female. "Overall, we have seen little movement in the numbers of female protagonists and females as speaking characters over the last decade," said Lauzen in a statement to The Hollywood Reporter.
When Cate Blanchett accepted her Oscar earlier this year for her role in Woody Allen's Blue Jasmine, the actress said in her acceptance speech: "Those of us in the industry who are still foolishly clinging to the idea that female films with women at the center are niche experiences: They are not. Audiences want to see them, and in fact they earn money." That money is the key to getting Hollywood to represent the female experience on film. If it doesn't pay off, studios won't do it.
A study based on what's known by film feminists at the Bechdel test has shown there's truth behind Blanchett's assertions. Hollywood might not be making films about women, laboring under the belief that those movies don't make money, but when movies about women do get made, they actually show a strong return on investment. FiveThirtyEight performed a study looking at the return on movies that pass the Bechdel test, three rules requiring that the film 1. has at least two named female characters; 2. those characters talk to each other; and 3. that conversation isn't about a man.
That study analyzed 1,615 movies between 1990 and 2013, and found that films passing the Bechdel test actually showed a stronger return on investment than movies that didn't, both domestically and internationally.
It looks like perhaps Sony has gotten the message. With all the effort the studio has put into getting a third Ghostbusters made — directors have dropped out and it's been 25 years since the second installment — Sony knows that the beloved franchise is a cash cow. The studio wouldn't risk all that money by putting women in lead roles if doing so was going to screw up making it profit.
Ghostbusters isn't the only male-dominated franchise that's being retooled to include a female experience and encourage women to come to the theaters. The kitschy, super-macho action franchise The Expendables is also getting an all-female spinoff titled The Expendabelles, producer Avi Lerner told The Hollywood Reporter at a screening of the third Expendables film.
The premise of the original Expendables was to feature older male action stars, including Sylvester Stallone. Stallone told the publication that Sigourney Weaver is the only actress who has been discussed to star in the spinoff thus far, and it would certainly be refreshing to see other actresses of Weaver's age and caliber in an ensemble cast.
Before you go thinking that Fleming's idea of every major movie ever made being redone with female leads is becoming a reality, keep in mind that only 15 percent of the top 100 grossing movies made last year had female protagonists. There's a very long way to go before men will ever feel as excluded as women do at the movie theater, even though movies with female characters have been proven to make money.
Despite some backlash from self-identified "film chauvinists," plenty of people will look forward to seeing Tina Fey or Melissa McCarthy ghost hunting and experiencing more female ensemble comedy of the type Feig produced with Bridesmaids. And Sony is looking forward to getting its money at the box office.
More from Entertainment Cheat Sheet:
Follow Jacqueline on Twitter @Jacqui_WSCS
Want more great content like this? Sign up here to receive the best of Cheat Sheet delivered daily. No spam; just tailored content straight to your inbox.