How Old Is Lil Durk and Is the Chicago Rapper Married With Children?
Chicago rapper Lil Durk became successful after releasing several mixtapes. What is the rapper's age, and does he have a wife? Keep reading to find out!
Rapper Lil Durk is the leader of his collective, Only the Family, and has consistently dropped music after finding success on MySpace. Known for his melodic and kicked-back rhymes, he has frequently collaborated with several fellow Chicago rappers and eventually signed to Def Jam Records.
Durk decided to pursue music full-time after becoming a father while a senior in high school. Now a six-time father, how old is the Chicago rapper, and who is his wife? Keep reading to find out!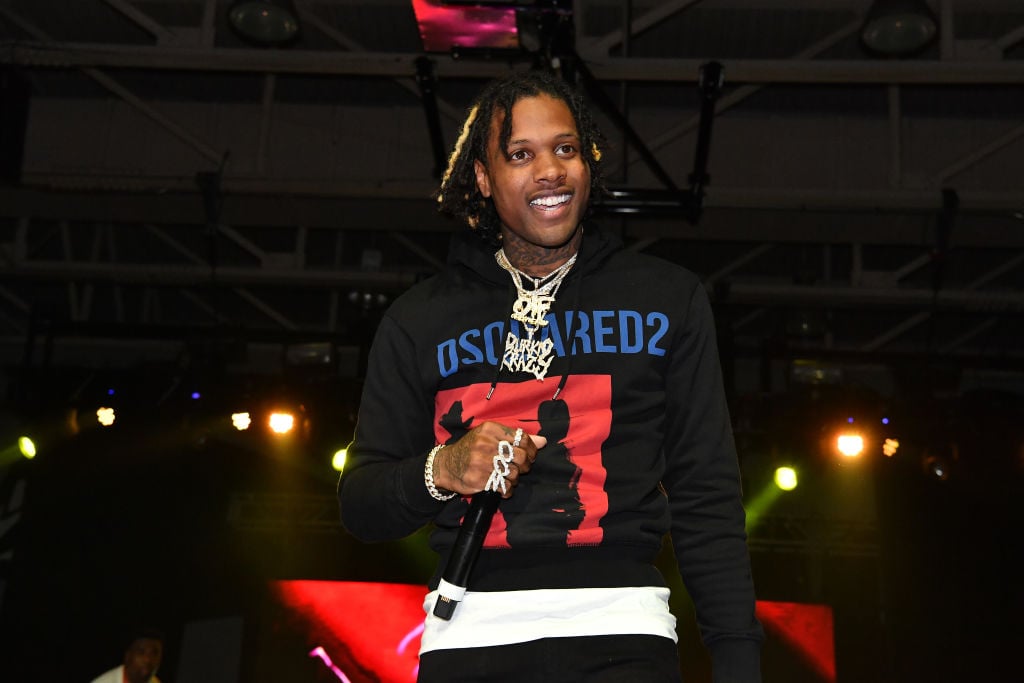 Lil Durk's age and background
Born October 19, 1992, in South Side Chicago, Illinois, Durk D. Banks is currently 26-years-old. His father went to jail when he was 7-years-old, and he had to become the man of the house at a young age. He's opened up about his upbringing and times when there wasn't enough food in his home.
Banks began to be very active on social media, including MySpace and YouTube and wanted to become a rapper after seeing his online popularity. He began to pursue music full-time after dropping out of high school when he became a father at 17-years-old.
Banks then joined the Black Disciples gang and started getting into legal trouble as a result. In October 2011, he faced gun charges and, two years later, got arrested for possession of a loaded handgun. In 2011, he planned to sign with Chicago rapper Chief Keef's label and French Montana's.
However, both deals fell through, so he released two singles which garnered positive feedback. Banks then made a splash in the rap industry with his 2012 mixtape, Life Ain't No Joke.
Lil Durk's music career
After his mixtape, Banks released the single "L's Anthem," and then re-released it with French Montana on the remix in 2013. The popularity of the track resulted in his collective, Only the Family, signing a joint venture deal with Def Jam Recordings.
He then released another mixtape, Signed to the Streets, which Rolling Stone called the eighth-best mixtape of 2013. That same year, magazine XXL named him to their 2014 Freshmen Class alongside Chance the Rapper, Rich Homie Quan, Kevin Gates, and more.
In June 2015, Bank released his debut album on Def Jam, Remember My Name, which peaked at number fourteen on the U.S. Billboard 200 charts. His 2015 single with rumored then-girlfriend, Dej Loaf, "My Beyonce," went on to become certified gold for selling over 500,000 copies.
The Chicago rapper dropped his sophomore album, Lil Durk 2X, in July 2016. However, it did not perform as well as his first. He has since released his 12th mixtape and other collaborative projects. Last year's Just Cause Y'all Waited became Banks' first non-album project to chart on Billboard, peaking at number 22 on the Rap Albums chart.
The rapper has also parted ways with Def Jam and is now signed to Alamo Records & Interscope Records.
Lil Durk's wife and kids
The rapper and Nicole Covone first began dating in 2008. They then welcomed their first child into the world, Angelo Banks in 2011. Two years later, the couple had another child, Bella, before breaking up shortly afterward. Banks fathered another child, Zayden Banks, who was born a few months after Bella, however, his mother is unknown.
He revealed a fourth child, Du'mier Banks, in 2014, and a fifth, Skyler Banks, but their mothers are also not public. After dating girlfriend India Royale for a while, he proposed to her in September 2018, and she welcomed their first child together, Willow Banks, the following month. The pair secretly wed in a private ceremony.