Lin-Manuel Miranda and 'Hamilton' Are Now 'Canon' In Both Marvel and Star Wars
There isn't any denying Lin-Manuel Miranda is one of the greatest American creative forces of the 2010s, something that's earned him the badge to show up in cameos for other big pop culture events. Those who paid attention to some of the creative details in the new Star Wars trilogy will know Miranda wrote some music for The Force Awakens. While just a song for the cantina scene, it put Miranda on the Star Wars map, something he might repeat as a cameo in The Rise of Skywalker.
Not many know Miranda is also "officially" canon in the world of Marvel. Someone on social media recently posted an image of a Spider-Man comic book referencing Miranda's Broadway smash Hamilton.
This isn't necessarily surprising considering the musical's major influence. Now it spurs wonder if Miranda will even end up in an MCU movie eventually.
Will Miranda become canon in 'Star Wars'?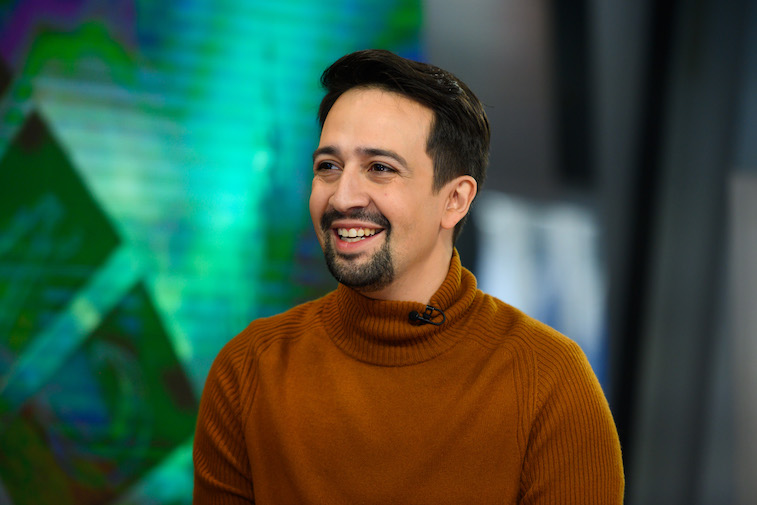 The rumors have already begun about Miranda having a cameo in The Rise of Skywalker after former found himself visiting the set in Wales not long ago. He and J.J. Abrams had become good friends after Miranda stepped in last-minute to write that song for the cantina scene in TFA after John Williams bowed out.
A cameo would be a major reward, if maybe ending up on the cutting room floor. Abrams still went to the trouble of putting Miranda in Star Wars garb, which made everyone assume a cameo was inevitable, despite Miranda saying otherwise.
Should he be in the film, who would he play? There obviously can't be a reference to someone named "Lin-Manuel Miranda" without having a direct connection to the earth and our own pop culture. Then again, many would no doubt find it a blast to have Star Wars characters acknowledging earth exists and our own notable people.
Most likely, such a thing will never happen in anything official. Unless Miranda plays someone similar to his real persona who happens to create an influential musical on his home planet.
He truly exists in the Marvel comic book universe
Author of Star Wars novels, Delilah S. Dawson, recently posted a pic on Instagram of a Spider-Man comic book showing the characters referencing a famous line from Hamilton. In the scene, it shows the characters saying "That's the bodega where it happened", followed by the other Spider-Man saying "Don't get Hamilton stuck in my head."
As a result, Miranda's musical is now an official part of Marvel comics. Whether this means he and the musical are canon in the MCU is another thing. Only those at Marvel would ever confirm such a thing if they happen to be in contact with Miranda about a cameo in a future MCU movie.
Would that make sense, or would it just be a forced cameo for such a ubiquitous pop culture hero? In many ways, Lin-Manuel Miranda is a real superhero for somehow creating a compelling musical about U.S. history and having it likely go on forever.
In the chance he does show up in an MCU movie as well, he may become the true pop culture nomad who seems to show up in virtually everything. His performance in Mary Poppins Returns last year already placed him in one of the most influential Disney classics of all time. This Disney connection makes the Star Wars and Marvel connections all the easier.
How many more things will Miranda cameo in?
It's reached the point where Lin-Manuel Miranda is in virtually everything, something easily leading to a burnout if it wasn't that he's always entertaining.
There isn't any evidence he'll be in an MCU movie (yet). He'll be ubiquitous enough again considering he's already appearing in HBO's His Dark Materials, plus producing/acting in a 2020 movie adaptation of his prior Broadway hit Into the Heights.
Miranda clearly isn't boxing himself in at Disney where his canonical appearances in two of the biggest franchises of all time places him next to Tom Hanks and Meryl Streep for busiest pop culture figures of the 21st century.