Lin-Manuel Miranda on 'Brooklyn Nine-Nine': Will He Return in Season 7?
It's a big day, Brooklyn Nine-Nine fans — Lin-Manuel Miranda guest stars on tonight's episode and, as a bonus, Miranda has made a triumphant return to Twitter. Extra-extra bonus: Miranda will be live tweeting his Brooklyn Nine-Nine episode. Noice.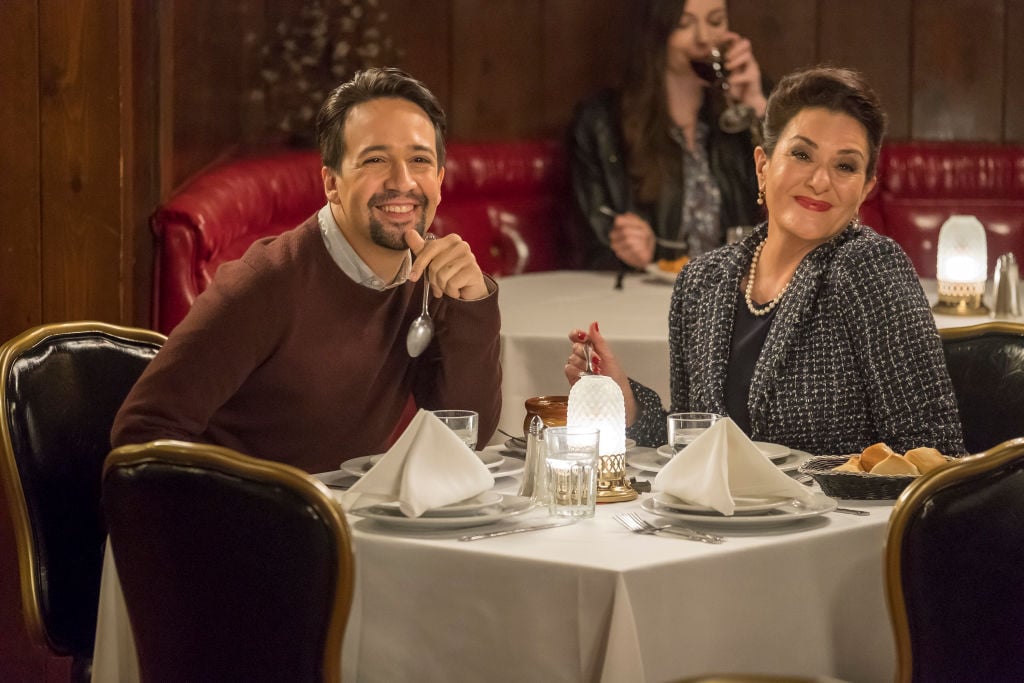 Who does Lin-Manuel Miranda play on Brooklyn Nine-Nine?
In a stroke of casting genius, Miranda steps in to play Amy Santiago's brother David. The dynamic between the two is amazing, as the sibling rivalry is all too real and gives a bit more context into why Amy is such a perfectionist.
Melissa Fumero, who plays Amy, told TVLine: "I think the audience will have a lot of moments throughout the episode where they go, 'Oh, that's the reason why Amy is the way that she is. To say they have a strong sibling rivalry is putting it lightly."
TVLine shared an exclusive clip of Miranda in action, as Fumero explained: "It's the first time [Jake] has ever really had to 'husband up' and figure out his role in the crazy Santiago family. He has some husband moments that I think the Peraltiago fans will go nuts over."
Miranda played a huge role in saving Brooklyn Nine-Nine after it was canceled
Remember when Brooklyn Nine-Nine was canceled and Miranda made it known that this was just not okay, especially since it was one of the few shows he watches? That bit of social media commentary (as well as that from some other famous faces, who were later dubbed the Guardians of the 99) played a big part in NBC saving Brooklyn Nine-Nine. It was only fair that they bring Miranda on board to guest star, after all.
Fumero chatted about how Manuel's guest star gig played out, noting: "It was so amazing and so surreal to have Lin on the show after so many years. He was geeking out the whole time, so excited to be there and making up songs about how he was on his favorite show. We were all like, 'This is so weird. You're a genius and you're so gracious to be here.' He's the loveliest."
Will Lin-Manuel Miranda return to Brooklyn Nine-Nine?
Fans of Brooklyn Nine-Nine and Miranda are already wondering if he'll be making another appearance on the show as Amy's brother.
While nothing has been announced yet, Fumero is firmly on board with Miranda coming back and even has an idea for the perfect way for the star to return — during a Jake and Amy Thanksgiving episode that would feature all of her brothers. She explained: "We've literally tried to do that story a few times."
The Hamilton star is back on Twitter
Understandably, Miranda took a bit of a break from Twitter after being such an active user for so long, which left a Lin-sized hole in everyone's hearts. Now he's back and let's just say it — better than ever — digging up some old gems to share with his fans, such as his first-ever headshot that is pretty dang adorable.
He captioned the photo: "My first headshot. I'm SHOCKED I didn't get more work out of college, SHOCKED I say."