Lindsay Lohan Admits Her Return to the Spotlight Has Been Difficult
Lindsay Lohan busted onto the Hollywood scene as a child. Freckle-faced and bright-eyed, the then-tween endeared herself to the masses, but as she grew into a young adult coverage of the starlet quickly changed direction. A decade of breathless tabloid stories covered everything from her parents' acrimonious separation to her personal preferences for drugs and sexual exploits, culminating in complete radio silence.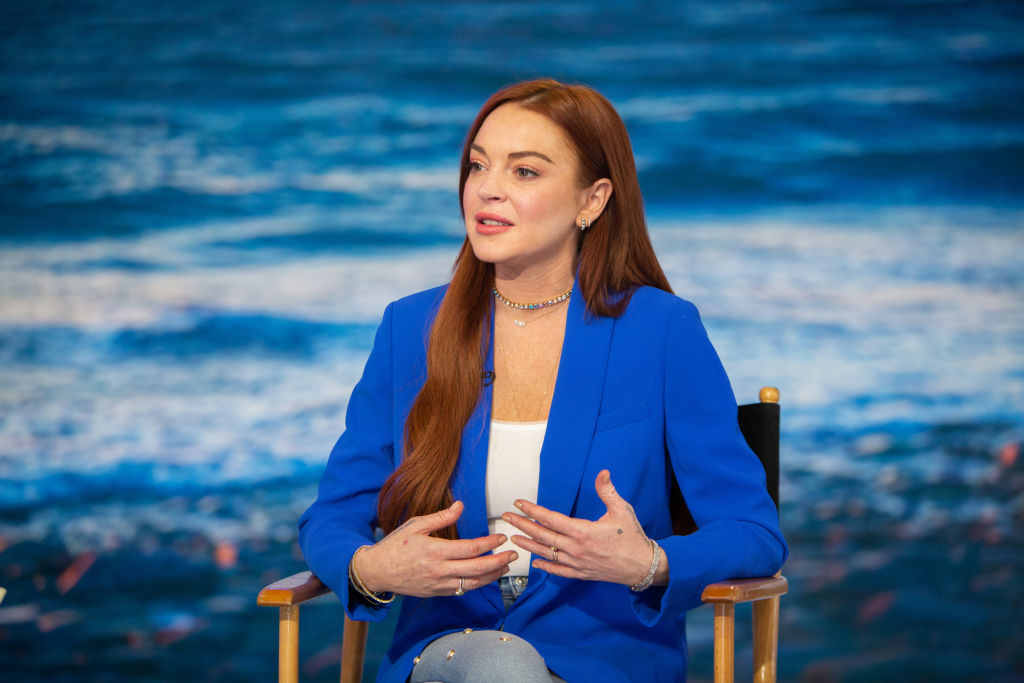 Lohan disappeared, and her name quickly fell from the mainstream vernacular. The former party girl is back, though, but not in the same capacity. In her 30s and living abroad, Lohan is just now building her own personal brand far from the Hollywood Hills. While MTV's coverage of her newest business venture surely helped propel the club's popularity, stepping back into the stoplight was not comfortable for the beachfront babe.
Lohan had a hard time stepping back in front of the camera
Lohan paired with MTV to air a docuseries about her beach club in Greece, but while she was psyched about the project, Lohan admitted that it wasn't always easy. In fact, she found the transition back into the spotlight a difficult one, according to People.
After all, Lohan, now 34, purposefully removed herself from the spotlight. Her move to Dubai was a calculated one. Dubai keeps photography to a minimum, ensuring her famous face stays relatively anonymous in the crowded streets. She picked business ventures far from American soil to ensure her past lifestyle didn't color patrons' view of her establishment.
Stepping back in front of the world was a calculated risk, too, and one that seems to have paid off big. The beach club seems like a successful venture, and now Lohan has her eyes set on purchasing an island in Dubai. The former Hollywood bad girl is dedicated to making it big in the business world, and she seems to be doing just fine.
Lohan admits that she doesn't keep up with U.S. News
Lohan has no plans on leaving the anonymity of Dubai to return stateside. In fact, the former starlet admitted that she doesn't follow much U.S news anymore, according to an interview with The New York Times.
That is probably a good thing. The starlet has a somewhat sordid history with President Donald Trump. Trump once mused that Lohan's "disaster" of father would surely enhance her bedroom techniques, according to Newsweek. Lohan was just 18 when the comments were made, but more than a decade later, she seems perfectly fine with being out of the loop.
Was Lindsay Lohan forced out of Hollywood?
Whether Lohan voluntarily stepped away from Hollywood or was forced out due to her personal issues is up for debate. Fans of the star truly believe that Lohan wanted to walk away from acting and take her life in a different direction, while naysayers insist the famed party girl simply could no longer get work due to her poor behavior both on and off the set.
Either way, Lohan has carved out an entirely new life for herself. Ensconced in the solitude of Dubai, Lohan was able to clarify her mind and, it seems, for the first time in decades began to make sound decisions. Gone are the wild antics and booze-infused evenings. Lohan, now, is focused almost entirely on the business side of her life, and she's achieved great success. Currently operating a beach club in Mykonos, Lohan appears to have found peace, but her tepid return to television, she admits, wasn't easy for her.