What Is Lionel Messi's Net Worth?
Professional soccer star Lionel Messi is arguably the best player in the world. And with that kind of skill comes plenty of money. Messi may be a professional athlete, but his endorsement deals have earned him a pretty penny, too. How much is the soccer icon worth?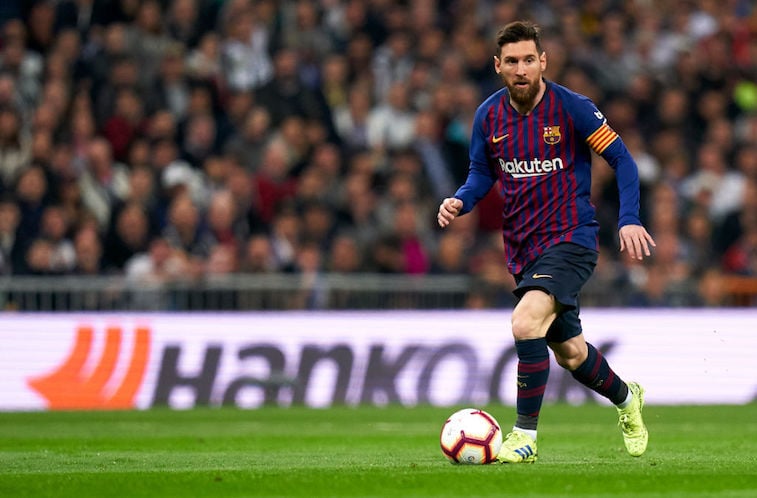 Lionel Messi makes $84 million annually to play for FC Barcelona
Messi currently plays for FC Barcelona, and his goal-scoring capabilities have made him the highest paid professional soccer player in the world. He currently makes around $84 million per year to play for the team. Messi originally hails from Argentina, which is why you may have seen him play for Argentina in the FIFA World Cup. He moved to Barcelona to play soccer when he was 13 and made his debut with FC Barcelona at the young age of 16. He has since continued to tear up the soccer field and holds more than 10 records in the sport — and he's only 31.
He has endorsements worth an estimated $27 million
Messi took home $27 million in endorsement deals in 2017. He currently has a lifetime deal with Adidas worth an estimated $12 million per year. He's also worked with Gatorade, Pepsi, and multiple Chinese companies on several other deals. (He's also opening his own Chinese theme park in 2020.) According to money.com, Messi's social media endorsement deal with Adidas reportedly earned the company $53.5 million in 2016, averaging to around $3.6 million earned per post.
Today, he's worth an estimated $400 million
Messi is one of the wealthiest soccer players in the world with an estimated net worth of $400 million. He was the world's second-highest-paid athlete in 2018, earning $111 million before taxes that year. (The only person to beat him was Floyd Mayweather, who earned $285 million from his fight with Conor McGregor.) However, Messi's earnings have gotten him in trouble in the past. In 2016, he was found guilty of tax fraud based on money he'd earned between 2007 and 2009. Rather than go to prison, Messi voluntarily paid a $288,000 fine. He said of the lawsuit that all he did was play football and trusted those around him to take care of his earnings, remaining confident that he had nothing to do with the crime itself.
He spends his money on cars, soccer fields, and charity
Messi's massive net worth means he's free to spend money on pretty much whatever he wants. And with that, he's developed a love for luxurious cars. Money.com reported that Messi owns several luxury sports cars, including a Ferrari, Maserati, and Audir8 Spyder. Messi reportedly purchased a 1957 Ferrari 335 Sport Spider Scaglietti for a rumored $37 million at auction, making it the most expensive car purchase ever. He currently lives in a mansion outside of Barcelona with his wife and three children. The mansion includes a custom-built soccer field, because why wouldn't it? He also formed the Lionel Messi Foundation back in 2007, which is a charity that helps vulnerable children around the world.
Check out The Cheat Sheet on Facebook!