Lisa Rinna And Teddi Mellencamp Fired For Season 10 Of 'RHOBH'?
Lisa Rinna and Teddi Mellencamp may be getting the boot from the Real Housewives of Beverly Hills following a lackluster season. Inside sources claim that Bravo is thinking about making some casting changes for Season 10, and that Rinna and Mellencamp are the most at risk of losing their spots. With their futures uncertain, the RHOBH stars might be replaced by some familiar faces.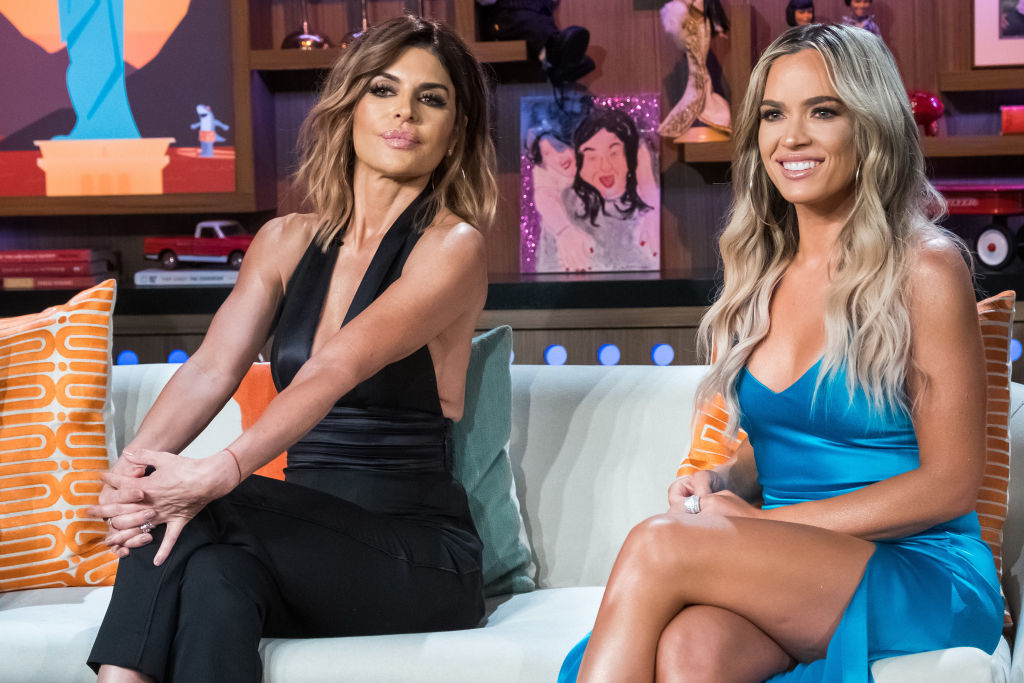 Rinna and Mellencamp on the chopping block
Sources say that producers are unhappy with how things are going in Season 9 of RHOBH and are looking to spice things up with some new cast members. Bravo is reportedly uncertain if Lisa Rinna wants to return at all and is thinking about demoting Teddi Mellencamp to friend status.
There is also the possibility that Mellencamp loses her spot entirely. If that happens, then producers want Camille Grammer to step up and fill the vacancy.
According to All About The Real Housewives, Bravo execs are unhappy with Mellencamp's performance this season and do not believe she is connecting with viewers. The biggest problem with Mellencamp is that she has been playing the part of the protagonist, which can easily bore fans if it is not handled properly.
Between Mellencamp's poor outing and Rinna's uncertain future, producers have no choice but to shake things up in Season 10.
"Playing the protagonist gets tiring to watch after a while," a source revealed. "Casting is no longer a problem for RHOBH."
Will Lisa Rinna call it quits after Season 9 of 'RHOBH'?
The insider noted that Rinna's future is under question because of her recent behavior on social media. Bravo used to be fairly lenient when it came to feuds spilling out online, but their stance has changed over the years.
In light of recent developments, the network is reportedly exploring ways to deal with social media. This could be bad news for Rinna and might very well lead to her exit after this season.
Lisa Rinna has responded to the exit rumors, though she did not confirm or deny them. Instead, the RHOBH star admitted that her future on the show is uncertain – which does not bode well for Season 10.
Teddi Mellencamp, on the other hand, has not said anything about returning next season. Bravo will not start casting for a few more months, so it might be a while before we get any official news on the matter.
'RHOBH' cast reacts to Lisa Vanderpump's absence
While casting for Season 10 remains up in the air, RHOBH cast members recently opened up about Lisa Vanderpump's departure. Vanderpump left the series half-way through Season 9 amid a dog adoption controversy with Dorit Kemsley.
The Vanderpump Rules star also failed to show up for the reunion filming, which pretty much dooms her for Season 10.
In response to Vanderpump's exit, Rinna dished on all the questions she would have asked Vanderpump during the reunion. For the most part, Lisa Rinna wanted to know why Vanderpump chose to stop filming and why she referred to everyone as a bunch of bullies. After all, Vanderpump was not around for the last eight months of production and has not interacted with her co-stars for quite some time.
Vanderpump, of course, has not commented on the situation.
Will Vanderpump return for Season 10?
After missing out on the reunion, Vanderpump confirmed that she will not be back for Season 10 of RHOBH. Some of her co-stars, however, believe that Vanderpump will change her mind after the dust settles.
In a recent interview, Teddi Mellencamp admitted that she never thought Vanderpump would call it quits because of drama on the show. She also thinks that Vanderpump will be back in action once she has time to cool down.
While Vanderpump may not be back in Season 10 of RHOBH, she will be appearing on a few new projects on Bravo. The reality star is reportedly working on several spin-offs for the network and will still appear on her own series, Vanderpump Rules.
Exactly when these new shows will appear on Bravo is anyone's guess. Despite all of the casting rumors, Bravo has not commented on who will be back in Season 10.
New episodes of the Real Housewives of Beverly Hills air Tuesday nights on Bravo.