Lisa Rinna from 'RHOBH' Celebrates Anniversary As Cheating Rumor Resurfaces
Lisa Rinna from The Real Housewives of Beverly Hills and her husband, actor Harry Hamlin celebrated 22 years of marriage. Rinna posted a sweet wedding photo to her Instagram with the caption, "22 years Baby."
The couple appears to be as madly in love with each other today as they were when they wed. Both have discussed what keeps the fire burning in their marriage as they will soon become empty nesters. Their young daughters are tearing up the runway and have embarked upon successful modeling careers.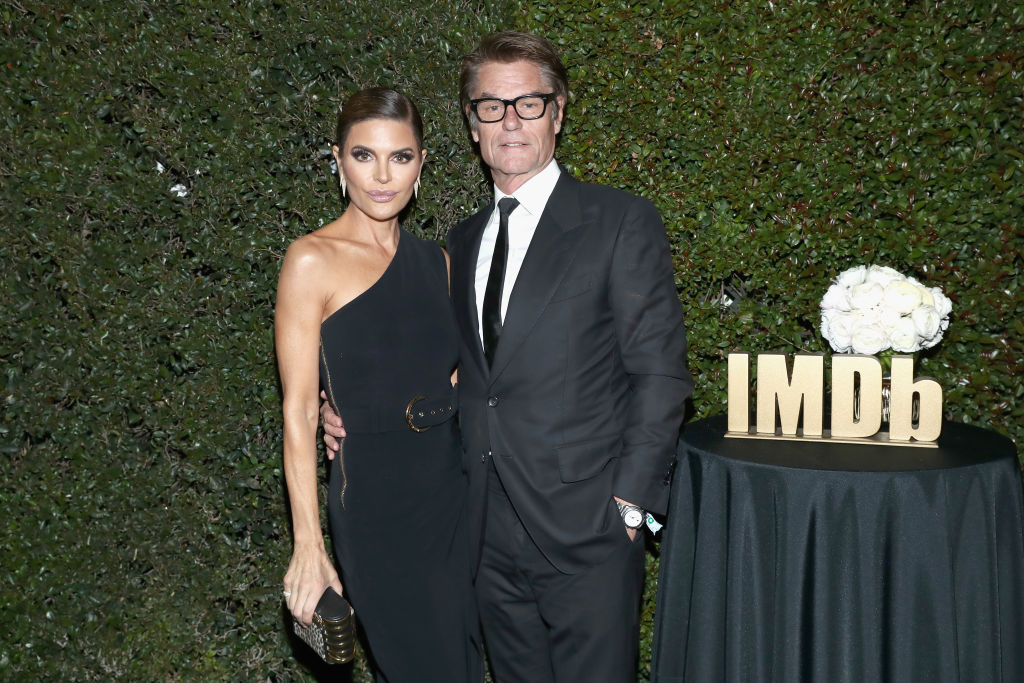 While Rinna and Hamlin seem to have it all, the couple continues to dodge a crazy rumor that resurfaced on a day that should have been solely for celebrating their love.
The couple has an interesting story
Rinna and Hamlin had a chance encounter meeting back in 1992. Rinna was working at an eyeglass store and Hamlin was meeting the store owner for dinner. Of course, there's the wild Michael Bolton story too.
During a recent episode of RHOBH, Rinna dished about how Hamlin was originally married to actress Nicollette Sheridan. Apparently, Sheridan hit a Michael Bolton concert while still married to Hamlin and hooked up with Bolton, which ultimately ended their marriage.
Although the divorce occurred decades ago, Rinna, Sheridan and Hamlin got into a Twitter tango over what exactly happened. Sheridan insisted Rinna was spouting "fake news" and Hamlin and Rinna shot back.
The couple celebrated in style
Rinna posted to her Instagram story some amazing video where she is interacting with a gorgeous whale. She gets so close she touches the magnificent creature. Of course, she and the other whale watchers get covered in water, but she seems delighted.
The couple also hopped a private plane and Rinna posted about being in a sprinter with "normal people." The couple was taxing from their jet to the terminal and Rinna joked about traveling without Real Housewives in tow. "I'm always in a sprinter with a housewife group," she explains. "Usually we have cameras…this is really exciting."
But then this rumor surfaced
Hamlin and Rinna should have just been gazing into each other eyes instead of hitting social media. But Rinna took to Twitter as the sun set on their anniversary. Apparently an old rumor resurfaced that Rinna felt the need to address.
A fan posted a thread addressing a rumored affair between Hamlin and Bruce Springsteen's ex-wife, Julianne Phillips. Rinna insists the affair never happened. Phillips also refuted the affair in the thread from an unverified account. "To everyone still perpetuating the Rinna/HH/Julianne Phillips rumor, here's Julianne sharing the TRUTH again," Rinna wrote.
But it didn't end there. Rinna went back on Twitter to address the rumor two more times. "Julianne Phillips did nothing leave her alone," she wrote. And added, "You all can come at me for whatever you want I don't care Julianne and Harry need to be left alone they did nothing." Of course, comments flooded in ranging from support to a number of people slamming Rinna. So much for a quiet evening with Harry.
Check out The Cheat Sheet on Facebook!