Lisa Vanderpump From 'RHOBH' and Miley Cyrus Go to the Dogs at Tom Tom
Lisa Vanderpump from The Real Housewives of Beverly Hills and Miley Cyrus just took gastropub, Tom Tom into an entirely new stratosphere.
The glittery celebrities recently partied at the hottest spot in West Hollywood and called plenty of attention to themselves. Tom Tom quickly became a "must visit" for tourists and celebrities and last night's display highlights why this is the place to be.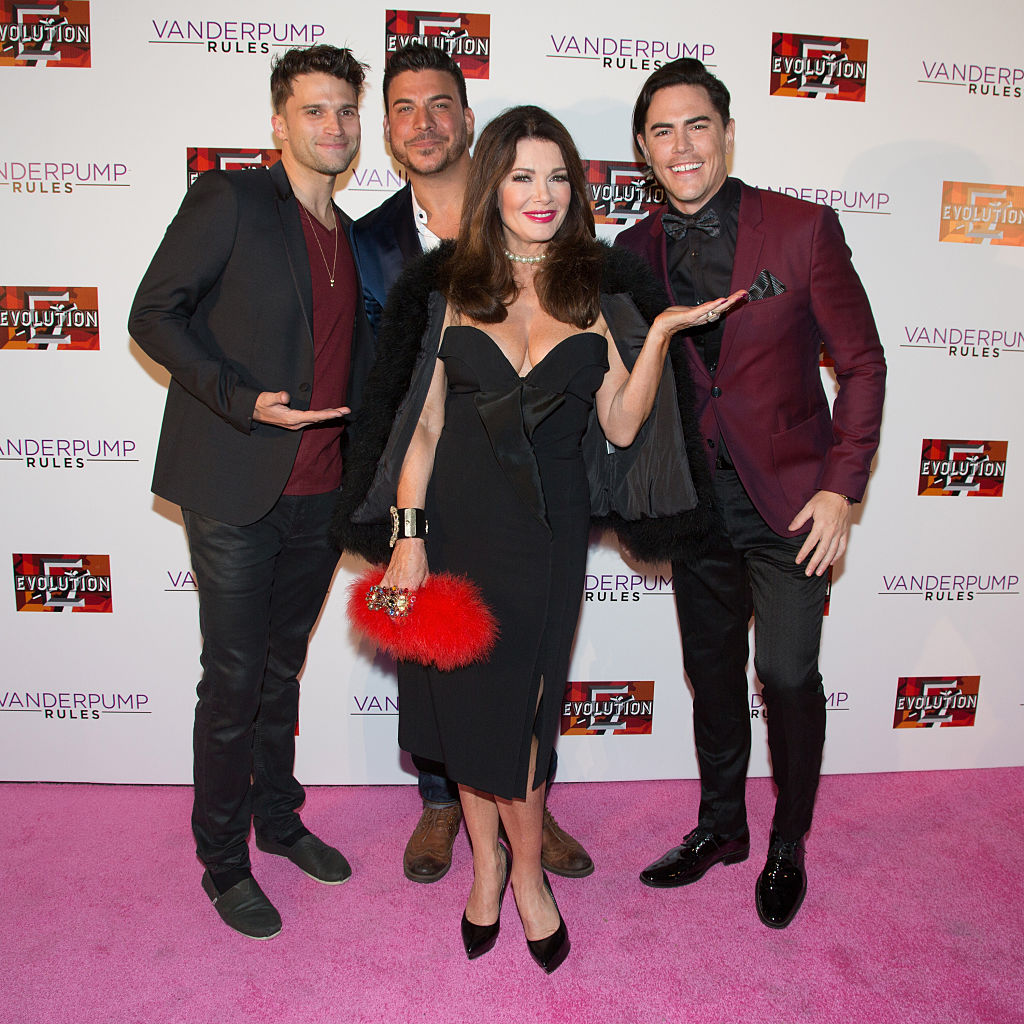 From the restaurant's rave reviews on Yelp to star sightings, Tom Tom has definitely become one of Vanderpump's most popular establishments. So what went down when Cyrus came by for a visit?
Tom Tom is becoming a great place for celebrity spotting
Cyrus joins a growing list of celebrities gracing Tom Tom. Chrissy Teigen and John Legend started a new trend at the restaurant by kissing underneath the Tom Schwartz and Tom Sandoval kissing photo. Teigen posted the image to Instagram that she finally made it to Tom Tom. The picture also started a trend of other couples posting their kissing pictures underneath the photo.
Lady Gaga and Vanderpump recently celebrated St. Patrick's Day at a few Vanderpump restaurants including Tom Tom, according to Harper's Bazaar. Vanderpump simply posted a cartoon image of herself laughing and crying on Twitter. "Ha sooooo much fun @ladygaga #pump #tomtom #naughtychildren #nopress lol."
Jerry O'Connell not only visited but left this epic Yelp review. He gave Tom Tom five stars, plus his narrative was nothing short of hilarious. "Tom Tom got a fast five stars from us," O'Connell wrote. "Faster than Capt Lee can dock a yacht. The drinks come fast and stiff with a wink and a smile. Everyone is so cool, not like un-cool."
Of course, star seekers may also get to rub elbows with some of the Vanderpump Rules cast too. This Yelp reviewer got to hang out with the Toms. "A group of us went to TomTom last night and it was a blast. Tom & Tom were there and were awesome. Schwartz talked to us a few times, posed for pictures and was very sweet and personable. We liked everything about this place. Very pretty ambiance. Tried to go see the garden but never made it out there. Didn't get to try any food either. Will for sure come back!"
Last night looked like a wild time
Vanderpump posted an amazing video to her Instagram after her fun night with Cyrus at Tom Tom. The bar looked completely packed, filled with the usual Friday night crowd.
Sandoval was hanging with the ladies too, getting into the groove of the night. Meanwhile, Vanderpump and Cyrus appear to be either on top of the bar or a platform at the restaurant. True to her signature style, Vanderpump brought one of her adorable dogs out on the town with her. Cyrus and Vanderpump are laughing and petting the pup. Although Cyrus sweetly scratches the fluffy pup's belly, the dog seems to want to have nothing to do with the scene.
Cyrus shared another quick video on her Instagram story. "This is the definition of gooped." she wrote. In this video, Vanderpump's pup seems to be enjoying some snuggles from Cyrus as Sandoval dances off to the side.
Follow The Cheat Sheet on Facebook!