Little Mix Singer Jesy Nelson Says She Used to Hate Herself in Post About Body Image
British girl group Little Mix has sold more than 40 million records globally. Its four members have been together since 2011 after being put together by judges on The X Factor. Their popularity has soared, but singer Jesy Nelson recently admitted that she's struggled with her body image as part of the group.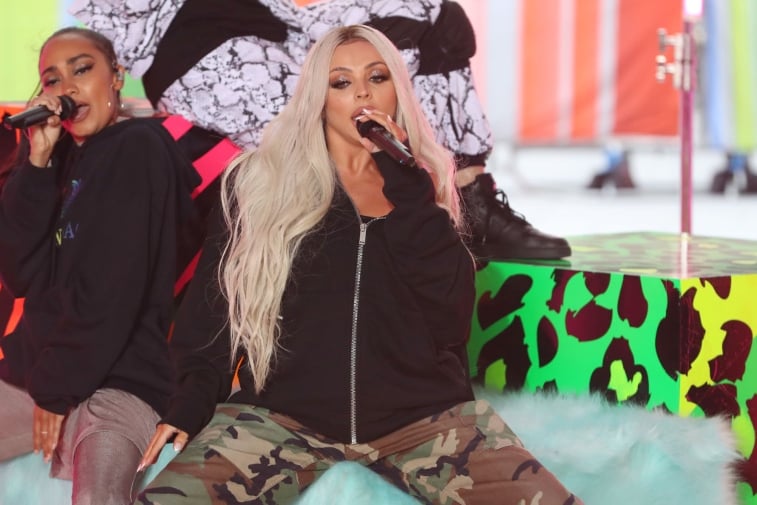 Nelson said she wanted to erase herself
The 28-year-old shared an Instagram post detailing how much social media affected her mentally and emotionally. Online trolls took a toll on her self-confidence and caused her to feel immensely insecure about who she is as a woman and person.
Nelson captioned her post with a note saying that she used to only view herself as "the fat one from Little Mix." She wrote, "Up until now I hated her not because she'd ever done anything bad but because I was made to hate her by endless amounts of trolling. I refused to speak about how I was feeling for so long. I was embarrassed and scared to. But I was so wrong to feel that way. Please if you are feeling how I did, SPEAK ABOUT IT."
But she has finally come to a point where she can embrace herself and wants to spread the message to others. During an interview with Lorraine, Nelson said that in the early days of her career, she began to believe the nasty things people said about her appearance. She added that since they've all gotten older, all the group members have learned not to care anymore about what people think, and she's learned to love herself again.
Fans are applauding her, posting supportive comments like, "I love you just the way you are," "Keep glowing," and "I cried reading this. So happy and proud you're where you are now."
She's filmed a documentary about mental health
Back in March, BBC reported that Nelson was working on a documentary about body image and mental health. Titled Jesy Nelson: My Story, the project will examine the impact and pressure of social media on young people, online trolls, and the importance of getting help for mental health issues. Nelson will also be sharing her own experiences in the film.
A synopsis of the film reads, "Jesy Nelson: My Story will look at how growing up in a social-media fueled age of selfies, body shaming, and trolling is having a profound impact of the mental health of young people."
Nelson made this statement about the documentary:
"This is a project really close to my heart, and I'm delighted to be working with the BBC on a documentary that will both challenge me personally and also highlight a hugely important issue affecting young people today."
She and her bandmates—Perrie Edwards, Jade Thirlwall, and Leigh-Anne Pinnock—want to promote messages of self-acceptance and empowerment through their music and in real life. Their most recent album, LM5, was meant to show women that being happy inside is what's most important. Several songs address the attacks on physical looks, troll comments, and feminism. The takeaway? Nelson and the rest of Little Mix want young people to practice self-love.
The Jesy Nelson documentary will air on BBC Three and BBC One but no release date has been announced.