'Little People, Big World': Did Matt and Amy Roloff Divorce Because of Matt's Girlfriend, Caryn Chandler?
The stars of Little People, Big World have been favorites on reality TV for years, and that's because the show takes an honest look at what life is like for little couple Matt and Amy Roloff. The two were married for nearly 30 years before going through a divorce in recent years, and they share four kids and Roloff Farms together. Now, they've both moved on completely, as Matt and Amy each have new significant others they're totally in love with — and fans couldn't be happier for them.
It's not all sunshine in Roloff world, however, and viewers still have a few lingering questions. Some believe Matt's current girlfriend, Caryn Chandler, may have been part of the reason Matt and Amy divorced in the first place. Here's why.
Caryn worked on Roloff Farms while Matt and Amy were still together
As much as Matt and Amy might want to completely go on separate paths, there is one aspect of their lives that connects them — and that's Roloff Farms. They built up the family business together and make a killing during their busiest time pumpkin season. Oddly enough, Matt also met Caryn through the business, as she was working on the farm as a manager for years. In an episode of LPBW, Matt even gave a shoutout to Caryn for all of her hard work, CafeMom notes. "Caryn is instrumental in running pumpkin season, she's run it for 10 years. I enjoy her immensely. Whether we're working or whether we're relaxing, we have a great time together," he said.
While we're happy Matt found love, fans also found it suspicious that Caryn and Matt had known each other for so long — and it lead to speculation that Matt may have even cheated on Amy. Even the Roloff kids, like Zach, have shared their discomfort regarding Caryn. As Zach said during an episode of the show, "As far as their relationship goes. I don't have anything to say about it."
Amy has called the relationship 'not healthy' for her in the past
The divorce was definitely tough for Amy — and she's noted it's been even tougher knowing Matt is dating one of her employees. Back in 2018, Good Housekeeping notes Amy was calling that particular pumpkin season one of her toughest yet — and it was all because of the split. "Caryn has been part of pumpkin season and managing it for a long time and does a great job. But knowing the relationship between Matt and Caryn, and to know that they're dating … You know, to work beside Caryn, it's not healthy for me," Amy said.
Amy has made other very telling comments about the relationship between Matt and Caryn, too. The publication notes she also discussed "past baggage" in this quote: "It takes everything I have not to bring up that past baggage and apply what's happening now." As for what the baggage could be, she could just mean emotions between her and Matt — or she could be alluding that Caryn was part of the reason her marriage ended.
Matt and Amy were having issues in their marriage that had nothing to do with Caryn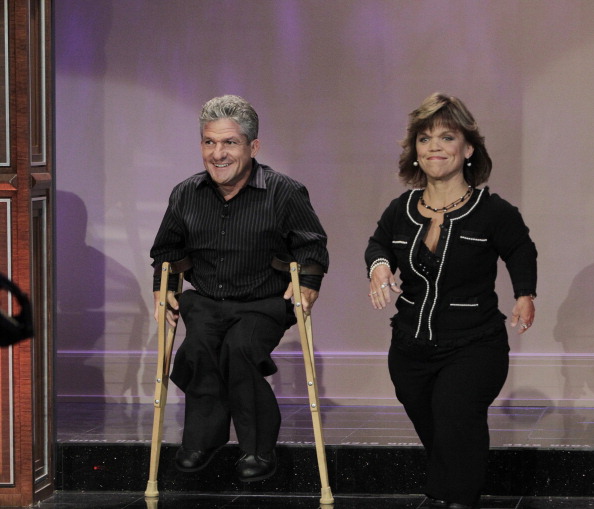 So, did Caryn cause the end of Matt and Amy's marriage? Despite her being a staple on the farm for some time, it's highly unlikely. Matt and Amy were reportedly having issues between them for some time, and they had nothing to do with Caryn. And In Touch Weekly notes Matt said his affection for Amy was waning as early as when they first had kids. "Amy and I had some compatibility when the kids were born, but looking back after the kids were gone, we realized we don't really have a lot in common," he said on an episode of LPBW. Matt also went on to explain that he and Amy were "different people" and he's now glad to have found someone he's completely compatible with.
While Matt's relationship with Caryn might be difficult for Amy due to all of them having to work together, she's doing her best to move on, too. And her relationship with her current boyfriend, Chris Marek, seems to be going incredibly well for her. No matter what led to Matt and Amy's divorce, fans wish them the best.
Check out The Cheat Sheet on Facebook!