'Little People, Big World' Fans Think Matt Roloff Is Being 'Passive Aggressive' to Amy Roloff
The latest season of Little People, Big World recently ended, but the drama is far from over for Matt and Amy Roloff. Amy was rife with indecision when it came to what to do with her half of the Roloff Farms property. In the end, she decided to sell it to Matt. And while fans could feel the tension growing with each episode for the ex-couple, Amy's recent truths she shared in her memoir, A Little Me, are even more severe than anything we saw on television.
So far, Matt has yet to make any statements against what Amy wrote in her book — but fans still think he's acting passive aggressively against her online. Here's why.
Amy Roloff slammed Matt Roloff in her new memoir, A Little Me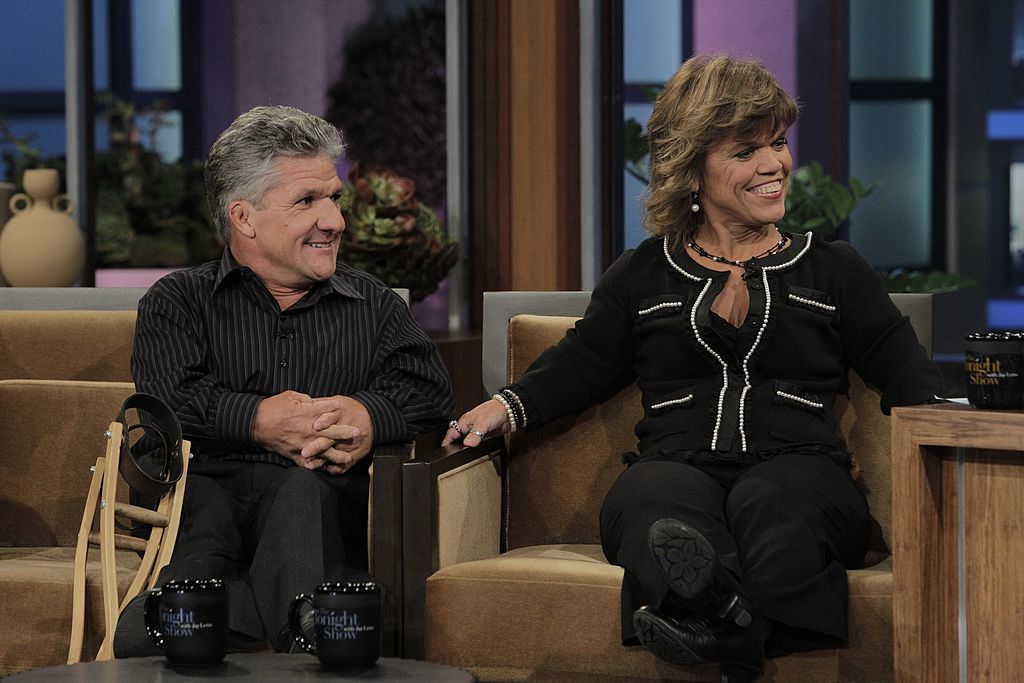 It's no secret that Matt and Amy Roloff struggled to get along after their divorce, but no one could have anticipated what Amy was going to say about Matt in A Little Me. The family matriarch calls out Matt and his now-girlfriend who used to work on Roloff Farms, Caryn Chandler, for having an inappropriate relationship during Matt and Amy's marriage. And Amy even suggested that they exchanged photos and texts that were completely heartbreaking.
"Matt and our farm manager, who had been working for us a number of years by then, seemed to have more than just a working relationship or friendship," Radar Online reports Amy wrote in her book. "I saw messages, pictures, and other things that should not have been shared between people who just worked together and were still married to other people. I was devastated." Today, Matt and his girlfriend are still together — but we can't forget how uncomfortable Amy looked on the show whenever Chandler attended Roloff family events.
Some LPBW fans think Amy went way too far
Not only did Amy insinuate that Matt was cheating, but she also mentioned he had a "strong and domineering personality" that ended up controlling her life, Radar Online reports. And while Amy found a lot of support amongst her fans, others made it known they weren't so sure where they stood.
As one follower commented on this Instagram photo of Amy's new memoir, "Amy you should not have slammed your childrens father to the world. Its a private matter it certainly should have been discussed within the family … [sic]." And another seemed to feel the same way, as they added, "Too bad she slams Matt – almost bought it before reading that part. I like you both but I don't agree with that." A few others, however, were glad Amy finally got to speak her truth after all was said and done — though we're still waiting to hear how Matt and Caryn truly feel about it all.
Matt claims he's 'taking the high road,' but fans don't believe it
Matt hasn't said anything about Amy's claims — but he did post a photo of a sunset with a very telling caption that indicated he knew all the drama that was going on. The caption reads, "@carynchandler1 and sitting here Amazed at the simple beautiful moon lingering brightly over the farm as if to say. "keeping taking the high Road. It's the only one that matters [sic]."
Matt may claim he's "taking the high road," but some of his followers found his comment petty. "A badly worded, passive-aggressive comment like this doesn't equate to 'taking the high road'!" one fan commented on the photo. "Taking the high road in this instance, where you are all public figures and there for anybody can say anything about any of you without being sued for libel, would be not acting like some high school clique where two booches get together and talk against another [sic]," another said. They then added, "Whether it's dialogue or ad-libbed the things you and Caryn say about Amy amount to thinly veiled passive-aggressive shaming."
It looks like fans might actually want Matt to come right out and speak his own truth rather than allude to how he feels on his Instagram. Only time will tell if he'll elaborate on the situation any further.
Check out Showbiz Cheat Sheet on Facebook!