Loki Actor Tom Hiddleston 'Reunites' with Times Square Avengers in New Photo
Loki is on the loose, Marvel fans.
The Marvel Cinematic Universe has catapulted a lot of careers forward. Sure, stars like Scarlett Johansson and Mark Ruffalo were already working within the studio system before joining the MCU. But other actors have become household names specifically because of their Marvel roles.
One of the best examples of this is Tom Hiddleston. The actor had been working in theater and on television for years before being cast in Thor. However, playing Loki has brought a whole new level of stardom.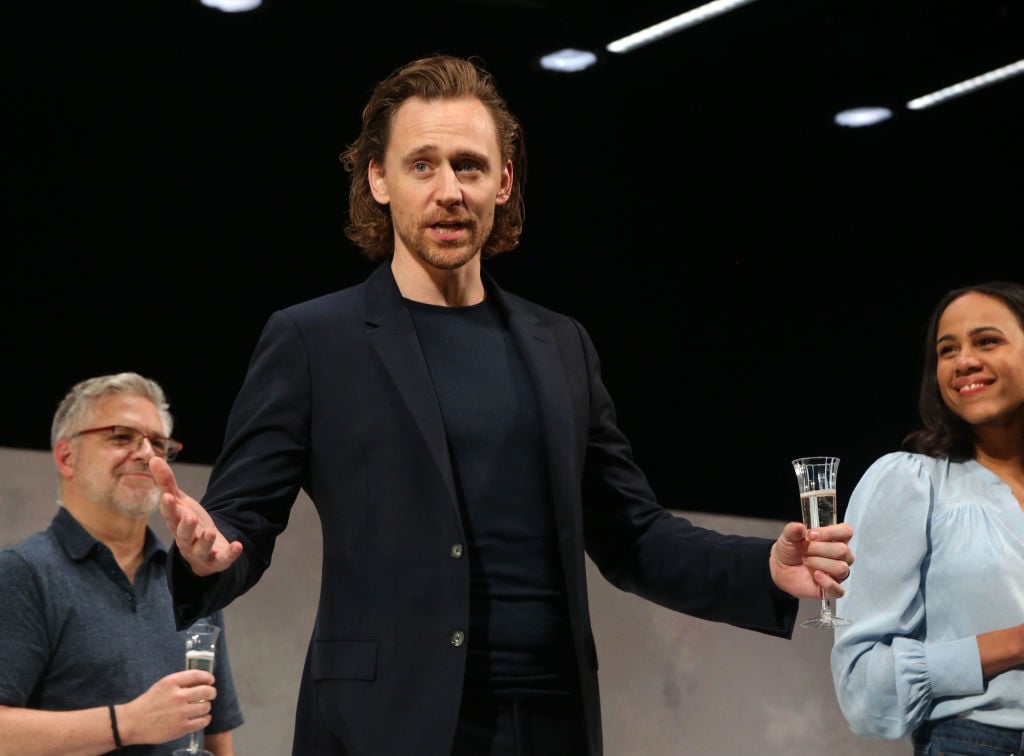 From 'Thor' to 'Avengers: Endgame'
Fans of the MCU first met Loki as the duplicitous younger brother of Thor (Chris Hemsworth). In his first appearance, the god of mischief usurps the Asgardian throne and nearly kills his brother in the process. Yet, Thor was merely the introduction of what has become an ongoing gig for Hiddleston.
After serving as the primary villain in The Avengers, the character has alternated between enemy and ally to Thor. In Thor: The Dark World, he tricked his way back onto the throne, only to aid Thor in rescuing the Asgardian people in Thor: Ragnarok. Ultimately, he gave his life in Avengers: Infinity War as Thanos' first on-screen kill.
Then, in Avengers: Endgame, Hiddleston briefly reprised the role again. Crossing paths with Earth's Mightiest Heroes during their "time heist," Loki shared the screen with the Avengers for what might be the last time. Now life appears to have imitated art.
Tom Hiddleston meets the Avengers
At the moment, the actor is currently starring in Betrayal on Broadway opposite Zawe Ashton and Daredevil's Charlie Cox. The show's current run extends through December 8. Yet, other than working onstage with Cox, we doubt Hiddleston expected to run into any other familiar superhero faces.
Alas, a new photo that found its way to Reddit sees Hiddleston come face to face with the Avengers once again. Yet, rather than Ruffalo and Chris Evans, these are apparently New York street performers dressed as Hulk and Captain America. That didn't stop Hiddleston from playing along with his on-screen arch-enemies.
Hiddleston has always been a good sport when it comes to having fun with his comic book persona. Back in 2013, he even took the San Diego Comic-Con stage in character as Loki, a moment he still considers a highlight of his time in the MCU. After all, this role changed his career forever.
Fans haven't seen the last of Loki
Of course, MCU fans know Hiddleston is far from ready to leave Loki behind. The character will headline his own upcoming Disney+ series, set for release in 2021. Loki will follow the version of the character who escaped in Avengers: Endgame.
Presumably, Loki's possession of the Tesseract means he will be toying with space and time quite a bit. Yet, we still don't know a whole lot about what we can expect from the new series. Recent rumors indicate Sophia Di Martino has been cast as a female version of Loki, though this hasn't been confirmed.
That Disney+ run could mark the end of Hiddleston's time as the character. It will, after all, mark a full decade since he appeared in Thor. But something tells us we can look forward to Hiddleston hamming it up as the Marvel supervillain long thereafter.