'Long Island Medium' Fans Are Begging Theresa Caputo to Change Her Look
Theresa Caputo from Long Island Medium is well-known for her capabilities as a medium, and she's talked at length about her ability to talk to the dead. Aside from her amazing gift, however, there's another reason fans absolutely love her. And that's because her firecracker personality and unique style give her life and presence on screen that few others manage to attain.
From her daughter's upcoming wedding to the famous folks she meets as a medium, Caputo gives fans plenty of glimpses into her life on Instagram. But it seems they've had enough of her classic hairstyle that she's had since Long Island Medium began. Here's what they're saying — and what they'd rather see instead.
Theresa Caputo is known for her signature hair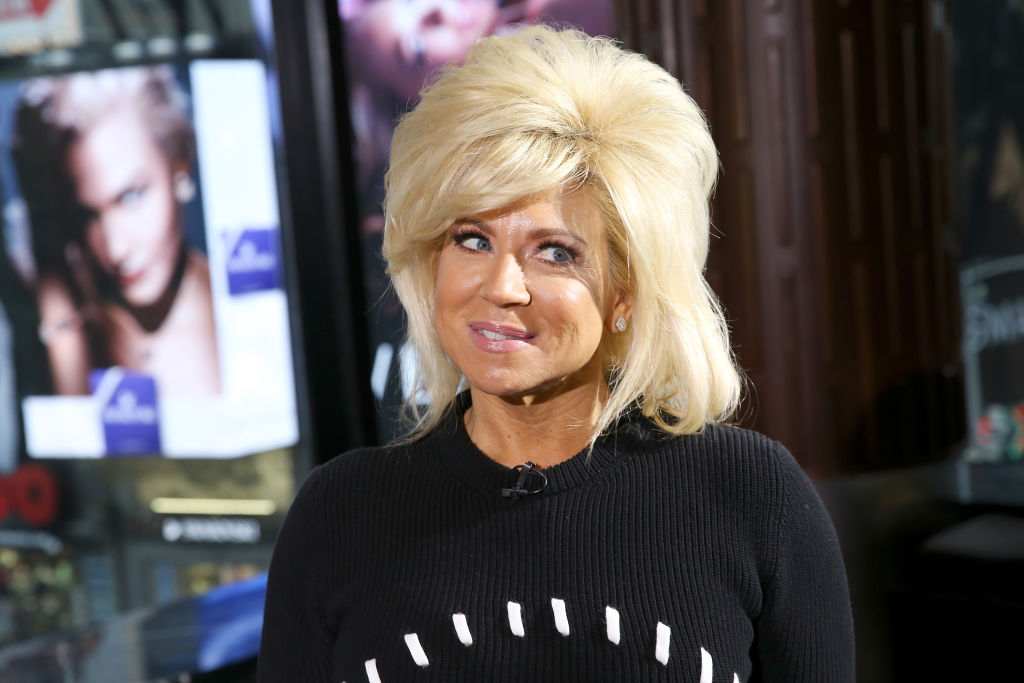 From her long island accent to her manicured nails to her huge hair, Theresa Caputo's look has become as iconic as her incredible abilities. And she's even discussed her famous blonde hair, too. She spoke to Extra about her "bus hair" and how it takes a lot to maintain the perfect height that is her current 'do. "Bus hair is the best," she tells the interviewer, which implies her hair is typically under a baseball cap or never blown out while traveling. Caputo then ran her fingers through her perfect hairstyle of the day. "This is not bus hair," she noted.
As for how she gets her hair so high above her natural roots, she adds, "It's all about the tease. Unfortunately, it seems her look may come with a high-maintenance personality, too. A number of celebrities, including Howard Stern, have spoken out about Caputo's diva-like attitude while touring, and she's been banished from his radio show for that reason.
Fans are telling her she should change up her look
We're all used to seeing Caputo with her hair the way it's always been, but fans think it may be time for a change. Since she's no longer with her husband of several decades, Larry Caputo, perhaps new hair is a good first step in getting a fresh start, too. On this photo that Caputo posted on July 30, she's seen wearing a red blazer, short denim shorts, and her 'do — and many flocked to the comments to tell her it may be time to try something else.
"Your face is so tiny for such big hair. I keep wishing you'd style it short and sassy like your personality!!" one fan commented. And another added, "Your beautiful but that 80s hair has to go … [sic]." Yet another one of her followers commented, "For the love of his CHANGE YOUR HAIRSTYLE!!!! [sic]."
It wasn't just the hair that fans took issue with, either. It seems many also wanted her to get rid of her denim shorts, as they didn't deem them age-appropriate.
They're loving this throwback photo of her wild curls
So, if fans want to see Caputo's signature hairstyle go away, what would they rather see instead? After the medium posted this throwback photo with her son, her followers flocked to the comments to tell her how much they adore her long, big curls. Even her son commented on the post, "that hair! I think I was scared of it! Look at my face haha [sic]."
"Theresa you should do hair back like that again.. beautiful [sic]," one of Caputo's followers commented. "I absolutely love you're hair! And this is an amazing picture! [sic]," another mentioned. "Bring the curls back!!! So awesome," yet another one of her followers recommended. And these were followed by a slew of other excited fans who hope to see Caputo's hair return to this state someday.
Will Caputo ever really change the 'do she became famous with? We're guessing not — but perhaps with enough fans backing the mega-curly look, she may consider giving it a go!
Check out Showbiz Cheat Sheet on Facebook!