'Lost in Space' Co-Creators Say They Already Have an Ending for the Story They're Telling
The Netflix show, Lost in Space showed the Robinson family fighting to survive after crash-landing on an alien planet. The second season we'll get to see how the family deals with being on an ocean planet without Robot.
The Lost in Space cast had roundtable interviews during New York Comic Con on Oct. 5. Co-creators Matt Sazama and Burk Sharpless talked about the next season and already having an ending for their story.
You can expect some references in 'Lost in Space' Season 2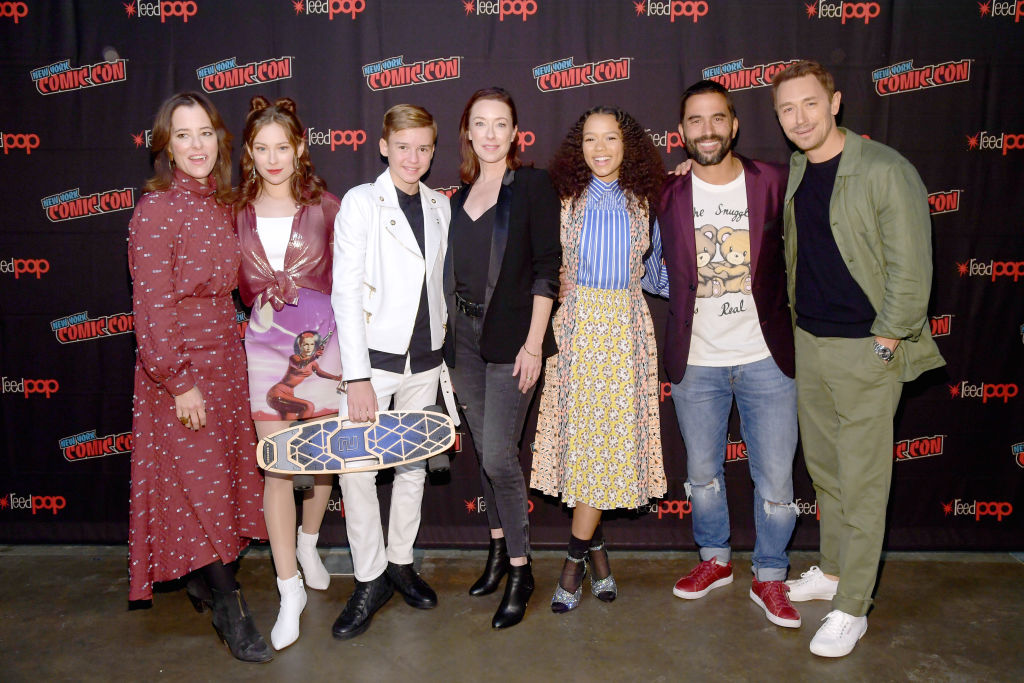 Lost in Space is a remake of a show with the same name from 1965 that was based on a novel from 1812. The co-creators talked about how their show is also influenced by other shows and movies that came before it.
"I mean as the shows evolved we actually have given into almost more of a Star Wars space opera vibe," said Sharpless. "But one of the cool things about the beginning was you can take Maureen (Molly Parker) and have her science your way out of problems."
There will also be references in the upcoming season. "We have a lot of fun," said Sazama. "We like a lot of things and we drop in different versions of shows." That includes other genres like Westerns.
He teased that there will be a big reference in episode five. "You'll know when you see it," he teased.
They know the ending to the story they're telling
Some shows make things up as they go along. That's not the case with Lost in Space.
When Showbiz Cheat Sheet asked if they already have an ending Sharpless answered, "Absolutely!" Sazama did say the story could go beyond their ending.
"I mean you know [the] Robinson family will go on forever. But the story that we started with pilot with the robots and everything else we want to have, we know what the ending is," Sazama said.
He later said, "There's a very satisfying hopefully conclusion to that story. More stories then can happen after that."
Sharpless turned back to the first season when talking about the show's theme. "I like that there's like a clear story when you see Will in the pilot of season," he said and that the story is "one of a bad thing through an act of love changing and perhaps finding redemption."
He continued, "And changing from what it was to what it can be and what the power of forgiveness and love can be. And that we really early on realized it's kind of the theme of the whole show."
The creators teased that after season 2 it'll be hard for the characters to stay that way when the stakes are raised.
Season 3 isn't greenlit but they are writing it
Season 2 isn't released and chances are Netflix will wait to see how it performs to make an announcement on whether it's canceled or if it will return. However, the co-creators say they are working on the third season on their end.
"They kind of let you write on it and then they don't give you the greenlight until after the show comes out," said Sharpless. "But it's pretty good so they're gonna," said the co-writer.
Season 3 of Lost in Space will be released on Dec. 24 globally.