Louis C.K. Has Been Hinting at His Sexual Misconduct For Years
Five women have accused comedian Louis C.K. of sexual misconduct. On Nov. 9, The New York Times reported on the stories of these women, two of whom said that C.K. invited them to his hotel room in 2002 and asked to masturbate in front of them. They assumed he was joking, but then he really did it.
Per the report, a third woman said she spoke with C.K. over the phone and could hear him masturbating. Another said the comedian asked her if he could masturbate in front of her while they were both working on a TV show, and a fifth woman said he made the same request in his office at work.
C.K. has since admitted that the allegations are true. He maintains he never exposed himself to anyone without asking but acknowledges what he did was still wrong. The report from The New York Times was not a complete shock to fans, though. That's not only because there had been rumors out there about his behavior for years, but also because C.K. frequently joked about this kind of thing.
For years, C.K. has talked about his obsessive need to masturbate and about exposing himself to others, jokes that play a lot differently now than they did at the time. Here are some of the instances in which C.K.'s jokes mirrors the misconduct he is now admitting to.
1. His character tried to force himself on a woman on Louie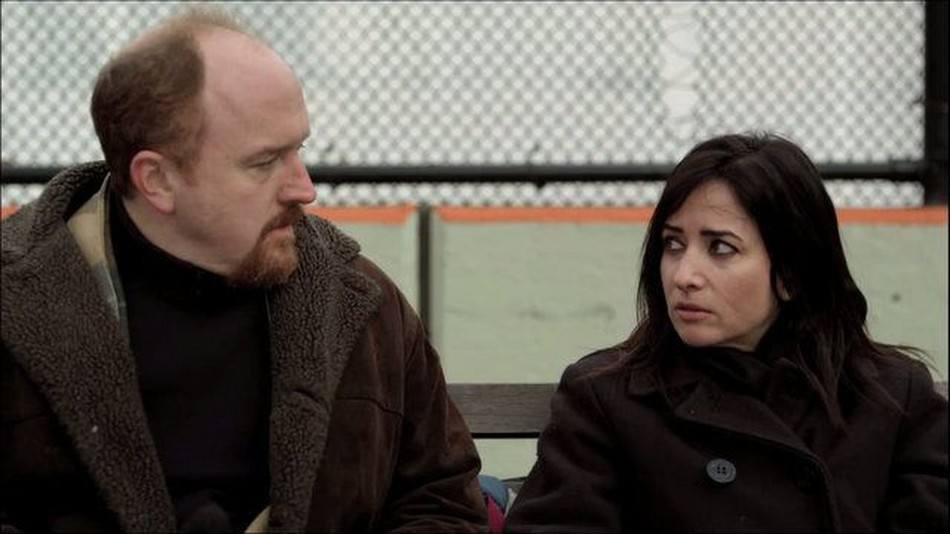 In Louie's Season 4 episode "Pamela: Part 1," C.K.'s character comes home to his apartment, where his friend Pamela is babysitting. Louie has previously told Pamela that he is in love with her, and she has not reciprocated those feelings.
Louie finds Pamela lying on the couch, and she tells him, "Please don't start jerking off. I'm awake." As she's beginning to leave, Louie goes in for a kiss, but Pamela backs away and is noticeably repulsed. He then grabs her and tries to force a kiss as she repeatedly says no. At one point, she grabs onto the doorway and screams "No, I don't like that!" But even so, Louie forcefully grabs her and tries to remove her shirt.
Pamela says, "This would be rape if you weren't so stupid. God, you can't even rape well." She finally escapes his grasp and almost makes it out the door. But then he runs and holds it closed, cornering her and telling her he's going to "take control" and "make something happen" between them. Finally, Pamela stops struggling and lets him kiss her. But she clearly doesn't like it, telling him to "hurry up."
C.K. subsequently said that he didn't consider this scene to be an attempted rape, describing it as a funny tussle. Later, he explained, "I don't think of that as attempted rape… Pamela and him had a lot of back and forth, she sort of said I want to be in a thing with you and he said OK and then she said not anymore and it didn't work out."
In light of these allegations, this scene and C.K.'s defense of it should have raised some red flags about the comedian's definition of consent. And one of the women accusing C.K. told The New York Times that he admitted that he once shoved a woman in a bathroom, just as he shoves Pamela in this episode.
2. He joked about exposing himself to an unsuspecting person
https://www.youtube.com/watch?v=n4Ci6CpgpGQ&feature=youtu.be&t=2h13m10s
C.K. has also occasionally joked about exposing himself to unsuspecting people. He did so during a 2007 appearance on Opie & Anthony, as reported on by Death and Taxes.
C.K. told a story about how he exposed himself to an old man when he was younger, explaining:
I grew up in Newton, Massachusetts, and there was a guy. They called him "Florida Steve." This weird little old man. And he'd come up to you, if you were in the park or in the street, and he'd ask you about Florida, he'd just steer the conversation… He'd say 'bet it's hot in Florida right now' and you'd go 'yeah, it's hot in Florida.'  He goes 'what are the girls like down there?' and you'd tell him…everybody in town knew how to do this…you'd tell him, 'well, the girls, they got big tits down there,' and he'd start jerking off in his pocket. Like, this is just something he would do.

And anyway, so I saw him…you know, you're with your friends and you make fun of Florida Steve, the crazy old man. One day I was alone in a park and he walked up to me. I took out my dick and showed it to him. I don't know why. He just went 'okay, have a nice day' and he walked away, and I realized I had freaked out Florida Steve.
A person suddenly pulling out their penis is a joke that C.K. has frequently returned to. As recently as this year, C.K. appeared on The Late Show with Stephen Colbert and told a story about working with Colbert, which he suddenly punctuated with a joke about exposing oneself at work. He told Colbert, "I didn't really know you very well, and you said, 'Come on.' And you took me into your little room, and you opened your pants, I don't know why."
In reality, one of the accusations against C.K. is that he brought a co-worker to his office at work and masturbated in front of her. Though she reportedly consented, she said she feels he abused his power.
3. He joked about men being the No. 1 threat to women
One of C.K.'s standup bits was all about how men are such a threat to women, it's ridiculous that women would ever want to date at all. In his HBO special Oh My God, C.K. says:
A woman saying yes to a date with a man is literally insane and ill advised. And the whole species' existence counts on them doing it, and I don't know how they — how do women still go out with guys, when you consider the fact that there is no greater threat to women than men? We're the number one threat to women. Globally and historically, we're the number one cause of injury and mayhem to women. We're the worst thing that ever happens to them. That's true….If you're a guy, try to imagine that you could only date a half-bear half-lion. And you're like, 'Oh, I hope this one's nice. I hope he doesn't do what he's going to do.'
This bit now plays very differently than it did back then. In light of the new revelations, this seems more like C.K. airing his own anxieties over treating women poorly.
The joke came during a 2013 special, long after the incidents described in the New York Times took place. So the bit itself could have been inspired by C.K. looking back upon his behavior with a sense of guilt.
4. His Louie character was dubbed a 'prolific masturbator'
In another scene from Louie, C.K. imagines himself on Fox News defending masturbation. The founder of a Christian group is on the show talking about why masturbation is a sin. The show's host then turns to C.K., who he refers to as a "prolific masturbator."
C.K.'s character says that masturbation is "easy and it's fun, and nobody gets hurt." The Christian woman tells C.K. that he doesn't know the darkness that he lives in. But C.K. responds, "Oh, I know the darkness."
She says that she's sad for C.K. because he can't not masturbate. Later, C.K. uses masturbation as a threat to this woman, telling her, "Later, I'm going to masturbate and I'm going to think about you, and there's nothing you can do about it."
5. He repeatedly joked about the shame associated with masturbation
Many of C.K.'s bits involve him being extremely ashamed of himself after masturbating. This suddenly makes much more sense after the comedian has expressed shame at having masturbated in front of women who were not interested.
In his 2008 special Chewed Up, C.K. explains, "I jerk off way too much and it upsets me. I don't know why. Maybe it's because it's so selfish. But I know it's bad. I know I'm hurting somebody somewhere." Later in the same special, he notes that you "gotta take some time alone to process the shame" after masturbation.
In an earlier special, 2005's One Night Stand, C.K. says that masturbation is always followed by the "deepest self-hate and depression" and the person saying, "What the f*ck is wrong with me."
In general, being upset about his desire to masturbate is a theme in almost every C.K. special, the majority of which were recorded after the incidents reported in The New York Times.
6. He joked that he has 'constant, perverted sexual thoughts'
C.K. also frequently talked about being ashamed of his own sexual thoughts. He explained as much during his 2011 special Live at the Beacon Theater:
[I'm sick of] the constant, perverted sexual thoughts. I'm so tired of those. Just the constant…[mimes masturbation]. It makes me into an idiot….It's just a dumb part of life that I'm sick of. It's all day, too. It's just, you can't have a day. I just want to be a person in clothes walking in a store.
In that special, C.K. goes on to talk about the fact that "not being able to control your constant sexual impulses" is really a male problem, explaining that women have "no idea" how perverted men are. "You get to have those thoughts," C.K. says. "I have to have them."
The idea of his sexual desires constantly inhibiting his life is present in most of his comedy.
7. His now-canceled movie followed a comedian accused of being a sexual predator
After the C.K. allegations came to light, distributor The Orchard yanked his new movie, I Love You, Daddy, off the release schedule and for good reason. After all, it follows a famous comedy director accused of sexual abuse. In the movie, C.K. plays a comedy writer named Glen, whose 17-year-old daughter begins dating a 68-year-old director, Leslie Goodwin, who is rumored to be a child molester.
According to critics who have seen the film, it ends with the message that Goodwin may not be such a bad guy after all and that Glen shouldn't have been so judgmental. C.K. himself said that the film is largely about the idea that we don't truly know people. That's something many of his fans are feeling lately.
"There are these people in the world that we all talk about, and we want to know that they're all good or they're all bad," C.K. told the New York Times. "The uncomfortable truth is, you never really know. You don't know anybody."
There's also a scene in the film in which a character mimes masturbation while another character is on the phone discussing business. In reality, one of the allegations against C.K. is that he masturbated while on the phone with a woman who was calling to invite him to a show. The Orchard has now canceled the release of I Love You, Daddy entirely.
Check out The Cheat Sheet on Facebook!