Louis Tomlinson Admits He's Still Not Over This One Direction Drama
One Direction is a British boy band that has been responsible for multiple hit singles and widespread fan devotion. During their time as kings of the charts, the band was frequently compared to iconic acts like the Beatles and even the Rolling Stones.
Even though the band dissolved several years ago, fans still frequently reminisce about the glory days of One Direction. As it turns out, even some of the band members aren't quite over the way the band broke up – Louis Tomlinson recently opened up about the drama, and what he said really stirred up the fan community.
How did One Direction get started?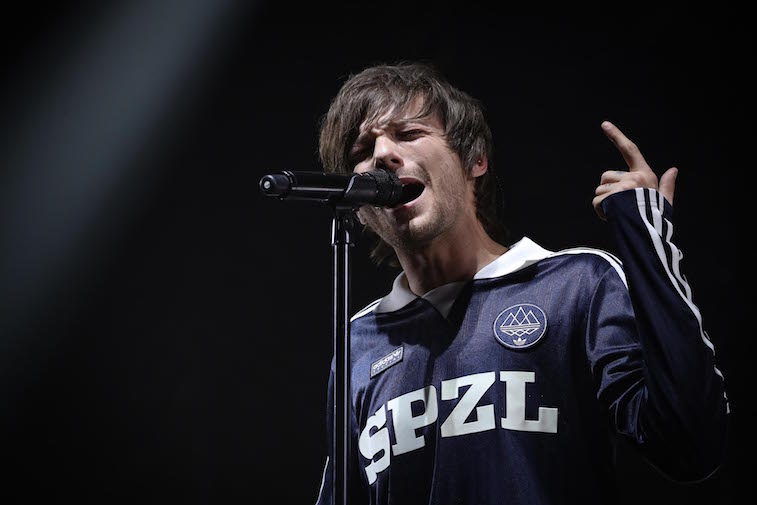 It all began in 2010, when five young men, Louis Tomlinson, Harry Styles, Zayn Malik, Liam Payne, and Niall Horan, auditioned separately for the singing competition show The X Factor.
Individually, the judges weren't thrilled with the boys, but after someone had the idea of putting them together as a group (the jury is still out as to whether Simon Cowell or Nicole Scherzinger actually had the idea to form the band) they won over the panel. One Direction won third place in that season of The X Factor, and Simon Cowell signed them to a contract. 
Their first single, "What Makes You Beautiful" was a smash hit and they became famous in the United States as well as Britain. They went on to release many other hit songs, including "One Thing," "Live While We're Young," "Best Song Ever," and "Perfect."
Fans couldn't get enough of the group, and fan fervor reached new heights during their concerts and live events, with audience members jumping up and down, screaming, and hyperventilating. Their music received good reviews as well, with critics praising their vocal stylings and the appealing pop tones of their songs. 
Why did One Direction break up?
Even though One Direction experienced intense success and some truly record-breaking accomplishments, the good times wouldn't last for the band. In early 2015, the band released a statement revealing that Zayn Malik, one of the more popular members of the group, had officially left the band. Malik's departure seemed ill-timed, considering the band was only several months into a massive tour.
Still, the new group of four confirmed that they would continue working together, despite not having Malik. They would go on to release several more songs, including "Drag Me Down" and "Infinity." They also won Artist of the Year at the American Music Awards in 2015.
However, all was not well behind the scenes, and at the end of 2015, the band stated that they would be taking a hiatus in order to work on individual projects.
One Direction officially went on hiatus in 2016, but it seems as though it was less of a hiatus and more of a permanent split — as they have not to date reunited to work on any new music.
What did Louis Tomlinson say about Zayn Malik?
It definitely seems as though Zayn Malik's departure signaled the beginning of the end for One Direction. While all of the group's members have gone on to pursue their own interests, Louis Tomlinson is still upset by the way it went down.
In late October 2019, Tomlinson opened up about that tense period, saying that he "is not over" the way Malik handled the situation. When asked whether or not Tomlinson would ever welcome back into the group (if and when they reunite), Tomlinson stated: "I just don't think I am mature enough, even in my own head, to give that a real answer."
Tomlinson elaborated, saying that he is still "pretty mad" about the whole ordeal and that his mother's dying wish (she passed away in 2016) was that he and Malik would find a way to mend fences. Even though it has now been four years since Malik left the band, it seems as though Tomlinson just can't let it go.