'LPBW': Amy Roloff Just Gave Us Some Insight Into Her Personal Life When First Marrying Matt Roloff
We've been watching Matt and Amy Roloff on Little People, Big World for years, and it looks like film crews are back on location again for another season. While Matt and Amy started the show as a married couple, a lot has changed since then. Today, the two are divorced, and Amy even sold her half of Roloff Farms to Matt while she searches for a new place to call home.
Amy's been through a ton of ups and downs lately, and unfortunately, her mother recently passed. On a recent Instagram post about her mother, Amy also gave some interesting notes on her personal relationship with her parents, too, and how her marriage to Matt affected this. Here's what she wrote.
Amy Roloff's mother recently passed away
The past few years have been full of change for Amy Roloff. Her divorce from Matt left her wondering what her next move should be — and while she's finally decided to move off of Roloff Farms, she has even more news to share. She recently announced she's engaged to her partner of three years, Chris Marek. Sadly, after this announcement, she also told her Instagram followers that her mother passed away.
Amy's kept her followers updated on her mom's failing health for a few months now. And at the end of October, she announced her mother's passing. "Today I'm heading to Michigan for my Mom's memorial on Thursday and to say goodbye to her And grateful to be with my Dad for a little bit afterwards," Amy wrote on this Instagram post of her and Marek. "I'm torn with my emotions. I miss her so much and at the same time happy she's not in pain anymore and with the Lord."
Amy shared that she didn't know her mother very well as an adult
We haven't heard too much about Amy's parents, as they live in Michigan whereas she now lives in Oregon and has since marrying Matt. While she seems to have a decent relationship with her father now, we never got the feeling that Amy was all that close with her mom and dad growing up, either. Amy once talked to her brother on LPBW about her childhood bullying experiences, and she noted that her parents had no idea all of the struggles she was going through at the time.
In a recent Instagram post, Amy also shared some insight into her relationship with her mother. "Her life wasn't perfect but she gave her all to my Dad, myself and my siblings because she loved her family," Amy noted. "I really didn't have the opportunity to know my Mom well, on an everyday basis as an adult – because I got married and moved from Michigan to California, then OR and there raised my family. My time with her were visits to Michigan and I tried to soak up every moment and story with her as I could."
She's remarked in the past how she barely dated Matt before marrying him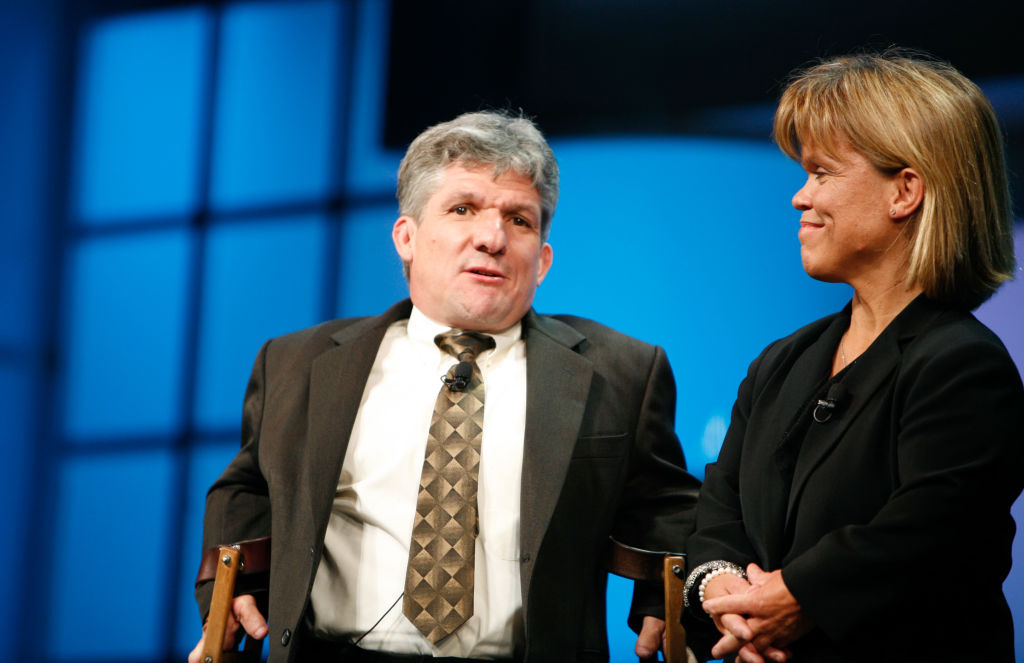 Amy gave a clue into her past with this recent Instagram post. But this isn't the first time she's talked about her early years of marriage to Matt. On a previous episode of LPBW, Amy explained, "I met Matt at a conference. I saw him four times, [then] we were married. So dating Chris, I'm calling up my girlfriends and I'm like, 'What is dating?! I don't even know what the hell that is.'" Not only that, but Amy's also said before that she never thought a person of average height would be interested in her, which is why her relationship with Marek is particularly surprising to her.
Amy may not have known her mother as well as she could have, but there's no doubt her mother is proud of all her daughter has accomplished. And while Amy didn't initially want to call it quits on her first marriage to Matt, her current relationship and upcoming marriage will be so much sweeter. We can't wait to hear more about Amy's future wedding planning as she announces more details!
Check out Showbiz Cheat Sheet on Facebook!