'LPBW': Amy Roloff Only Wants to Get Remarried on Roloff Farms as a Last Resort
Amy Roloff is a fan favorite from Little People, Big World — and since her divorce from Matt Roloff, she's gone through a ton of changes. Currently, on season 20 of the show, we're watching Amy pack up her things, as she's moving off of Roloff Farms. But that's far from her only exciting news. She's also engaged to Chris Marek, her partner she's been seeing for over three years.
Now, Marek and Amy are planning their wedding. And Amy's hammering out the details slowly but surely. On Instagram Live, she talked with her friend about the wedding venue. And it seems Roloff Farms is a last resort for Amy even though all of her kids have gotten married there.
Amy Roloff has a complicated relationship with Roloff Farms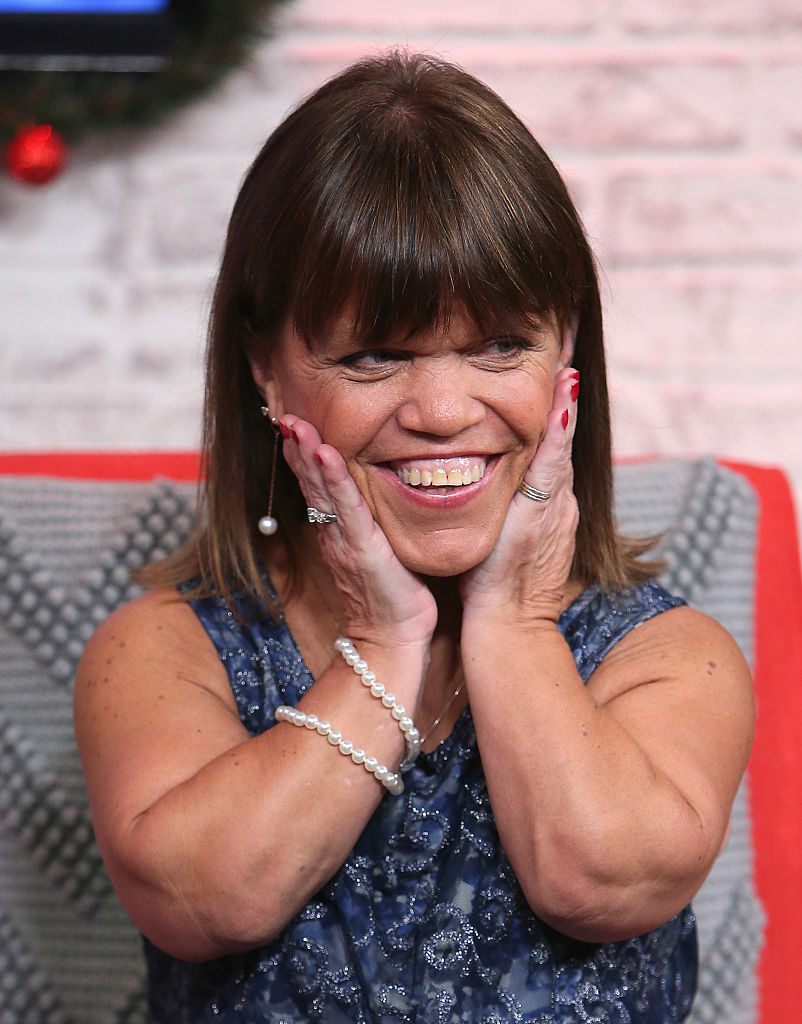 Fans of LPBW watched Matt and Amy raise their kids together on Roloff Farms and maintain the family business for years. Now, it's sad to see it all come to an end after Matt and Amy's divorce. Amy's made it known she's happy she's moving forward with her life in her new home and with her partner, but she still certainly misses many aspects of Roloff Farms.
"I am back at the old farmhouse," Amy said on her Instagram Story while gathering some of her things to pack. "Trying to figure out, over 30 years, what do I keep and not keep, get rid of, give away, sell … I'm not sure what. It's tough. Even though I'm in a new house, and great things are happening, you know, it's tough."
Moving aside, now that Amy's in a new place, her future with Roloff Farms pumpkin season is also in jeopardy. Matt and Amy's son, Zach, remarked about Amy walking away from pumpkin season on the show.
"It's a really big deal my mom has a reduced role because she's such a big part of it," he said. "It won't be the same if she's not here a lot."
She's currently planning her wedding with Chris Marek
RELATED: Amy Roloff From 'LPBW' Dished on Her Wedding Details: 'Weddings Are Very Important to Me'
Amy's still working on moving completely off of Roloff Farms, but she also has a wedding to plan. Those who watch the show just saw Marek get down on one knee for Amy — and she was truly shocked. She then told Matt about the engagement as well as Zach and his wife, Tori. And it came with a lot of mixed reactions.
Now that the dust has settled, Amy is in wedding-planning mode. "I'm much more of a traditional person … I want the wedding and the reception," Amy said during a Facebook Live video. "I would like to share that experience with [Chris]."
Amy also mentioned that she wants a wedding gown, though the color might not be white. And she also added that she'd love to go on another TLC show in preparation for the big day, like Say Yes to the Dress.
Amy said that Roloff Farms is far from her first option for a wedding venue
RELATED: 'LPBW': Matt Roloff Thought Amy Roloff's Fiancé, Chris Marek, Didn't Actually Want to Get Married
All of Matt and Amy's kids have married or had their wedding reception on Roloff Farms, as the property has its own private church that Matt Roloff has called "a symbol of Gods Grace on our farm." But Amy might step back from tradition. On May 14, she posted a video of her talking with her friend, Lisa, to Instagram. And details regarding where she might wed came up.
A fan asked Amy if she picked a wedding date yet. And Amy responded by saying that she hasn't been able to go and look at venues due to quarantine, so she has to see what's available where first.
"I'm finding out … a lot of peoples' weddings were canceled in 2020 and so they're moving them to 2021, and I'm like … wait a minute, we gotta get going on this," Amy said.
Then, when Lisa asked if Amy would consider marrying on Roloff Farms, Amy said, "You know, I think it really depends what happens with the farm and everything. I've got a place locally here that we're looking at, one that's about an hour, maybe from the farm right now, one that's a half hour …. Hopefully, one of those will work other than the farm."
Amy's still considering Roloff Farms as a last resort, though. "I think, if I do get married on the farm, that I would probably really just like to get married on the farmhouse side," she said.
We're hoping Amy's wedding becomes everything she hopes for and more whether she marries on the farm or elsewhere!
Check out Showbiz Cheat Sheet on Facebook!