'LPBW': Amy Roloff Said She Wants Both 'a Wedding' and 'a Reception' With Chris Marek
Little People, Big World is returning in March 2020, and fans can't wait to hear more about Amy Roloff's upcoming wedding to Chris Marek. We know Amy and Matt Roloff divorced years ago, and Amy had plenty of difficulties moving on from her marriage. From deciding upon her living situation to stepping forward as a single woman, Amy had to bravely enter the world of the unknown. But she's landing on her feet despite the doubts and chaos.
Amy's giving her social media followers plenty of updates on her living situation and engagement to Marek. And now, she has wedding details to consider. During a Facebook Live conversation, she mentioned she's looking for a traditional wedding the second time around, which means she's not planning on eloping, either. Here's what she told viewers.
Amy Roloff is excited for her future with fiancé Chris Marek
Amy's divorce hit her hard, and she fount it difficult to develop a plan on moving forward. When she met Marek, however, she seemed to get her spark back. Their frequent motorcycle dates developed into real feelings for each other. And though Amy mentioned that she never planned on marrying again, her relationship with Marek made her want to give love another shot.
Marek proposed to Amy back in September 2019, and she told her Instagram followers all about it. "I couldn't believe it! I cried, he had tears and of course I said YES! I'm engaged and couldn't be happier. I love this man so much," she captioned her post of her and Marek. And since then, she's clued her followers in on all of her plans she's hopeful for that include her future husband.
Back in January, Amy captioned an Instagram post stating she's going to "continue to be my best in pursuing the goals I've made for 2020, finish up some lingering business from 2019 and ready for new projects, more filming, some travel, adventure, more life w/ my man Chris."
All of the Roloff kids have tied the knot on Roloff Farms
So, what do Amy's wedding plans look like so far? It's hard to tell exactly where she's planning on tying the knot, as we don't know if she has those details hammered down just yet. But we do know that all of her kids have gotten married or had their wedding receptions on Roloff Farms, as the farm has a private church. Matt has described the church as "a symbol of Gods Grace on our farm."
Back when Jacob Roloff was getting married in 2019, Amy discussed the wedding via Facebook Live. "All of the three kids got married on the farm," Amy noted. "And I said, oh, for me to make sure that this happens, November 1 — they're getting married this September. … These are certain things that I wanted to make sure in my decision making because this is at least what I could do for Jacob."
Matt posted plenty about cleaning up the property for Jacob's wedding, too. He later clarified that Jacob and his wife tied the knot on the beach, but the couple had a lovely reception on the farm property.
Amy stated she's not planning on eloping with Marek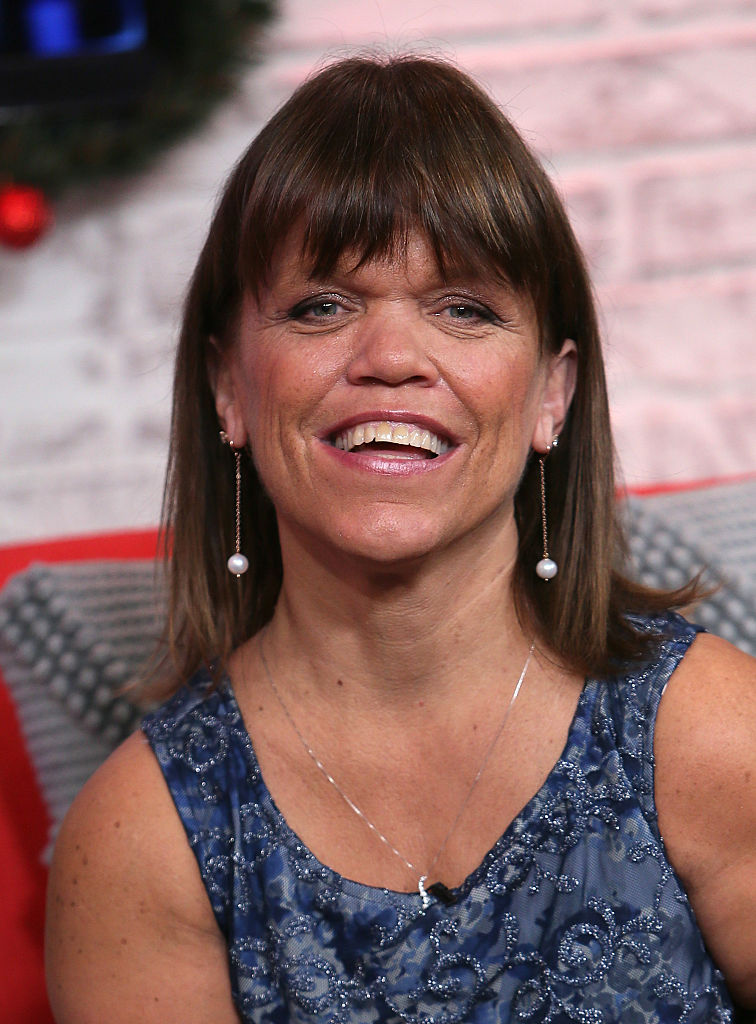 So, will Amy keep the tradition alive and marry on the farm? Since she's officially moved off of the property, she might have mixed feelings. But Good Housekeeping notes Amy mentioned during another Facebook Live video that she won't be eloping with Marek.
"I'm much more of a traditional person … I want the wedding and the reception," Amy said. "I would like to share that experience with [Chris]."
Speaking of tradition, Amy also mentioned she'll be wearing a wedding dress down the aisle the second time, though "it may not be white." Lisa, Amy's friend who also goes on the Facebook Live calls with her, suggested Randy Fenoli from Say Yes to the Dress should design a special dress just for Amy.
We can't wait to hear more about Amy's plans with Chris in the future. So far, we know the wedding isn't happening until 2021 — but this much time hopefully gives the couple plenty of opportunities to share all of the details with fans.
Check out Showbiz Cheat Sheet on Facebook!