'LPBW': Audrey Roloff Shared Her First Photo of Her Baby Bump During Her Second Pregnancy
We've been following the Roloff family for years thanks to Little People, Big World. Currently, the show features Matt and Amy Roloff the most, as their drama post-divorce has fans totally captivated. Aside from them, their son, Zach, as well as his wife, Tori, are also regulars on the show. But Matt and Amy's other three kids — Jeremy, Jacob, and Molly — are rarely seen on the small screen.
Jeremy and his wife, Audrey, chose to take a step out of the TV spotlight to pursue their own dreams. But they're still frequent posters on social media. Recently, Audrey posted a photo of her baby bump at 25 weeks, which appears to be the first photo of her belly we've seen during her second pregnancy. Here's what she posted.
Audrey and Jeremy Roloff are preparing for their second child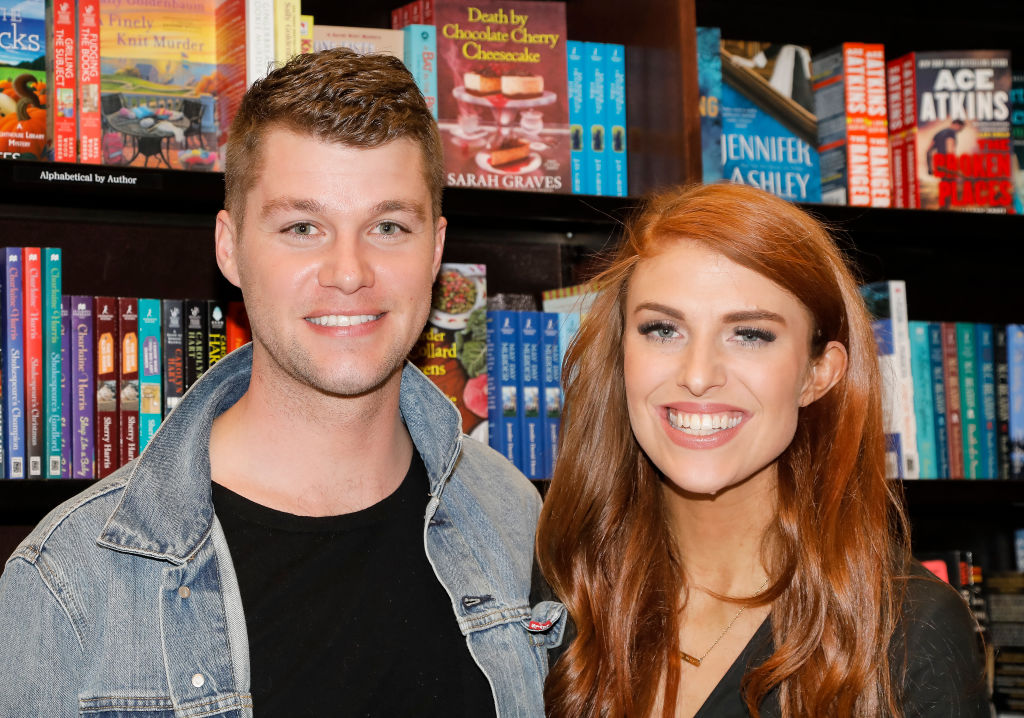 Audrey and Jeremy Roloff may no longer be regularly featured on Little People, Big World, but they're not shy about sharing their daughter, Ember, with the world via Instagram. Audrey frequently posts all about her 2-year-old and the milestones the child is currently going through. And Ember is also ultra-close with Zach and Tori's son, Jackson, who's the same age.
While life with one little girl is fun, Audrey and Jeremy are ready to expand their family, as they've both mentioned they want a number of children of their own. And back in July, Audrey posted a photo of her with Ember and Jeremy as they held up the ultrasound photo of their second child. "Baby #2 is coming in January!!! Ember is gonna be a big sister!" she captioned her post.
Since then, Jeremy and Audrey also had their gender reveal party on Roloff Farms, and the whole family seemed to attend. It was here that they announced they'd be having a baby boy.
Audrey just shared a photo at 25 weeks of pregnancy
Since the gender reveal party back in August, we haven't heard too much about Jeremy and Audrey's upcoming baby. The two have been busy camping with Ember, celebrating Jacob Roloff's wedding, and working on plenty of their own projects, which may include something with Roloff Farms in the future. And Audrey finally shared a photo of her baby bump at 25 weeks of pregnancy.
"I think this might be the first picture of the bump I've taken all pregnancy… But here we are at 25 weeks which actually seems unreal. How has it gone so much faster this time?!" she captioned her post. And her followers and fellow TLC stars loved the photo, too.
Danielle Busby from OutDaughtered commented, "Omg!!! Love that little belly!! You look great!" And another follower gave Audrey some sage advice. "Soon he'll be in your arms. Enjoy your little Ember girl while it's just you 3. She will be missing all the attention on just her. But I'm sure she'll be a great Big Sis!" they wrote.
Tori Roloff's due date is next month
Audrey may have just posted a photo of her second baby bump, but Roloff fans have also been following Tori's pregnancy quite closely. And it won't be long before she has her baby, too. According to what Tori posted to Instagram, she's due in November and is expecting a baby girl.
Pregnancy hasn't been easy for Tori this second time around, however. She recently posted a sweet photo of her, Zach, and Jackson and explained her current struggles. "This last stage of pregnancy has hit me hard. I get so frustrated not being able to do things on my own. I carried 6 towels up the stairs this morning to do some laundry and have been winded ever since. I've never been good at asking for help and these days that's all I ever do," she captioned her post.
We know the struggles will soon be behind Tori as the new baby enters the world. And she has Audrey to lean on for pregnancy support, too. We can't wait to see all of the upcoming baby news from the Roloff family!
Check out Showbiz Cheat Sheet on Facebook!