'LPBW': Matt Roloff Just Told a Fan Amy Roloff Was Included in a Recent 'Emotional' Moment on the Roloff Farms Property
The last season of Little People, Big World had fans thinking Matt and Amy Roloff were more divided than ever before. While the exes were once happily married and taking care of their four children together on Roloff Farms, a lot has changed since then. Now, all of the Roloff kids are grown — and while Matt and Amy still reside on the same property together, Amy made the major decision to leave it all behind at the end of the last season.
Matt just posted about a recent event on the farm that had him and the rest of the family quite emotional. And when a fan questioned if Amy was there, Matt answered back. Here's what was going on and what Matt said in response.
Matt and Amy appeared totally at odds on the last season of LPBW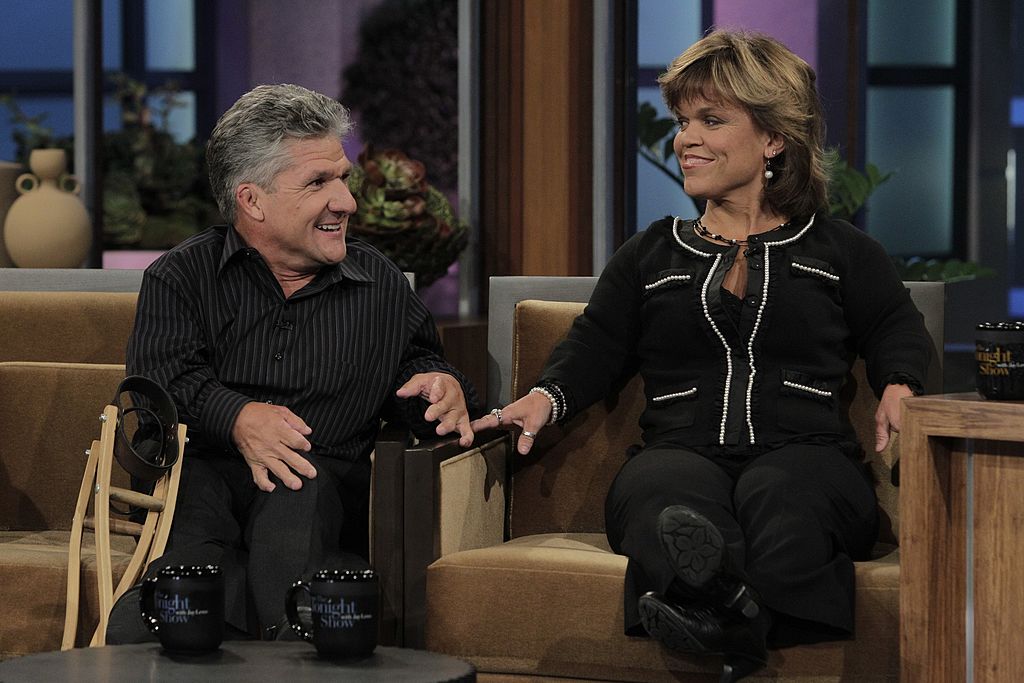 Anyone watching the most recent season of the show could tell Matt and Amy's relationship is tense. The exes managed to work together with the family business post-divorce, but it seems things came to their breaking point more recently. Amy currently resides in the big farmhouse on Roloff Farms, and Matt lives on the other side of the property in a smaller home of his own. At the end of the last season, Amy told Matt she'd sell him her half of the property — and on her Instagram, she's been looking for homes ever since.
The drama doesn't start and end with her housing situation, however. Amy has notoriously had issues with Matt's girlfriend, Caryn Chandler. Chandler worked on the farm for a decade prior to getting together with Matt — and according to Amy's memoir, A Little Me, Matt and Chandler had something going on before he and Amy were even separated. Not only that, but Amy has also talked at length on the show about how uncomfortable she feels around Chandler, which makes sense now that we know her side of the backstory.
Matt just posted about taking down the treehouse on Roloff Farms
Most of the drama with Matt, Amy, and Matt's girlfriend has seemingly blown over. And now, Matt's posting on Instagram about something else entirely — the Roloff Farms treehouse. Fans of the show may remember the treehouse being a staple for Zach, Jeremy, Molly, and Jacob when they were all kids. Sadly, it seems the structure has rotted over time.
"A storm blew a big Part of the old oak tree down last year. And the tree just couldn't be saved. So today the family stood by and watched as I brought the remainder of the house down. Lots of memories watching my kids play in that house the past 23 years," Matt wrote on this Instagram post about the structure.
Jeremy also posted about the beloved treehouse on his Instagram. "Yesterday we said goodbye to one of the icons on Roloff Farms – the treehouse," Jeremy wrote. "Watching the teardown was as exciting as it was sad. Memories flowed, but so did dreams."
A fan asked if Amy was included — and Matt said she was
It seems taking down the treehouse was a family affair, as there's evidence on multiple Instagrams that Jeremy and his wife, Audrey, and Zach and his wife, Tori, were there to watch it fall. Even Chandler commented on Matt's post about watching it come down, showing she was there, too. Since the treehouse was a staple of Amy's past, a fan questioned if she was around for the event. "Was Amy part of the whole family watching? I sure hope so!!" the fan asked.
To that, Matt replied, "yes. Of course she was there! Silly question." And his followers seemed happy he replied to the query and that he included Amy despite their differences. The original poster added, "yes Matt thank you. Some other posts dont believe it is any of her business. She lives there and was around when it was built. I don't think it was a silly question at all."
Matt and Amy's relationship may be fractured, but it's nice to see they're still participating in family events together. Perhaps this moment will be featured on the next season of the show, too.
Check out Showbiz Cheat Sheet on Facebook!