Little Luna Steals the Spotlight In Chrissy Teigen's New Quays Commercial
If you can't get enough of model/host/Twitter queen Chrissy Teigen, we know where you're coming from. She's one of the funniest people online these days. But she's also prone to sharing the cute: Namely, her kids.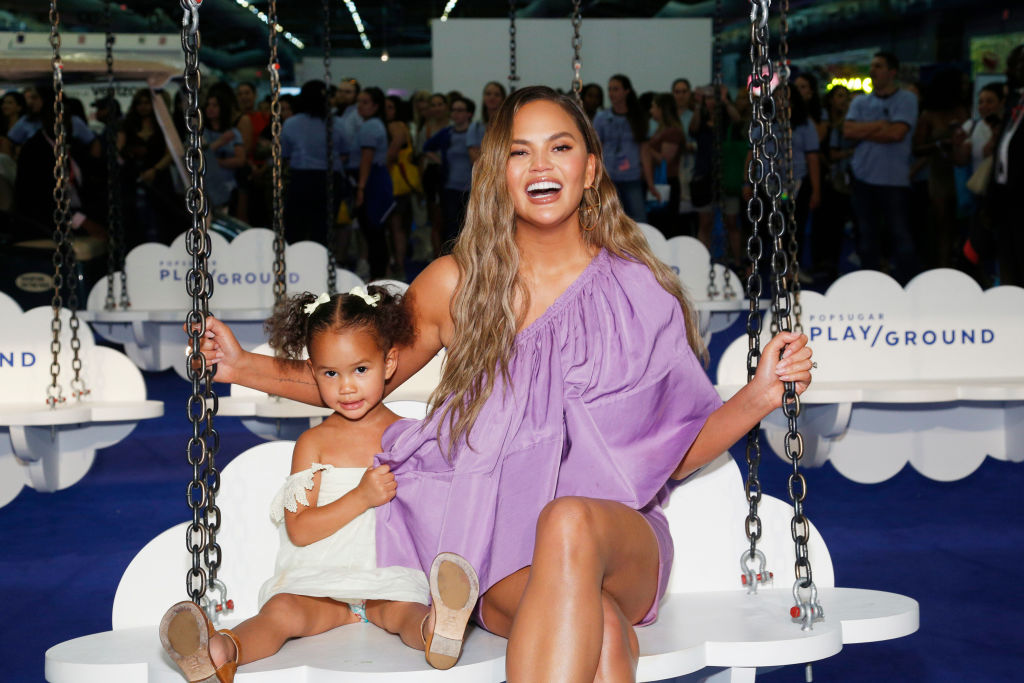 Unlike some celebrity parents who keep their kids out of the spotlight, Teigen embraces her public lifestyle and shares fun and hilarious behind-the-scenes moments with her family, especially her daughter, Luna. Here's the latest instance of Luna stealing the spotlight.
Chrissy Teigen's daughter Luna is basically a model
Luna is at an adorable age. At three years old, she's a confident, chatty, adorable tyke who always speaks her mind. And, as it turns out, she's got her mom's model genes.
Teigen started off her career in entertainment as a model, and Luna is getting a head start as a fashion trendsetter. Just check her out in this precious white dress. She's a natural when it comes to striking a post.
The two bear a pretty striking resemblance
Teigen is always talking about how much Luna and her little brother, Miles, look like their dad, singer John Legend. While this is undeniably true, we also think that you can see Teigen in her daughter.
Take a look at this recent throwback photo Teigen shared on Instagram of her with her own mom. Her face shape, with those perfectly round cheeks, is especially like that of Luna's.
See Chrissy's new ad for Quay's
Teigen has a number of paid partnerships with brands, a given with her impressive social media clout. Her latest is a new collection with Quay's sunglasses, as seen above.
The joke of the commercial, naturally, is that "Quay's" (an Australian brand) is actually pronounced "keys," despite the "Qu" that starts the word. Teigen plays off this as she searches everywhere in her house for her "keys."
Teigen agrees that Luna is the star
While those watching the ad might be unsure as to what it is Teigen's looking for (the first thing she does is grab a bunch of keys — how could those not be what she's talking about?), there's one person who's on the ball: Luna.
And the toddler steals the show with just a few words: 'They're on your head, mama!" — indicating to the audience that Teigen has been looking for her sunglasses this whole time. Teigen writes on Instagram that Luna "absolutely destroyed her only line," following her comment up with a photo of "the breakout star."
The whole family attended the launch
Little Luna got to celebrate her big commercial alongside her family when she attended the launch party on Aug. 15, 2019. Teigen was, of course, there too, as were Legend, Miles, and Teigen's mother.
And it looks like they had a blast. Luna put on a great big smile as the cameras snapped. She even donned a pair in a video Teigen shared on her Instagram Stories. It looks like Luna's got quite a career ahead of her.