Lupita Nyong'o Chooses 6 Adjectives to Describe 'Us' Movie
Us, since hitting the silver screen on March 22, has garnered widespread acclaim from audiences and critics alike. While many have found themselves typing "Us movie explained" into the google search bar – and watching one or multiple video walkthroughs – the movie, in short, is a horrifying allegory that questions the human tendency to draw lines between ourselves: "us" vs. "them." While this by no means covers the gamut of social analysis at play in Jordan Peele's new movie, it gets at the big picture.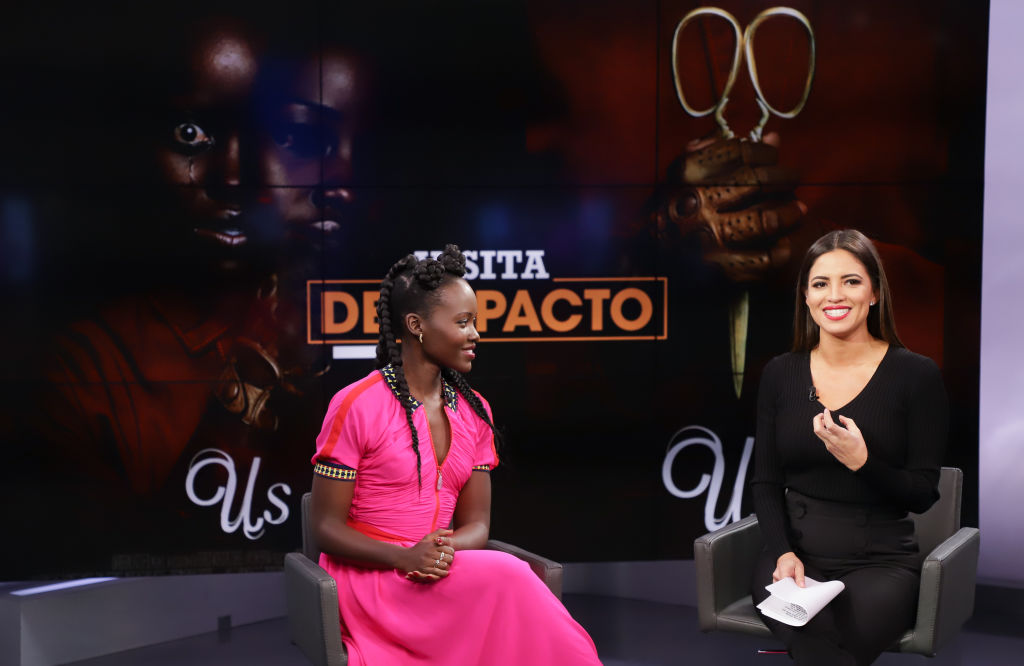 Lupita Nyong'o stars as Adelaide Wilson, and her "tethered" self Red (who is part of a civilization that exists underground). If you have yet to see the movie, this may confuse you; however, as the trailer insinuates, Adelaide and her family soon discover that they all possess doppelgangers out to kill them.
Lupita Nyong'o sat down for an interview to discuss Us, Black Panther, and 12 Years a Slave with BBC Radio 1. When asked the adjectives she would use to describe Jordan Peele's Us, Lupita Nyong'o chose these six words:
"Terrifying"
"Suspenseful"
"Funny"
"Funky"
"Weird"
"Lingering"
For anyone who has seen Get Out, Us captures that same sense of eeriness, and while that sense of discomfort lingers heavily over the entire movie, it is cut with brief moments of "funky" and "weird" comic relief.

Lupita Nyong'o on working with Jordan Peele

Lupita Nyong'o goes on to explain Jordan Peele's directing style, as well as his approach to disclosing information. When asked about working alongside Peele, Nyong'o stated:

"Jordan's open, and he is very generous with information, and I'm the kind of actor where the more I know, the more confident and able I am to do my job. And so, I would often ask him what things meant and he would share. But still, when I watched the film, I got on the phone and was like woah, what did that mean?…"


BBC Radio 1
Lupita Nyong'o, whether due to all of the questions she asked or her sheer degree of acting prowess, gives a chilling performance as both Adelaide and Red. She's got the maniacal laugh down to a T, and the protective motherly instinct is on lock. Watching her in this film is a joy and her performance will continue to haunt you the following day.

What's up next for Lupita Nyong'o?

Lupita Nyong'o has been taking Hollywood by storm since winning an Oscar for her role in 12 Years a Slave, which also happened to be her first nomination. Lupita Nyong'o is set to star in Star Wars: Episode IX later this year, reprising her role as Maz Kanata.

Nyong'o will also appear in the films 355 and The Killer; however, both are currently still in pre-production. In 355, Nyong'o will star alongside Penelope Cruz and Jessica Chastain as an international agent. While not much is known about The Killer, John Woo is set to direct the film (an English remake of the original hitman-themed movie), according to IMDb. Woo is most recognized for his work on Mission: Impossible II and Face/Off starring Nicholas Cage and John Travolta.
As Lupita Nyong'o fans await Star Wars, Jordan Peele lovers are greatly anticipating the horror mastermind's The Twilight Zone reboot, which is currently filming. Jordan Peele will serve as a director, writer, and narrator on the series. Given his knack for unsettling stories, this revamp is destined to be a hit.