Lupita Nyong'o Can Act In Any Film Genre — And That's No Accident
When Lupita Nyong'o broke out with her searing performance in 12 Years a Slave, not many people would have guessed she would go on to play an alien in Star Wars Episode VII: The Force Awakens. She might not have guessed it at the time either.
However, that very versatility very much plays into how she chooses projects now. She doesn't want to be known for any one thing, she wants to be known for being able to do anything. So far, a lot of people are convinced she can.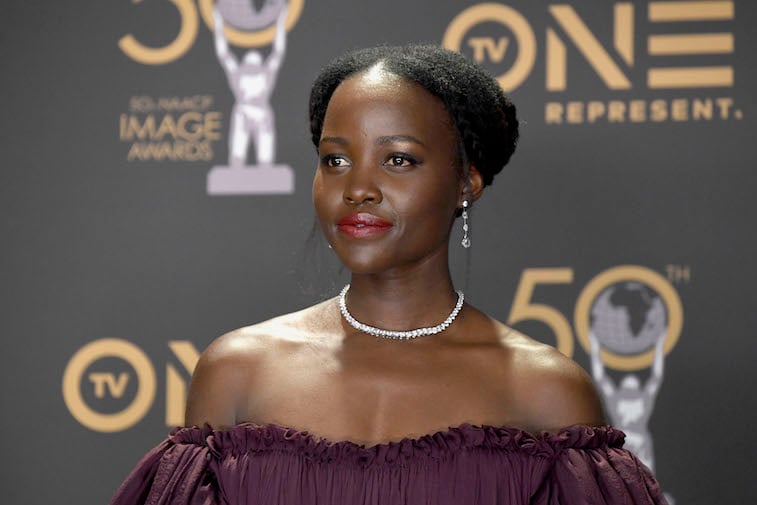 Lupita Nyong'o's career took off fast
Most actresses build toward an achievement like 12 Years a Slave, but that 2013 Oscar-winner for Best Picture was her very first feature film. She didn't even have an agent when she got that part.
She made such a striking impression as Patsey that not only did she win the Best Supporting Actress Oscar, it seemed all the more puzzling when her next movie was a fairly nondescript role as a flight attendant in the Liam Neeson thriller Unstoppable the following year.
"What I was hoping for, coming out of drama school, was just a job," Nyong'o said in an interview with Indiewire.."I was hoping to make it as an actor without having to wait tables. If I could do that, then I was doing well, I thought. In school, they teach you how to prepare for failure. But they don't teach you how to prepare for success. I think success is just as stressful as failure, and your body registers both the same."
After Unstoppable, she went on to take two motion-capture roles where she would only be heard and not seen. She played Maz Kanata in The Force Awakens, then she played Raksha in Jon Favreau's The Jungle Book.
"That was very important to me, because I really wanted to, first of all, reinvestigate what it means to be an actor," she said. "My role in 12 Years was so much about the currency of my character's body. And then, the publicity for the film began, and suddenly it was about the currency of my own body, in a different way."
Nyong'o's career only grows
For some performers, appearing in a superhero movie might feel like slumming. That's hardly the case when the movie was Black Panther, which became the first superhero movie to score a Best Picture Oscar nomination. Nyong'o played Nakia, T'Challa's love interest who fights right alongside him.
Nyong'o's talents manifested in still another way when she took a challenging role in Jordan Peele's Us, in which she plays a character who has a destructive doppelganger. Her performance was so persuasive that there's talk that she could get a Best Actress Oscar nomination for a horror movie.
What's coming up for Nyong'o?
According to IMDB, Nyong'o has three movies coming up. She'll play Maz again in The Rise of Skywalker, she's filming the female team action thriller 355 with Jessica Chastain, Diane Kruger and Penelope Cruz. Then she'll star in The Killer, director John Woo's remake of his Hong Kong action classic of the same name.
The original 1989 film followed a professional hitman (Chow Yun Fat) trying to make amends and pay for a cornea transplant to restore the sight of a beautiful young singer Jennie who is blinded in one of his shootouts.
Nyong'o will not play the singer, but the title role first played by Chow Yun Fat. Once again, Nyong'o is subverting expectations. She'll clearly be acting as long as she wants to, playing what she wants to, and she hopes to inspire other performers to do the same.