'Madam Secretary': The 1 Unrealistic Thing Hillary Clinton, Madeleine Albright, and Colin Powell Noticed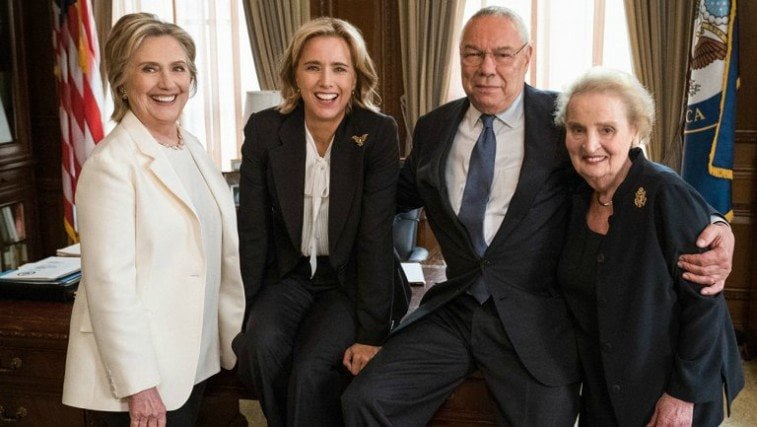 Season 5 of Madam Secretary is an important one considering we left Secretary of State Elizabeth McCord (Téa Leoni) deciding she wants to run for president last season. Also, this season starts with previous Secretaries of State Hillary Clinton, Colin Powell and Madeleine Albright guest starring as themselves who come to help McCord.
The Cheat Sheet talked to the executive producer, Lori McCreary on Sept. 20 at the Tribeca TV Festival for the Season 5 premiere celebration about the guest stars including the one unrealistic thing they noticed about the fictional political show. Here are three things to know.
1. Hillary Clinton asked to guest star on the show first, then Madeleine Albright and Colin Powell joined
The star-filled premiere all started because Clinton asked McCreary at a party to be on the show. "On the outside, I was like 'oh yeah we could do that,'" McCreary told The Cheat Sheet. "But then I thought well maybe it's just the party talk and she was being polite but when I followed up with her office afterward they said 'no she was completely serious.'"
That got the ball rolling to add two more previous Secretaries of State. The executive producer said "then Madeleine Albright has already been on the show one time so she asked to come back. The day after Madeleine Albright asked to come back I was having breakfast with General Powell and I just thought 'oh I should just take this opportunity and ask him so I blurted it out in a middle of a meeting."
2. Albright added a few things to the script
Madeleine Albright was the one guest star who gave some feedback when it came to the script for the Season 5 premiere episode.
"They loved the episode as we sent it to them. We were really nervous when we sent it," explained McCreary. "But they all came back and really loved it. Secretary Albright had a couple ideas to add some lines which Barbara Hall and David Grae incorporated into the scene."
3. They all wished the international crises they handled got wrapped up quickly like on the show
Of course, television tends to make things look easier than what actually happens in real life. Clinton, Albright, and Powell noticed this being true for the show as well and it's the one unrealistic thing about it.
"I think that they said that they wished the international crises that they dealt with got wrapped up as quickly as we do sometimes," McCreary said. "But in general they were telling us how right we were getting a lot of things so that made us feel really good."
The show is following the very real practice of the acting Secretary of State calling previous ones when they need advice. You can watch catch Season 5's premiere on Oct. 7 on CBS featuring the three political guest stars.
Read more: The 1 Person Hillary Clinton Definitely Doesn't Want As the First Female President
Check out The Cheat Sheet on Facebook!