Maggie Rogers Calls Out Sexist Behavior After Getting Catcalled During Concert
Maggie Rogers says her concerts are no place for the sexist behavior she was subjected to at a recent performance.
In the homestretch of her North American tour, Maggie Rogers got catcalled on stage by men in the crowd at a recent concert. After her performance, the New York University alum took to social media to share her thoughts about what happened. Continue reading to learn how the 25-year-old responded. 
She's been playing songs from her album, Heard It in a Past Life, in city after city — oftentimes to sold-out crowds — and has earned many fans including Barack and Michelle Obama. The former president and first lady sent Rogers a letter wishing her luck ahead of her performances in Washington D.C., earlier this month. "This is my Grammy," she wrote in an Instagram post alongside a picture of the note. 
Maggie Rogers catcalled at concert during 'sentimental speech'
On Oct. 19, 2019, before Rogers's acoustic performance of her hit song "Alaska" at ACL Live at The Moody Theater in Austin, Texas, the singer addressed the crowd. During her "sentimental speech," one man in the crowd yelled, "free the nips." The singer immediately responded, according to Austin 360, per a video posted online.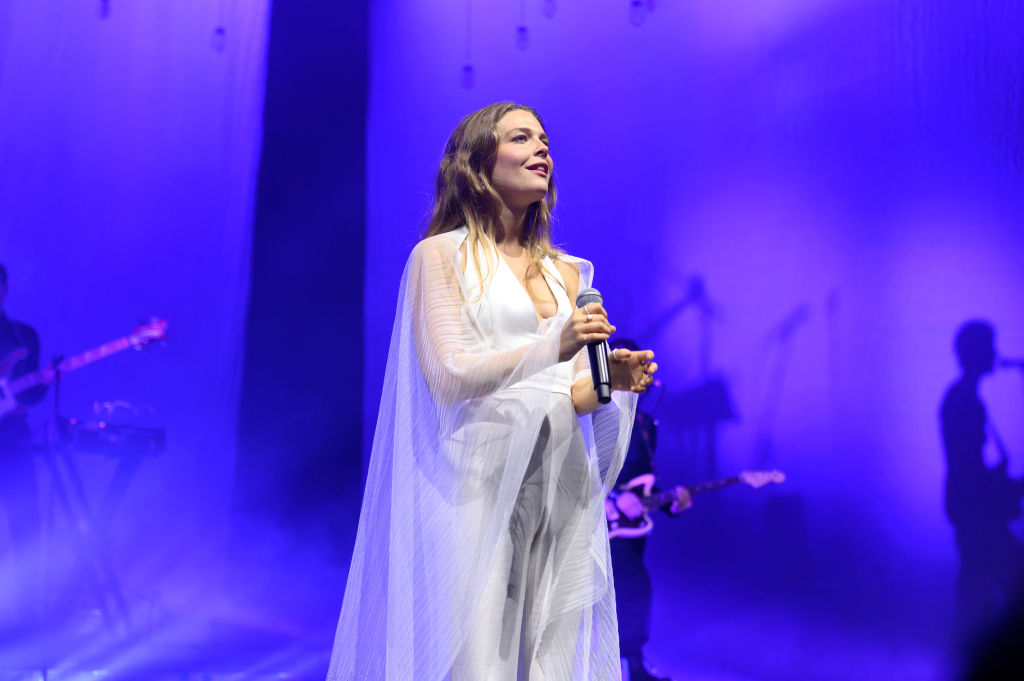 "Shut the f*** up. I'm for the nip too, but don't tell me to take my f***ing top off in the middle of my sentimental speech," she said onstage. Fans continued to yell while Rogers tried to regain her composure. 
"I feel really, like, uncomfortable. I don't quite know exactly what I want to say at this moment," she added. 
As the crowded tried to quiet down, someone in attendance loudly said, "you cute though."
The following day, Rogers shared a lengthy response to what happened on her Instagram and Twitter accounts, titling the post "take your top off." 
"Every night before the Alaska acoustic encore, I speak about gratitude and growth and change," she wrote. "It's the most vulnerable part of the set. just me and a guitar before I say goodnight."
She continued, directly addressing the catcalling incident. 
"Last night, in the middle of this speech a man yelled 'take your top off.' Another joined in and yelled 'you cute though,'" she wrote. "I was stunned. furious. fuming, confused. and also – on a really basic level – it really hurt my feelings," she added. 
The she talked about creating a "safe space" for herself and for her fans during concerts.
"I step on stage every night and give every part of me," she wrote. "And my community shows up every night and together, we create a safe space to amplify each other. To allow relief. To allow release. There's a deep amount of trust there."
"I step on stage every night with a deep reverence for the stage, my craft, and the privilege that is making music for my job," she added. "I've been writing and producing music for 10 years – my body is my greatest tool for communicating that work."
She ended the statement by saying there's no room for harassment at her shows. 
"I want to use this moment to be very very clear. there is no space for harassment or disrespect or degradation of any kind at my show," she wrote. "Be kind to each other out there."
How did Maggie Rogers become famous? 
The musician behind songs like "On + Off" and "Past Life" got her big break after appearing in a viral YouTube video alongside multihyphenate Pharrel Williams (learn why he's embarrassed by his hit song, "Blurred Lines").
She took a masterclass for undergrads with the rapper and producer while attending NYU and the former coach on The Voice had "no notes" for Rogers after listening to her song, "Alaska," because he considered her to be "singular" and unlike anyone else. 
Next up Rogers will perform with Kacey Musgraves and Yola in Nashville, Tenn., to another sold-out crowd.