Maisie Williams Gets Her First TV Role Since 'Game of Thrones'
Maisie Williams is best known for her role as Arya Stark in Game of Thrones. The fierce fighter of the Stark family survived until the very end of the show, and pretty much saved the entire world in turn. Williams will soon grace our television screens again in a new venture. The upcoming series is a Sky Original comedy series that is called Two Weeks To Live.
Who will Maisie Williams play?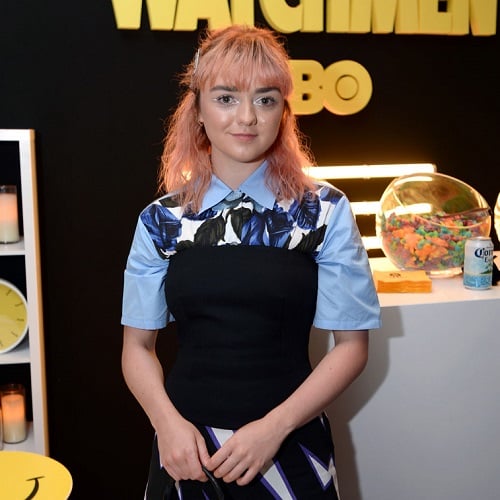 Williams will play the lead as a young misfit by the name of Kim Noakes. She lives quite a secluded country life. Suddenly, an unlikely prank goes wrong and Kim will find herself running for her life from a gangster and the police with a bag of stolen cash. She'll rely on herself and survival skills she has learned throughout her life. The series will be a six-part venture and is produced by The Tunneland Humans outfit Kudos. It's written by Gaby Hull (Cheat). The role will be unlike anything we've seen Williams in before.
Williams is excited for her new role
Williams is excited to be working on something new and different this time around. "Looking forward to getting into something new, I think Two Weeks To Live has really great potential and I want to make something incredible with this wonderful team," explained Williams.
Filming is expected to start later this year. Jon Mountague, the Director of Comedy at Sky, said of Maisie, "With Maisie Williams leading from the front, Two Weeks To Live is to die for. Bold, British and very, very original, we can't wait to wow audiences with even more great comedy."
What would it take for Arya to show up in a spin-off?
At San Diego Comic-Con, Williams and her co-stars Nikolaj Coster-Waldau, Liam Cunningham, Jacob Anderson, Conleth Hill, and Isaac Hempstead Wright spoke with Entertainment Weekly about the likelihood of any of them doing a spin-off for Game of Thrones.
Williams responded with, "If they invent zips and not have leather costumes that are laced up, that would be cool." Cunningham asked her, "That's all you would need?" And she responded with, "Yeah."
Williams supports Arya's killing of the Night King
Williams also spoke about that controversial death she dealt the Night King in the final season. Some fans believe she was aided by Jon Snow in the showdown. Arya thrust the final blow that ended the Night King's terror on the Seven Kingdoms. Williams is clearly not here for resentment from fans, and explained herself at San Diego Comic-Con.
"She did that on her own. If we're gonna give credit to anyone, it's Melisandre," explained Williams. "She knew what she had to do to put the mission in Arya's head when she's at her lowest point. After so long being on her own, [Arya] has something to lose now. Being back with her family has made her that much more vulnerable. So if we're going to put it down to anyone for helping her finish the job, it was Melisandre for the 'brown eyes, green eyes, blue eyes' line."
Williams will be back and taking names on our television screens soon, to the delight of fans everywhere in the upcoming Two Weeks To Live.