'Maleficent's' Angelina Jolie Says the World Needs More 'Wicked Women'
Angelina Jolie is about to start promoting her upcoming film, Maleficent: Mistress of Evil, where she plays the legendary villainess. Perfectly timed for her new movie, Jolie recently wrote an essay for Elle discussing how historically and even currently, women can be mislabeled as 'wicked.'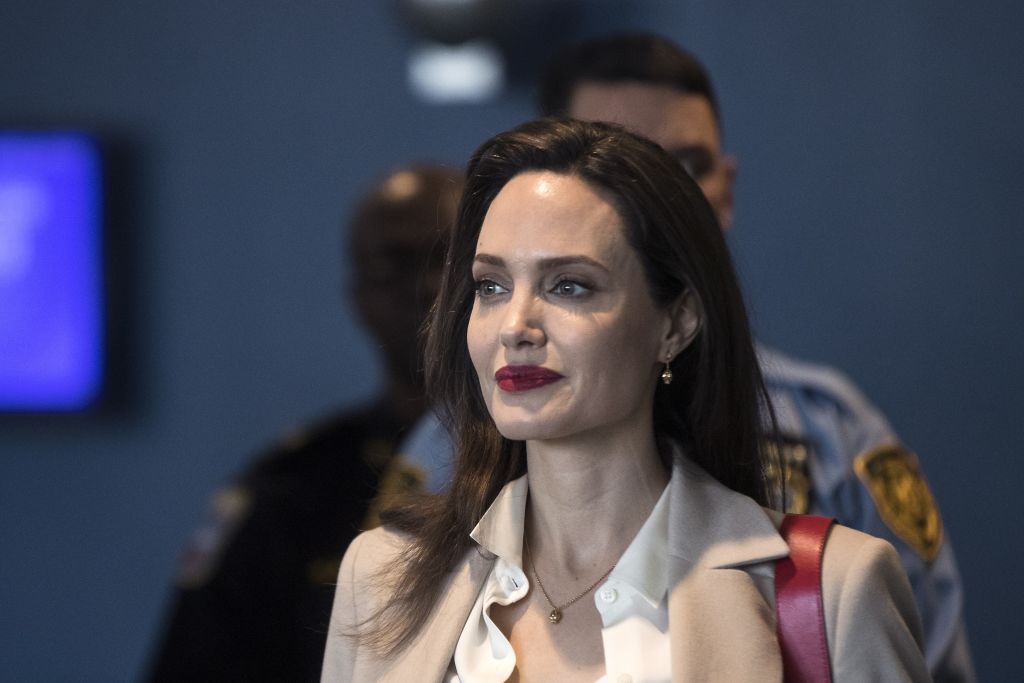 On her sons and daughters
Jolie went through a highly publicized divorce from actor Brad Pitt after approximately 12 years together. The couple share six children — Maddox, who just turned 18, Pax, 15, Zahara, 14, Shiloh, 13, and 11-year-old twins Vivienne and Knox. According to People, Maddox will be attending South Korea's Yonsei University, studying bio chemistry. "I look forward to all he will do," Jolie said.
The actress praised her sons in the Elle article, saying "I could not be prouder of my sons for the men they are becoming, the way they respect their sisters and are respected by them,"
Jolie is very clear on the advice she gives her daughters. In her essay "Angelina Jolie on Why the World Needs More Wicked Women," the actress shares how she teaches her girls that their minds are more important than their outer appearance. "I often tell my daughters that the most important thing they can do is to develop their minds," she wrote. "You can always put on a pretty dress, but it doesn't matter what you wear on the outside if your mind isn't strong. There is nothing more attractive — you might even say enchanting — than a woman with an independent will and her own opinions."
An old mindset that can still be seen today
Jolie went on to describe how independent 'free' women have been perceived as dangerous, or 'wicked,' referencing historical themes including the Old Testament and the Salem witch trials. "Women could be accused of witchcraft for having an independent sex life, for speaking their mind on politics or religion, or for dressing differently," she wrote. "Had I lived in earlier times, I could have been burnt at the stake many times over for simply being myself."
The film director and star compared those historical times to how women are viewed today. "It is startling how often women who run for political office in democratic countries are described as witches … Women who stand up for human rights in many countries are still labeled 'deviant,' 'bad mothers,' 'difficult,' or 'loose,'" she wrote.
Today's 'wicked women'
Jolie expressed in her essay that she's seeking to reclaim the moniker of 'wicked women,' saying that their focus is on strength, not evil. "'Wicked women' are just women who are tired of injustice and abuse," she wrote in Elle. "Women who refuse to follow rules and codes they don't believe are best for themselves or their families. Women who won't give up on their voice and rights, even at the risk of death or imprisonment or rejection by their families and communities. If that is wickedness, then the world needs more wicked women,"
The humanitarian also addressed women's tender and supportive side. "But it is also true that women don't wake up every morning wanting to fight. We want to be able to be soft and nurturing and graceful and loving — not everyone is born to fight," she stated. "And we don't have magical powers. What we do have is the ability to support one another, and to work with the many great men who value and respect women as their equals."
Jolie acknowledged that women tend to struggle with the idea of living up to societal norms rather than pursuing their own instincts. "I think we can often go offtrack as women, because our instinct is to nurture or to adjust ourselves to society's expectations," she penned in the essay. "It can be hard to take the time to ask ourselves who we truly want to be — not what we think other people will approve of or accept, but who we really are. But when you listen to yourself, you can make the choice to step forward and learn and change."
The actress concluded her essay saying, "with love to all the wicked women, and the men who understand them."
Fans can see Jolie in Maleficent: Mistress of Evil when it hits theaters in October!