These Theories About Malik From 'This Is Us' Season 4 Will Make You Reevaluate Everything
A new season of This Is Us is finally here, and it doesn't look like the NBC series is slowing down anytime soon. The fourth season premiere opened up new doors and introduced new characters, including Malik, played by Asante Blackk. At the end of the episode, the teen dad was hinted to be Deja's (Lyric Ross) new love interest. But, who knows what will happen as the drama progresses. Luckily, fans have come up with their own theories about who Malik is and where his storyline is going in This Is Us Season 4.
Deja is the mother of Malik's child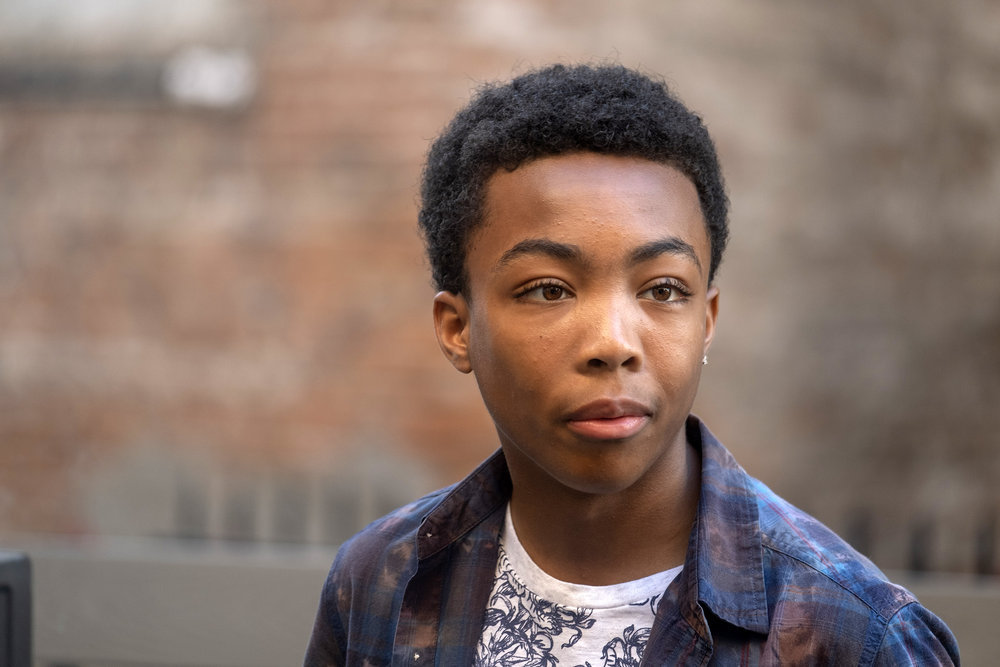 Many fans seem to think Deja is the mother of Malik's child. Although the two characters met for the first time in the This Is Us Season 4 premiere, viewers hypothesized their meeting at the BBQ is set prior to Malik's introduction earlier in the episode.
On Reddit, a fan pointed out there was a bumper sticker from Randall's (Sterling K. Brown) campaign on the car Malik's dad, Darnell (Omar Epps), was working on in the episode. The Redditor then questioned the timeline that appeared to play out in the premiere.
"So some of y'all are thinking Deja is the mom—that the first meeting we saw between Malik and her was actually a year in the past from that moment at the body shop with the sticker," a fan explained. Thus, allowing the possibility of Deja being the mother of Malik's kid.
However, other fans were quick to refute the theory. They noted Randall and Beth (Susan Kelechi Watson) would welcome the baby into their family. "No way the baby would only be taken care of by Malik's family," a viewer wrote. "Like, that would require utter character assassination of Beth and Randall."
Meanwhile, some fans argued the premiere was meant to follow a continuous timeline. "Deja is not the mom and the baby already exists when they meet," a Reddit user wrote. "His dad agreed to babysit before the bbq, and then it showed Malik at the bbq. They never gave indication that this bbq suddenly went back in time a year."
Randall and Beth will disapprove of the couple's relationship
For the most part, fans sense trouble brewing for Deja and Malik. Most fans asked if Jack's (Milo Ventimiglia) first meeting with Rebecca (Mandy Moore) father will parallel Malik's introduction to Randall.
In the season 4 premiere discussion on Reddit, one fan suggested Deja and Malik's blossoming relationship will "cause another rift" with Randall and Beth. "I think Beth will disapprove in the beginning, but after meeting Malik and his family will come around and support both of them being together," the Redditor explained. "But Randall, being the overly-protective-dad-of-a-teenage-girl type, will definitely be harder to win over."
Another fan also offered a similar theory. They wondered if Randall and Beth will both oppose Malik "if he gets caught with drugs since they would be scared of Deja going down the path her bio-mom did."
What Dan Fogelman has to say about Deja and Malik in 'This Is Us' Season 4
It may seem like the fans are onto something. But, we're just going to have to wait until it all unfolds on This Is Us Season 4. However, it certainly looks like viewers have something to worry about as new episodes roll out. According to creator Dan Fogelman, Deja and Malik's relationship is complicated.
"We're obsessed with the little Lyric, the actor who came out of nowhere for us and has just blown us away," Fogelman told The Hollywood Reporter. "But there's stuff coming with her and this young man, and the two of them are both real prodigies and it's so complicated for the parents on both sides."
The creator then hinted where the storyline is headed. "There's really interesting stuff coming that deals with perception, it deals with class, it deals with race in a really interesting way," Fogelman shared. "But for the kids, there's stuff coming that is so romantic and I'm so excited about it just purely watching these two. We can't get enough of them."
Not going to lie, we aren't sure if we should be excited or scared. We're sure the budding romance between Deja and Malik will make our hearts dance. But, we're worried about the complications that will surely arise. So stay tuned — this one's going to be interesting.
Check out Showbiz Cheat Sheet on Facebook!