Mamma Mia! How much is ABBA Worth? Plus, Do They Want a 'Mamma Mia 3'?
Since bursting into our lives in the 1970s, Swedish supergroup ABBA has been a musical juggernaut. Topping the charts from 1974 to 1982, the band, named for the first letters of each band member – Agnetha Fältskog, Björn Ulvaeus, Benny Andersson, and Anni-Frid Lyngstad eventually lost the popularity they had enjoyed. Then, Mamma Mia! the musical happened.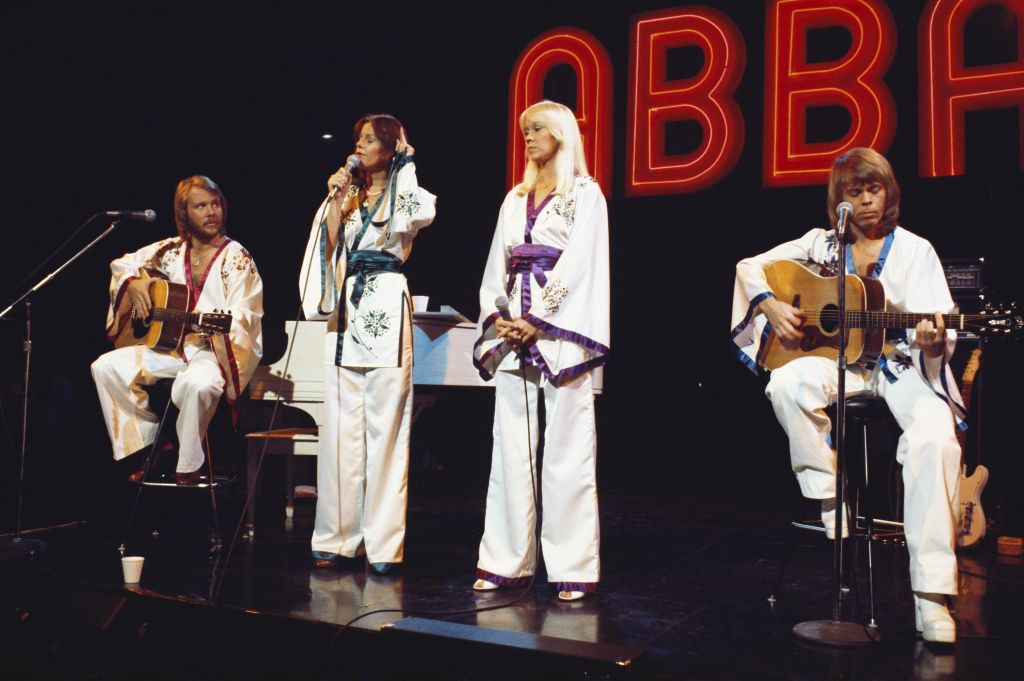 In 1999, the Broadway musical Mamma Mia! featuring the songs of ABBA, was created, enjoying incredible success. Following the Broadway show came the mammoth hit movies, Mamma Mia! and Mamma Mia! Here We Go Again.
Let's pick up where we left off in each movie, and find out if ABBA wants a Mamma Mia! 3, plus what their net worth is.
'Mamma Mia!' movie recap
Released in 2008, the first film, Mamma Mia! is set on a fictional Greek island. Sophie Sheridan (played by Amanda Seyfried) is getting ready to marry her boyfriend Sky (Dominic Cooper). (Fun fact: Seyfried and Cooper became romantically involved in this first film. By the time the sequel came around 10 years later, they had broken up, which may have made acting together again a bit awkward.)
Her mother, Donna (Meryl Streep) is hosting the wedding at her not-in-such-great-condition hotel. Sophie finds her mom's old diary and discovers that her father might be one of three men: adventurous Bill (Stellan Skarsgård), handsome Sam (Pierce Brosnan), or uptight former rocker Harry (Colin Firth). She's too curious not to investigate and sends a wedding invitation to each of the men.
Her mom, Donna, is beyond shocked to find her three former lovers on the Greek island, in her home. Her best friends Tanya (Christine Baranski) and Rose (Julie Walters) help her sing away her agitation and sadness.
In the end, the three dads offer to walk Sophie down the aisle; Donna confesses her love to Sam (he's still in love with her, too); Sophie decides she really is too young to get married, and Donna and Sam get married!
All of this happens – don't we wish this could be for real life, as well – to the tunes of Dancing Queen, Waterloo, Lay All Your Love On Me, and Super Trouper.
And here's where we left off with 'Mamma Mia! Here We Go Again'
Donna has died and her daughter tries to reopen Donna's broken down hotel in this sequel, which came around in 2018, 10 years after its original. Younger Donna is played in Mamma Mia! Here We Go Again by Lily James, with Meryl Streep as older Donna in a couple of spots. Throughout the movie, there are flashbacks of Donna's past with Sophie's possible three fathers.
Sophie reveals she and her now-husband Sky are expecting a baby and to top the movie off, her grandmother Ruby, played by Cher (did we expect anything less?), makes a spectacular entrance by helicopter.
One of the best scenes is of the entire cast triumphantly celebrating the hotel's grand opening with a performance of Super Trouper. The movie ends with Sophie's infant daughter's christening at which, in Sophie's mind and heart, Donna 'returns' with comfort and reassurance for her daughter.
ABBA's net worth, and will there be another 'Mamma Mia'?
Throughout their career, the band has sold 400 million records worldwide.
ABBA is the fourth best-selling musical performer in history behind #3 Michael Jackson (450 million albums sold), #2 Elvis (550 million), and #1 The Beatles (600 million).
Each member of ABBA is worth between $200 and $300 million, according to Celebrity Net Worth. They turned down a $1 billion (billion) payday for a reunion tour because it would have required a 100-night tour.
As for the possibility of a third Mamma Mia!, in May of this year, Lily James' Instagram showed her skipping on the beach on the island of Vis in Croatia – where the 2018 sequel was filmed. Then she posted about ABBA show tunes! Hmmmm…
The following month, in June 2019, ABBA band member Björn Ulvaeus said he could be talked into a third film.
"If someone comes up with an idea for Mamma Mia! 3, you know I'll have a look at it," he told Magic Radio. "We'll have a look at it."
A few days after, the star seemed to have changed his mind. Speaking with Good Morning Britain, he said as far as he is concerned, Mamma Mia! 3 is just a vapor.
"No plans for that, that's just rumours," he said. "No plans for that."
Read more: How Did Tupac and ABBA Make the Rock and Roll Hall of Fame Before T. Rex?