'Manhattan Love Story' Cancelled; What the Stars Will Do Next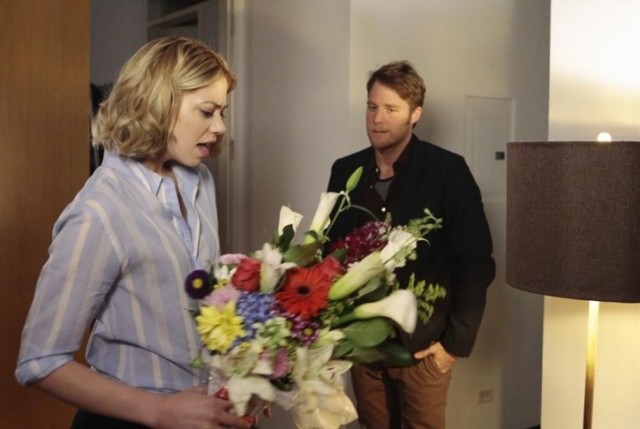 ABC's romantic comedy Manhattan Love Story has become the first casualty of the fall television season. The show's horrible reviews and paltry ratings damaged not only itself, but also ABC's Marvel cash cow Agents of S.H.I.E.L.D., something that the network just could not abide. Love Story has been replaced with back-to-back episodes of fellow new comedy Selfie, which hasn't done much better critically or ratings-wise, but is still an improvement.
According to The Hollywood Reporter, Manhattan Love Story premiered to just 4.3 million viewers and a low 1.3 in the all-important adults ages 18 to 49 demographic, a drop from its lead-in, Selfie. Things got worse for Love Story from there, with Week 2 dropping to 3.2 million viewers. By the third episode, the show was only scoring 0.7 in the key demographic and hurting S.H.I.E.L.D.
Manhattan Love Story was one of the most poorly reviewed shows of the fall season. The show stars Analeigh Tipton and Jake McDorman as a couple who meet and date in the Big Apple. Viewers can hear their opposing, unfiltered internal monologues, which are meant to shed light onto how differently men and women view relationships. The method has not worked out well, and critics have lambasted the show for being not only not funny but oftentimes offensive, with no chemistry between the romantic leads.
While critics are saying that Tipton is likable enough, McDorman's character is so awful that the viewer actively roots against the couple. The show has a 29 percent rating on Rotten Tomatoes and a 42 Metascore. "One wants to like the show on Tipton's behalf, but there is no real spark between her and designated future boyfriend Peter. And Peter's own thoughts show him to be kind of a jerk — more of a jerk, I imagine, than we are meant to think him," said the Los Angeles Times.
Selfie also hasn't done very well with critics or in the ratings, but ABC seems to have some faith in the new comedy, as the network decided to air back-to-back episodes of it in replacement of Love Story and has ordered three additional scripts for the series, which is about an egotistical social media maven who discovers she has more friends online than in real life.
Tipton and McDorman have other movies set to come out that they can only hope will serve them better. Tipton gained fame from competing on the third season of America's Next Top Model and then acting in The Green Hornet and Crazy, Stupid, Love. Recently she was in the Scarlett Johansson-starring action movie Lucy and the indie romantic comedy Two Night Stand. She'll soon be seen in the thriller Viral, about a woman living in quarantine after a virus kills off most of humanity, and Mississippi Grind, a drama with Ryan Reynolds and Sienna Miller that's about two men who take a road trip through the American south, playing poker and attempting to turn their luck around.
As for McDorman, he's coming off a supporting role on the last season of Shameless. Up next he has the comedy Me Him Her, the Clint Eastwood film American Sniper co-starring Sienna Miller and Bradley Cooper, and the indie dramedy See You in Valhalla. With projects like that on the horizon, McDorman is lucky he'll soon be able to forget his awful Manhattan Love Story character. It seems like Tipton, McDorman, and ABC all have better things on the horizon.
Follow Jacqueline on Twitter @Jacqui_WSCS
More from Entertainment Cheat Sheet:
Want more great content like this? Sign up here to receive the best of Cheat Sheet delivered daily. No spam; just tailored content straight to your inbox.