Is Mariska Hargitay Getting a New Look for Season 21 of 'Law & Order: SVU?'
The premiere of the highly anticipated 21st season of Law & Order: SVU is almost here, and fans can't wait to see the detectives on the mean streets of New York City. Lt. Olivia Benson, the main character played by Mariska Hargitay and all-around female icon, was recently seen sporting a new look while filming on set. Could this mean that Benson will be changing up her look for the upcoming season?
Mariska Hargitay was seen filming for 'SVU'
According to OK Magazine, Hargitay was seen in New York on September 3 filming in a very new and surprising outfit. Looking effortlessly cool, Hargitay sported a pink flowing pastel dress and strappy silver sandals. The new-look is a welcome change from the professional dress we usually see her in. Hargitay's character usually sports a blazer of some type and pants. Could this mean that Benson may actually get some much-needed time off in the season to come?
Kelli Giddish was also seen filming with Hargitay
Also seen on set was Kelli Giddish who plays Det. Amanda Rollins. She sported her usual pantsuit with a pop of color with a yellow and white blouse. The pair was filming together in Manhattan for season 21. Fans can't wait to see the two detectives back in action.
Mariska Hargitay shared a new behind-the-scenes photo
Hargitay recently shared a new behind-the-scenes photo of herself on set via her Instagram. The image shows a camera filming Hargitay while she looks off into the distance, presumably thinking about the case at hand. "Back at it #SVU21 #BackToSet #BackToSchool #BensonsBack," Hargitay captioned the image.
This isn't the first image she has shared images teasing the new season. Hargitay has also shared a photo of herself and fellow co-stars Kelli Giddish, Ice-T, and Peter Scanavino. "Back at it. #Season21 #Squad #LeightsBackOn #FinLiviaRolIsi," she captioned the photo.
What's to come in season 21 of 'SVU?'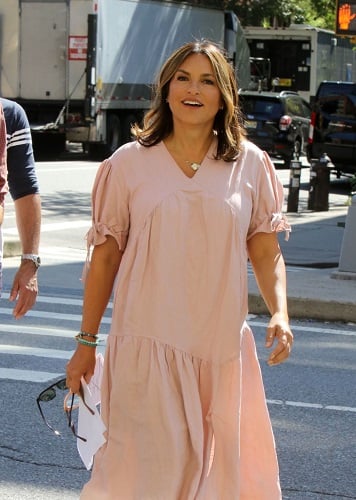 TV Line learned that Amy Hargreaves of 13 Reasons Why will guest-star in the new season. She will play Dr. Alexis Hanover, who is a psychologist who will be teaching the detectives a new technique involving interviewing. She will have the task of role-playing with each detective and have them recall past trauma. It sounds like the new season of Law & Order: SVU is going to be full of new surprises.  
Ariel Winter will star in an upcoming episode
Ariel Winter of Modern Family will also appear in an upcoming episode of the new season. Winter was spotted filming with Hargitay in New York City. She will be sporting a new look according to E! News. She has strawberry blonde hair in the new episode and debuted the new look on her Instagram account. "Filming something new that I'm really excited about," Winter captioned the photo.
When does 'Law & Order: SVU' premiere?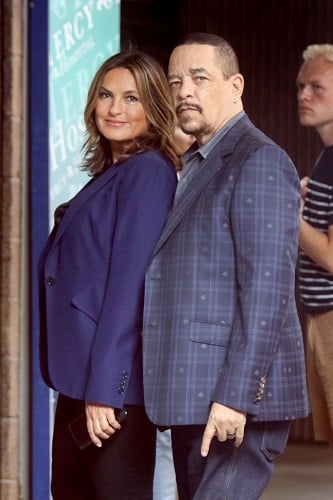 The new season of SVU can't come fast enough for fans. Season 21 will premiere on September 26 at 10 p.m. E.S.T. Ian McShane, of American Gods and Deadwood will appear on the premiere episode of the new season per TV Line. The character is described as "a charming and high-profile media mogul who takes on Olivia Benson and the SVU squad after being accused of sexual assault."
With only a few more weeks to go until the premiere of SVU, it sounds like fans have a lot of interesting things in store for season 21. The SVU detectives will be back to arrest the perps very soon.