Mariska Hargitay Urges People to Stop Using This One Term
Mariska Hargitay is known for her portrayal of Lt. Olivia Benson in Law & Order: SVU. She is also known for her advocacy for women, victims of abuse, and those less fortunate. She recently made a statement on her Instagram about using a term to describe sexual assault victims.
Hargitay posted a message to Instagram
Hargitay posted a heartfelt message to her followers and the world. "Hey, everyone in media, stop saying and printing 'sex with underage women.' Underage women are children," she said in the quote.
She is known for her advocacy efforts, especially when it comes to violence and abuse against women. Watch even one episode of SVU and it's plain to see why Hargitay cares as much as she does. She even used her resources to start helping in other ways through her own foundation.
Her role as Lt. Benson inspired her to start a nonprofit
Hargitay's commitment and years working on Law & Order: SVU inspired her to finally start her own nonprofit. Among her other advocacy work, Hargitay is an advocate of her own foundation, Joyful Heart, which helps those affected by sexual abuse.
The foundation's mission is to transform society and how it responds to sexual assault, domestic violence, and child abuse. It supports survivors on their mission for healing and to end violence forever.
Hargitay is currently shooting scenes for the 21st season of 'SVU'
Law & Order: SVU will be back later this year, to the delight of fans. The show has taken the world by storm and people truly can't get enough.
This week, Hargitay and the rest of the cast were on set filming scenes for the upcoming season. According to OK Magazine, the cast and crew of the show were filming in Manhattan and shot a couple of takes. They've been working on the new season filming since last month. Hargitay was seen with fellow co-stars Peter Gallagher, Kelli Giddish, and Ice-T.
'SVU' challenges Hargitay every day
Hargitay spoke to People about SVU and how happy the show and experience makes her.
"It is so challenging to me. People think, Okay, you've done it. And yes, there are scenes where I'm like, 'I've done this scene. I've done this scene 5,000 times and I can do it in my sleep and in Chinese.' And then there's something else, or another moment where I go, 'I don't know what to do.' And I get so happy of how nervous I am," explained Hargitay.
When will 'Law & Order: SVU' Season 21 premiere?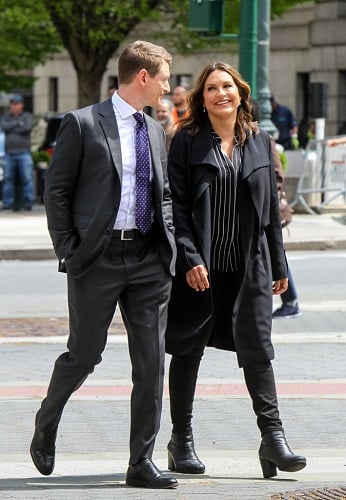 Fans can't wait for the return of Law & Order: SVU. The 21st season will premiere on September 26 at 10 p.m. on NBC. That isn't too far off, but fans can binge watch the first 20 seasons in a variety of ways in the interim.
All 20 seasons are available to Hulu subscribers, which is a pretty big deal. If you want to watch that one episode you've been dying to see, simply watch it whenever you want. Amazon Prime Video offers fans most of the seasons to purchase.