Martha Stewart's New Business Venture Leaves Fans Scratching Their Heads
Marijuana is going mainstream. Most of us have gotten used to cannabis products becoming a normal part of healthy living in the recent years, but when Martha Stewart announced that she'd be joining the industry, it still came as a shock to many.
What is Stewart's role, and how is she participating in the marijuana industry? Here's what we know.
Martha Stewart makes pot products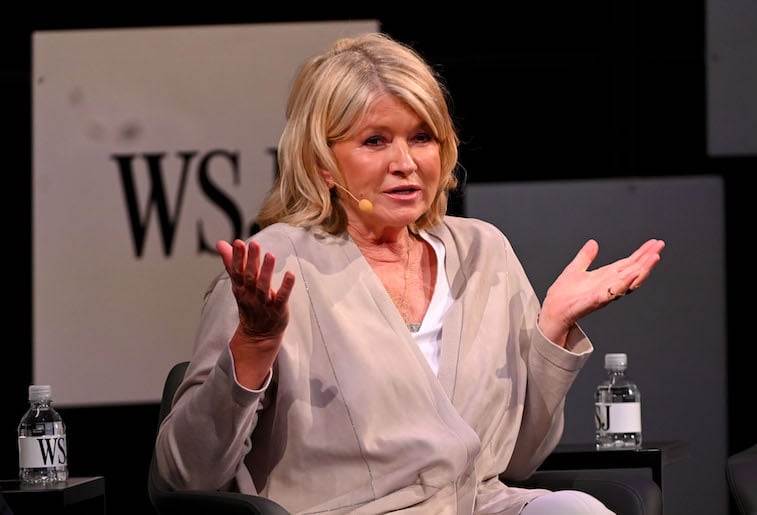 Stewart will be helping to develop a line of cannabis products, including cosmetics, animal care, and food products, for the company Canopy Growth Corp.
She'll be taking on an advisory role with the company, where she'll use her experience with recipes to incorporate cannabis into a product beneficial for the consumer. The health benefits of cannabis have been making headlines all over the U.S. so, it's really no surprise that Stewart would want to take part in the booming industry.
In regards to cannabis products, Stewart said at the World Cannabis Congress, as reported by Bloomberg, "I've been experimenting a little bit with some of the good products that are available now, I find them very useful and really good for your skin, and I think the anti-inflammatory qualities of some of them are very good."
The chief executive officer for Canopy Growth Corp, Bruce Linton, was first introduced to Stewart by their mutual friend, Snoop Dogg. The unlikely friendship between Stewart and Snoop Dogg began when they started making shows together. Their most recent endeavor is the VH1 cooking show, Martha and Snoop's Potluck Dinner Party.
Martha Stewart is good for the industry
Derek Riedle, founder of the cannabis lifestyle brand, Civilized, and host of the World Cannabis Congress, commented on Stewart's influence on the cannabis industry to Forbes. Riedle says:
"Cannabis consumers around the globe are desperate to see themselves in culture. They are desperate for role models. First, to have Chelsea, an outspoken entertainer that wasn't then traditionally identified in the cannabis space was validation for the brand we've built and the type of event we set out to host here. The same could be said about Martha. What I love about her is that she is so mainstream—a lifestyle icon for generations now. For her to have the confidence to move into the CBD industry with the world's largest cannabis company speaks volumes. Martha is preheating the oven, so to speak, for an entire new demographic to cook in."
It looks like the new cannabis industry isn't just benefiting Stewart, the cannabis industry is also benefiting from Stewart taking part. By Stewart giving her stamp of approval to marijuana products, it gives the products a sense of legitimacy for many new consumers.
Martha Stewart has an eye for business
Although it may seem a surprise to many that Stewart is willing to associate her brand with pot, since the legalization of cannabis in many states, it remains a fact that weed is going mainstream. And because of the widely recognized health benefits of cannabis, it makes sense that Stewart, a healthy living advocate, would be interested in the industry. Plus, Stewart knows that cannabis offers huge money-making opportunities.
Stewart is known as a domestic queen, but don't underestimate her eye for business. She was able to turn her love of homemaking into a multimillion dollar company, with the use of her business skills and entrepreneurial spirit. In 1999, Stewart opened her company, Martha Stewart Living Omnimedia, up for public trading.
Although she had a brief setback in 2004, when she was arrested and sentenced to prison for insider stock trading, Stewart has since been able to rebound. She still manages her multi-media company, producing magazines, TV shows, and a wide range of other endeavors.
This new association with the cannabis industry will only boost Stewart's already hefty earnings.