Marvel Comic-Con 2019: The 5 Biggest Phase 4 Bombshells, Including Everything We Know About Valkyrie
Marvel is taking things to a whole new level in Phase 4 of the MCU. During a panel at Comic-Con San Diego, Marvel revealed its full schedule over the next two years. Not only does this include a hefty 10 different titles, but the studio has tapped some major Hollywood talent to lead the way into Phase 4. Here's are five of the biggest releases in Marvel's lineup, including a look at Valkyrie.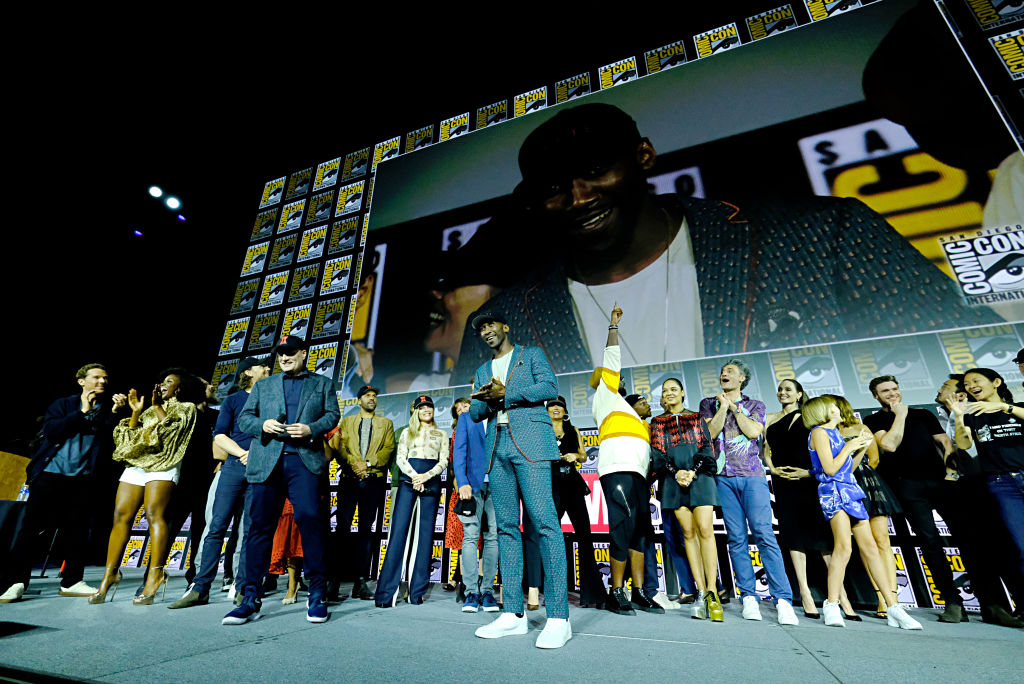 1. Marvel announces major solo projects
During the Hall H panel, Marvel announced that Black Widow, Thor, and Doctor Strange will all be getting solo movies in the coming years. Marvel president Kevin Feige teased that Captain Marvel, Black Panther, and Guardians of the Galaxy will be getting sequels, though an official premiere date has not been set.
Feige then confirmed the rumors about the Eternals, which is set to open in theaters in the fall of 2020. The movie will star the likes of Angelina Jolie, Richard Madden, Salma Hayek, and Kumail Nanjiani.
Marvel also announced that Doctor Strange will be getting a sequel but with a twist. The movie is titled Doctor Strange in the Multiverse of Madness and is being characterized as Marvel's first horror movie. The film will hit theaters in May of 2021.
The first movie in Marvel's Phase 4, meanwhile, is Black Widow, which should be out in theaters sometime next year. The movie is currently in production and stars Scarlett Johansson and David Harbour, who is best known for his role as Jim Hopper in Stranger Things.
2. Thor gets another movie
One of the biggest announcements was related to the upcoming Thor film. According to 10 Daily, Chris Hemsworth is returning as Thor and will reprise his role alongside Tessa Thompson's Valkyrie.
But the biggest news regarding the project is the return of Natalie Portman as Jane Foster, who will appear as the new Thor in the movie. The actress made a surprise appearance at Comic-Con, where she was given the honor of wielding Thor's hammer.
Thor: Love and Thunder is an adaptation from the Might Thor comics by Jason Aaron. The comics feature Jane Foster becoming the next Thor, something Portman says she has been looking forward to playing for a long time.
3. Valkyrie gets a big upgrade
In addition to Portman's involvement in the next Thor movie, titled Thor: Love and Thunder, Thompson's character will also be getting more screen time. Thompson made a big splash in Thor: Ragnarok as Valkyrie and fans were thrilled when Marvel announced that she is returning for at least one more outing.
While Hemsworth has yet to read the script for the film, Thompson revealed that Valkyrie will be searching for a queen to rule at her side in the new Asgard. This confirms earlier theories about Valkyrie and adds another layer of diversity to the MCU. In fact, Valkyrie is the first hero in the MCU that is connected to the LGBTQ community and will likely not be the last.
4. Marvel kicks of television franchises
Aside from its lineup of movie projects, Marvel is getting ready to kick off several television shows for Disney +. This includes Tom Hiddleston starring in Loki, Jeremy Renner reprising his part in Hawkeye, Falcon and the Winter Soldier featuring Anthony Mackie and Sebastian Stan, and Elizabeth Olsen and Paul Bettany in WandaVision.
Marvel has not revealed too much information about the television series, though things that happened in the first Doctor Strange film will affect some of the shows. The television franchises are expected to launch on Disney + in the fall of 2021.
5. Marvel teases X-Men projects
Feige was very careful about only revealing information about the next two years in the MCU, but he did tease some projects that will be released later in Phase 4. Disney recently acquired the rights to several franchises in Marvel Comics, including X-Men and Deadpool.
It is pretty much a given that Marvel will continue the Deadpool franchise given its huge popularity, though Feige hinted that X-Men will also get some screen time in the near future.