Marvel Phase 4: There Are Some Major Crossovers Being Set Up In The MCU
The end of Phase 3 of the Marvel Cinematic Universe has created an opportunity for some major superhero crossovers. Avengers: Endgame saw Ironman (Robert Downey Jr.) sacrifice himself to defeat Thanos, Captain America (Chris Evans) retreat to his former life, and Thor (Chris Hemsworth) venturing off into space alongside the Guardians of the Galaxy. This has opened the door for new characters to lead the way into Phase 4, as well as some amazing crossovers for some of our favorite heroes.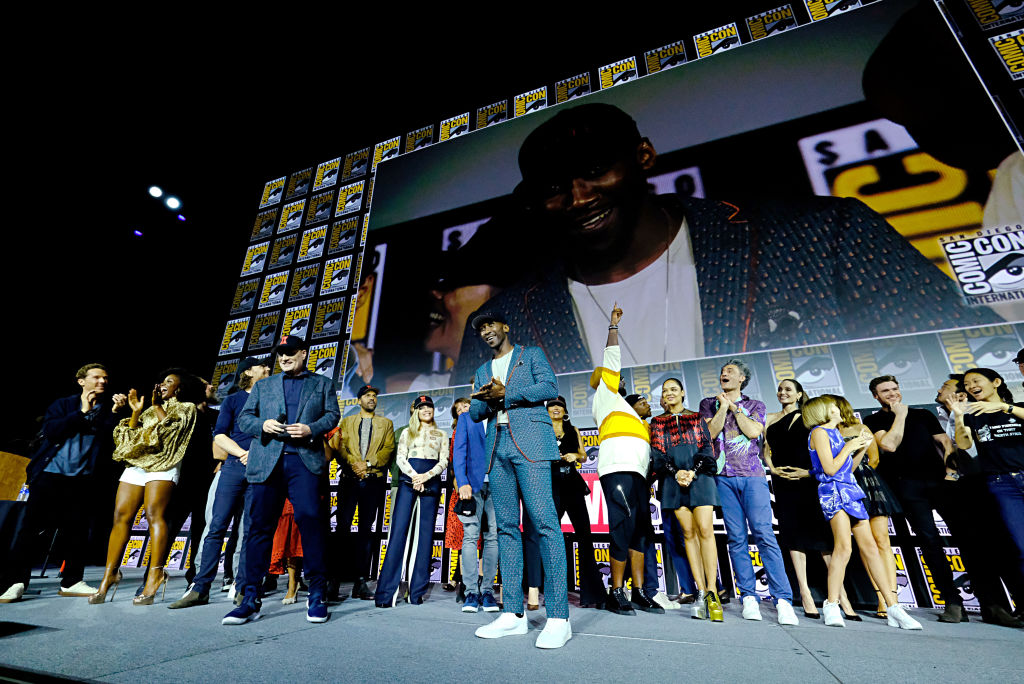 Marvel teased its Phase 4 timeline during an appearance at Comic-Con International in San Diego, revealing which franchises will be getting new movies and which characters will be brought into the fold over the next two years. So what are some of the biggest crossovers coming to the MCU in Phase 4?
Secret Invasion
One of the biggest twists in Spider-Man: Far From Home was how the two Skrulls, Talos, and Soren, were impersonating Nick Fury (Samuel L. Jackson) and Maria Hill (Cobie Smulders). The post-credits scene revealed that Fury is in outer space working on a big project with some other Skrulls, details of which have not been revealed.
With the Skrulls clearly playing an important role behind the scenes, there is a chance that Marvel is setting us up for the Secret Invasion storyline, especially if there are sleeper cells of Skrulls living on Earth.
We already know that some of the Skrulls are friendly, but there are factions that might be looking to make Earth their new home. If that happens, we could see a major galactic war in Captain Marvel 2, a project that Kevin Feige has kept tightly under wraps.
Annihilation and The Fantastic Four
Now that Thanos is gone, Marvel will be looking for another supervillain to fill his shoes. The Annihilation storyline could fit the bill as the MCU's next major conflict. In the comics, Annihilation was such a big threat that some of Marvel's biggest names were dragged into the fight, including Silver Surfer, Galactus, Super-Skrull, and the Kree. It would take a lot of setup to get right, but Annihilation could provide an opportunity to get a new team of Avengers together.
According to CBR, Annihilation is also closely tied to the Fantastic Four. During Comic-Con, Feige teased that the Fantastic Four will see new life in the MCU. Annihilation was one of their biggest foes early on, so it makes sense to pit them against him on the big screens. This, of course, would require getting the franchise back off the ground in the near future, a prospect many Marvel fans are excited about. Disney recently bought the rights to the Fantastic Four, as well as X-Men and Deadpool.
Doom and Secret Wars
Considering the success of Marvel's The Avengers franchise, it is clear that Marvel enjoys ensemble projects. In Secret Wars, both villains and heroes teamed up against each other to see who could come out on top. This sort of large-scale collaboration could introduce a number of exciting characters into the fold, including Doom.
As one of Marvel's most iconic adversaries of all time, Doom is the type of villain that could easily fill Thanos' shoes and span multiple phases.
If Marvel introduces Doom in Phase 4, it would be a great opportunity to bring the Fantastic Four, Black Panther, and the Avengers together in an epic journey. This, of course, would likely include elements of the multiverse and could feature Doom seeking out what remains of the Infinity Stones to create a new reality.
This would line up well with the storyline in the first three phases of the MCU and usher in a whole new set of exciting characters. Although Marvel revealed a lot during Comic-Con, the studio has not released too many details about the MCU's next big threat.
The first movie to kick off Marvel Phase 4 will be next year's Black Widow. The movie, which is scheduled to open in theaters on May 1, 2020, stars Scarlett Johansson, David Harbour, O-T Fagbenle, Florence Pugh, and Rachel Weisz.