Marvel to Release 4 Movies a Year After 2020: Is This a Terrible Idea?
Four Marvel movies a year: Cause for celebration or too much of a good thing?
That's the debate going back and forth in movie circles. MCU fans are obviously thrilled at the prospect. For them, too much is never enough. 
Or is it? History has shown that genres go in cycles. They get incredibly popular, they get overexposed, audiences get bored, and the genres go away for a while before making a comeback. 
It happened with westerns. It happened with musicals. Could it happen to those seemingly invincible Marvel movies?
Marvel movies multiply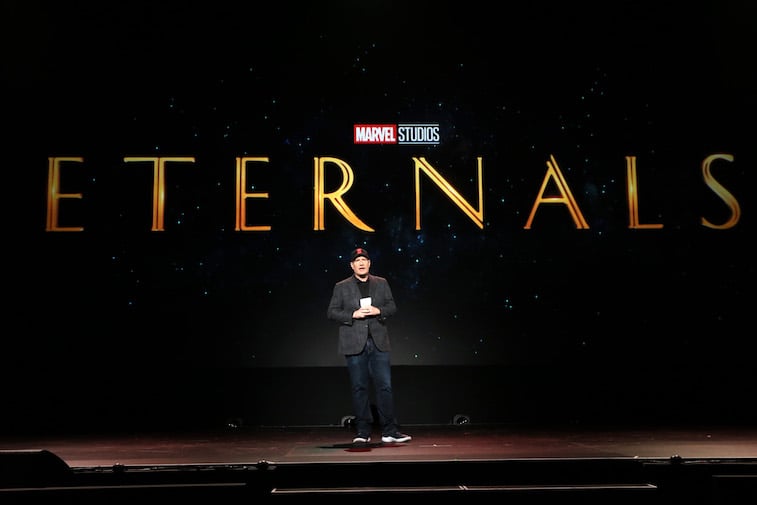 Here has been Marvel's pattern so far:
2008: Iron Man, The Incredible Hulk (2)

2009: None

2010: Iron Man 2

2011: Thor, Captain America: The First Avenger (2)

2012: The Avengers

2013: Iron Man 3, Thor: The Dark World (2)

2014: Captain America: The Winter Soldier, The Guardians of the Galaxy (2)

2015: Avengers: Age of Ultron, Ant-Man (2)

2016: Captain America: Civil War and Doctor Strange (2)

2017: Guardians of the Galaxy Vol. 2, Spider-Man: Homecoming, Thor: Ragnarok (3)

2018: Black Panther, Avengers: Infinity War, Ant-Man and the Wasp (3)

2019: Captain Marvel, Avengers: Endgame, Spider-Man: Far From Home (3)
After a somewhat slow start, Marvel Studios gradually ramped up production until we got two movies a year, then three movies a year for the past three years.
Next year, movies slow down a tick with only Black Widow coming out in May and The Eternals following in November. But in 2021, the gears really start turning with a record four movies: Shang-Chi, Doctor Strange and the Multiverse of Madness, Spider-Man 3 and Thor: Love and Thunder.
And none of this even mentions the Disney+ MCU shows which start coming out in 2020 – and at least one of those, WandaVision, will lead into the Doctor Strange sequel.
Ultimately, with TV and movies in the mix,. that may add up to a Marvel release every two weeks. 
How much is too much Marvel?
Although the Marvel movies have done anything but decline at the box office, there have been signs of Marvel fatigue within the Hollywood community. Big names like Jennifer Lopez, Jennifer Aniston, and most infamously, director Martin Scorsese, have all decried the dominance of franchises, saying that's made it harder for smaller, more personal films to get attention.
In an editorial for the New York Times, the legendary director wrote: "The situation, sadly, is that we now have two separate fields: There's worldwide audiovisual entertainment, and there's cinema. They still overlap from time to time, but that's becoming increasingly rare. And I fear that the financial dominance of one is being used to marginalize and even belittle the existence of the other."
Marvel will keep going as long as the audiences do
Despite the push-back, there has been no indication that Marvel has any intention of slowing down. One would think the bubble has to burst at some point. After all, Disney itself admitted they put too much Star Wars into the marketplace after Solo became the first Star Wars movie to lose money. Marvel hasn't reached that point — yet.
In a roundtable of Hollywood executives with the Hollywood Reporter, Disney chief Alan Horn was bullish about Marvel's future. Asked directly if one day it would not be cool to watch Marvel movies, Horn said, "The answer is no. If the film has a compelling storyline, if it has heart and humor, two things that I insist on, and it's terrifically well executed, I think there is an audience."
Then he added a very telling coda to that answer: "But who knows?"
Hollywood screenwriter William Goldman famously said "Nobody knows anything." We'll find out in a couple of years whether he or Horn are right.