Marvel v. Sony: Elizabeth Olsen Calls Tom Holland 'The Greatest Spider-Man to Me'
This year's D23 Expo brought with it plenty of announcements, most of which were very good. But when Tom Holland took the stage on Sat., Aug. 25, 2019, fans were disappointed to learn that the rumors regarding Spider-Man were true. Still, his castmates in the Marvel Cinematic Universe continued to pull for him. Here's what they had to say.
What's going on with Sony and Disney?
Over the past week or so, Marvel fans have been able to talk about little else other than the future of Spider-Man. For those unaware, Sony has owned the rights to the character (and many of those with whom he frequently interacts) for many years, dating back to Tobey McGuire's portrayal of the web-slinger.
Marvel (which is owned by Disney) and Sony were able to come up with an arrangement that allowed for Spider-Man to be a part of the MCU while also in his own films under Sony's banner. However, a recent monetary dispute involving producer credits has made things more difficult. As of Aug. 25, 2019, it appears as though Tom Holland will not be in any forthcoming MCU projects.
D23 brought out the stars of Disney+ series 
On Friday, Aug. 23, there was a Disney+ presentation at D23. Though Kevin Feige did take the stage, he didn't use this opportunity to talk about the future of Tom Holland and the Spider-Man franchise. Instead, he focused on the good.
Feige was there to talk about the new upcoming series for Disney+, including WandaVision and Falcon and the Winter Soldier, two of the most highly anticipated featuring established MCU characters. The eponymous stars of those shows, Elizabeth Olsen (Wanda Maximoff / Scarlet Witch), Paul Bettany (Vision), Anthony Mackie (Sam Wilson / Falcon), and Sebastian Stan (Bucky Barnes / the Winter Soldier)
The actors spoke about Holland's exit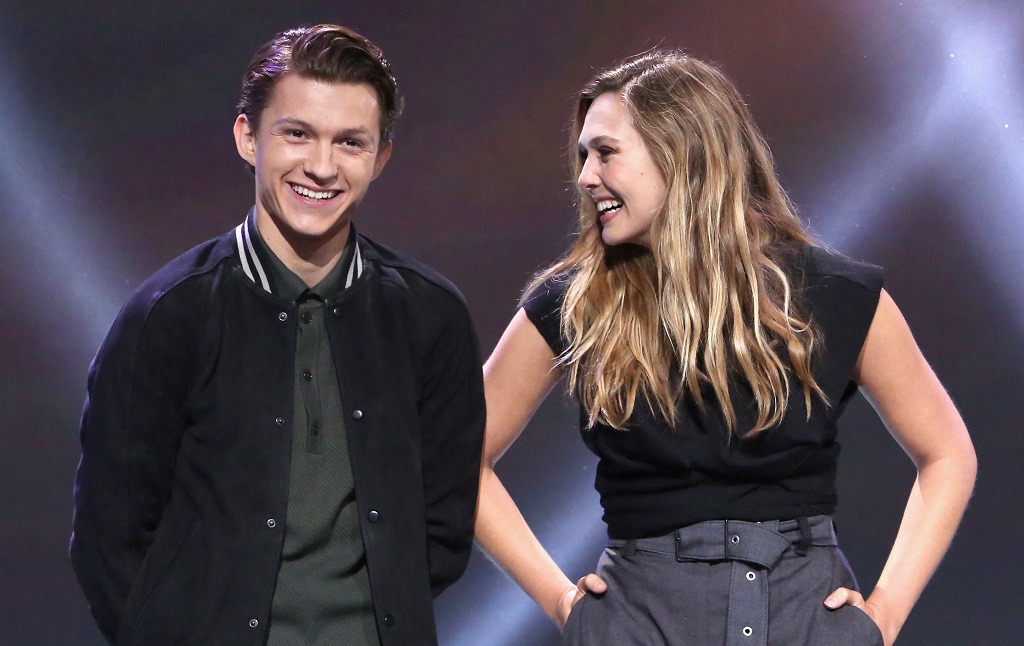 "That's so sad," said Olsen in an interview with Variety, as Bettany chimed in saying, "I don't want to talk about that." But Olsen continued. "First off, Tom is the greatest Spider-Man to me. He actually has that youthful energy, and the ability physically and emotionally [to play the character]. He's just been incredible and it's been really lucky that we've been able to work with him. And I think it's a big loss and it's really too bad," she said of him leaving the MCU. 
Mackie was also on hand to talk about the controversy. "We will always have little Tom, right here," he said stonefaced, circling the area around his heart. Stan chimed in, singing, "Tom: You are always on my mind, you are always on mind," the lyrics to Willie Nelson's popular song. "We love you, little Tom!" finished Mackie.
One actor was shocked by the news
Also in attendance was Jeff Goldblum, for his new Disney+ series The World According to Jeff Goldblum. Though the actor didn't work with Holland during their time in the MCU (Goldblum portrayed Grandmaster in Thor: Ragnarok, which Holland did not appear in), he was still upset by the news, saying, "This is the first I've heard of it! I'm crestfallen."  
Meanwhile, Marvel actor and director Jon Favreau was asked about his character Happy Hogan's relationship with Aunt May, as seen in Spider-Man: Far From Home. "They were quite a couple there," he said. "And as an actor, I had so much fun working with Marisa (Tomei) and Tom Holland." Favreau added, "I'm holding out hope and being optimistic that this isn't the final chapter of that story between those characters."