Marvel's 'Daredevil' Netflix Show: Everything We Know So Far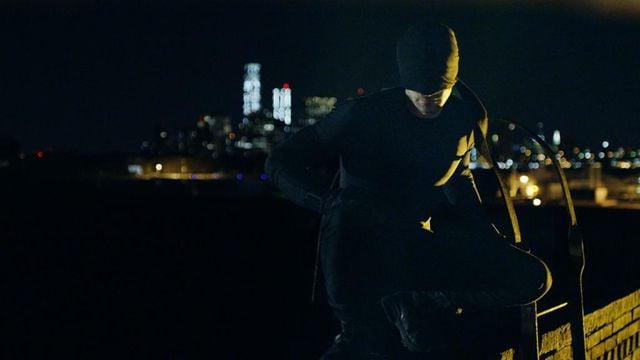 Marvel's new Daredevil TV show is set to debut exclusively on Netflix next year, and now fans are finally getting an intriguing first look at the project. The studio unveiled a clip from the Manhattan-set series at New York Comic Con earlier this month, and one thing is clear: viewers should expect a much darker, grittier take on the superhero story.
Though many fans only know Daredevil from the 2003 critically lambasted Ben Affleck movie, Marvel is clearly making efforts to distance its version from the previous one. Starring Boardwalk Empire's Charlie Cox as blind attorney Matt Murdock (aka Daredevil, as seen above), the studio's small screen adaptation is more in the vein of Frank Miller's Man Without Fear comic books, which feature a moodier hero in a corrupt and often immoral world.
"It's a constant struggle for Matt Murdock, and oftentimes he crosses the line, and one of the questions we ask in this show is how far will he go?" show runner Steven S. DeKnight explained, per The Wall Street Journal. "There'll be times on the show when you're not quite sure who to root for."
In addition to Cox, the show also stars Deborah Ann Woll as Matt's friend and love interest Karen Page, Vincent D'Onofrio as crime boss Wilson Fisk (aka the Kingpin) and Ayelet Zurer as Fisk's love, Vanessa. Meanwhile, Vondie Curtis-Hall plays reporter Ben Urich, Bob Gunton as Leland Owlsley (aka the villainous Owl), Toby Leonard Moore as Fisk's right-hand man Wesley, and Elden Henson as Foggy Nelson.
Rosario Dawson, whose exact role on the show remained unknown prior to Comic Con, also co-stars as Claire Temple, a figure who will aid Cox's Murdock. According to The Hollywood Reporter, Marvel TV head Jeph Loeb described her character as a "nurse who works at night," hinting she may eventually take on the role of another Marvel heroine, Night Nurse.
Several of the characters made an appearance in the series of clips aired at Comic Con, which introduced Cox as Murdock and showcased some of his efforts to clean up New York City's Hell's Kitchen neighborhood. In one, the vigilante saves Karen Page from an armed intruder who breaks into her apartment. In another, he interacts with Dawson's character Claire, refusing to tell her his identity after she saves him.
D'Onofrio shows off his version of Frisk in another clip, which shows him meeting his love, Vanessa, for the first time at the art gallery that she owns. Standing in front of a pure white painting, Frisk (in a black suit) makes for an imposing figure, but acts surprisingly sensitive, even admitting to Vanessa that the painting makes him feel alone. "He's a child and he's a monster," D'Onofrio explained of his character. "Every move that he makes and everything that he does in our story comes from his foundation of morality inside himself."
With each of the clips showing an alternating side to the main characters (a dark undertone to Murdock's heroic efforts, a vulnerable side to Frisk's villainous attitude), it seems to support DeKnight's claims that the show features "no heroes or villains. It's just people making different choices."
The 13-episode show will be the first of five series to appear exclusively on Netflix, along with Jessica Jones, Luke Cage, Iron Fist, and The Defender. As for the potential for future crossovers between Daredevil and other Marvel series, like Agents of Shield, it seems a likely possibility, with Loeb even admitting, "It's all connected, man."
Daredevil premieres on Netflix in 2015.
More from Entertainment Cheat Sheet:
Want more great content like this? Sign up here to receive the best of Cheat Sheet delivered daily. No spam; just tailored content straight to your inbox.