Marvel's New Project: Superhero TV Sitcom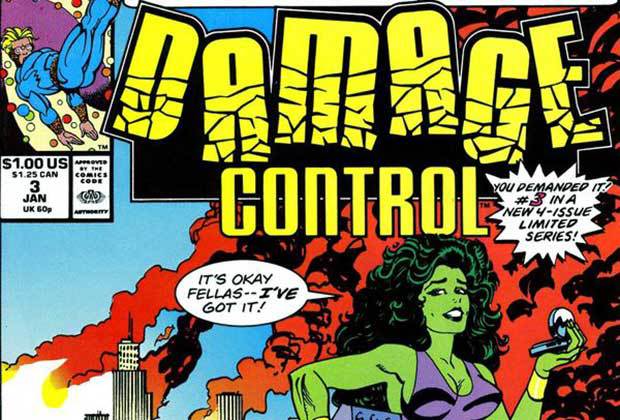 Marvel has begun to establish itself as a serious force in TV in recent years, with shows like Agents of S.H.I.E.L.D. and Agent Carter airing on ABC and a multi-series deal with Netflix. Now, the company is looking to expand its reach into comedy. ABC has reportedly just issued a put pilot commitment to Damage Control, a half-hour live-action sitcom based on Marvel's comic series of the same name.
According to Variety, the developing series will follow the fictional clean-up crew of the Marvel Universe, which specializes in dealing with the unique aftermath of superhero conflict. The overworked and underpaid Damage Control team is responsible for kooky tasks like returning lost ray guns to their rightful owners, rescheduling wedding venues after they've been vaporized in an epic battle, or tracking down missing prize pets that have been turned to stone. As Variety described of the potential project, "Sometimes the most important super heroes are the ones behind the scenes — and that's who Damage Control will follow."
The Damage Control company (which, in the comics, is originally owned by Tony Stark and Wilson Fisk) made its debut in the Marvel universe in 1989's Marvel Comics Presents #19. Since then, the group of characters has been the subject of three separate, four-part limited series. The characters have also had frequent minor roles in other Marvel comics, such as World War Hulk.
The possible new sitcom hails from Ben Karlin (The Daily Show, Modern Family). In addition to developing the concept, Karlin will also serve as executive producer alongside David Miner (Parks and Recreation, Brooklyn Nine-Nine) and Marvel's head of television, Jeph Loeb. ABC Studios and Marvel TV will produce the series.
For ABC, the project marks a chance for the network to expand its fruitful partnership with Marvel. Their first collaboration, Agents of S.H.I.E.L.D., just kicked off its third season, with the premiere drawing strong reviews and its highest viewership (4.9 million viewers) since early season two. After earning decent ratings and a positive critical response in its first season, Agent Carter has also been renewed for a second season, which will premiere in 2016.
With two successful dramas on the lineup, delving into a comedy like Damage Control seems like a natural extension for ABC and Marvel. Whether Damage Control will move forward and prove to be another hit remains to be seen, but comic fans will likely be excited at the prospect of seeing Marvel try something new and take on a sitcom format.
ABC also has two other Marvel projects in the works, in addition to Damage Control. The network is already working on the S.H.I.E.L.D. spin-off, Marvel's Most Wanted, which will revolve around Adrianna Palicki's Mockingbird and Bick Blood's Lance Hunter. A top-secret project from American Crime creator John Ridley is also in development.
Superhero-inspired comedies may soon be a growing trend on TV, as ABC isn't the only major broadcast network with one in the works. NBC also recently issued a pilot production commitment to a DC Comics workplace comedy in the vein of The Office, entitled Powerless.
Audiences will have to stay tuned for more details on the developing project. In the meantime, viewers can get their Marvel fix on the small screen with Agents of S.H.I.E.L.D., which airs on ABC on Tuesdays at 9 p.m. EST, and Jessica Jones, which hits Netflix on November 20.
More from Entertainment Cheat Sheet:
Want more great content like this? Sign up here to receive the best of Cheat Sheet delivered daily. No spam; just tailored content straight to your inbox.