Marvel's New X-Men TV Shows: 'Legion' and 'Hellfire'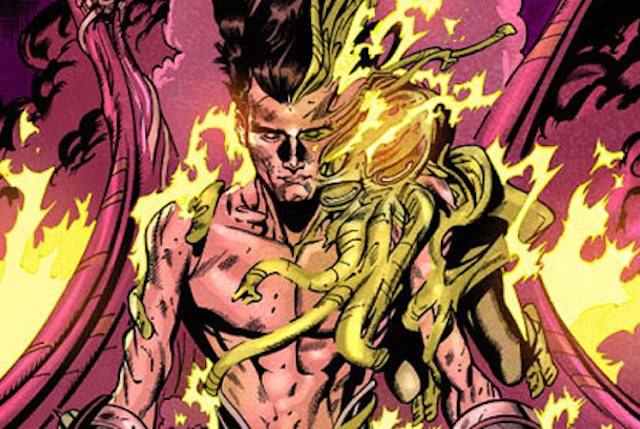 Marvel will soon bring two more shows to television, this time set in the world of X-Men. In a two-project agreement between the company and Fox Network Group, the channels FX and Fox have decided to move forward with two new, comic book-inspired dramas: Legion and Hellfire.
According to Deadline, FX has given a pilot order to Legion, which is based on the Marvel character (see above) first introduced in 1985. As comic book fans know, Legion, whose non-superhero name is David Haller, is the son of X-Men founder, Charles Xavier. The TV show will reportedly chronicle David's struggle to embrace his powers, starting with his teenage years when he's diagnosed as a schizophrenic. After years of bouncing in and out of psychiatric hospitals, David has a strange encounter with a fellow patient that makes him confront a new possibility: The voices he hears and the visions he sees might be real.
Noah Hawley, creator of Golden Globe-winning Fargo, will write the pilot. He will also serve as executive producer alongside the film franchise's director Bryan Singer and longtime X-Men producers Lauren Shuler Donner and Simon Kinberg. Marvel TV's Jeph Loeb and Jim Chory (Marvel's Agents of S.H.I.E.L.D. and Marvel's Daredevil) will also co-executive produce.
That's not the only X-Men-inspired show to result from the new deal. After months of rumors over the possibility of a Hellfire series, Fox is finally bringing the idea to fruition. Set in the late 1960s, the show will follow a young Special Agent who learns that a power-hungry woman with extraordinary abilities is working with a clandestine society of millionaires — known as "The Hellfire Club" — to take over the world.
Hellfire (a working title) was co-created by Evan Katz (24: Live Another Day) and Manny Coto (24), who will serve as co-showrunners, as well as by Patrick McKay (Star Trek 3) and J.D. Payne (Star Trek 3), who will write the pilot script. Meanwhile, Shuler Donner, Singer, Kinberg, and Marvel's Loeb and Chory will again serve as co-executive producers.
"We are thrilled to partner with Marvel to bring this world to television and build upon the vibrant mythology that has captivated fans for years," Fox Entertainment President, David Madden, said of the project. "These powerful and dynamic characters are complicated and larger-than-life, the pace and visual imagination are unrelenting, and the story takes place during one of the most explosive eras in recent history."
Per Deadline, neither series will have the X-Men branding, although both are set in the same universe. For Marvel, the shows will be the latest expansion of their rapidly growing television slate. The comic powerhouse already has two shows, Agents of S.H.I.E.L.D and Agent Carter, on ABC and a third series for the network in the works. It also has a four-show and limited series deal with Netflix, which kicked off earlier this year with the acclaimed Daredevil and will continue next month with Jessica Jones. Whether these latest series will prove to be two more success stories remains to be seen.
But the deal has bigger implications than just growing Marvel's presence on the small screen. With 20th Century Fox — which has long held the film rights to the company's X-Men — and Marvel finally working together, fans are already buzzing about what this collaboration could mean for the future.
One rumor is that Marvel may get the rights to Fantastic Four back from Fox in exchange for green-lighting these series, although that hasn't been publicly confirmed by either company. So are Legion and Hellfire really just the beginning of a beautiful friendship? Stay tuned to find out.
More from Entertainment Cheat Sheet:
Want more great content like this? Sign up here to receive the best of Cheat Sheet delivered daily. No spam; just tailored content straight to your inbox.