Marvel's 'Runaways' Canceled at Hulu: Will There Be a Reboot On Disney+?
The third season of Marvel's Runaways will be the last. Hulu reports that the entire third season, which consists of 10 episodes, will premiere on December 13, a Friday. Some fans were afraid the series would end before there could be a Season 3.
But the Hulu network is letting Marvel fans down softly, and viewers are delighted.
Marvel's 'Runaways' Season 3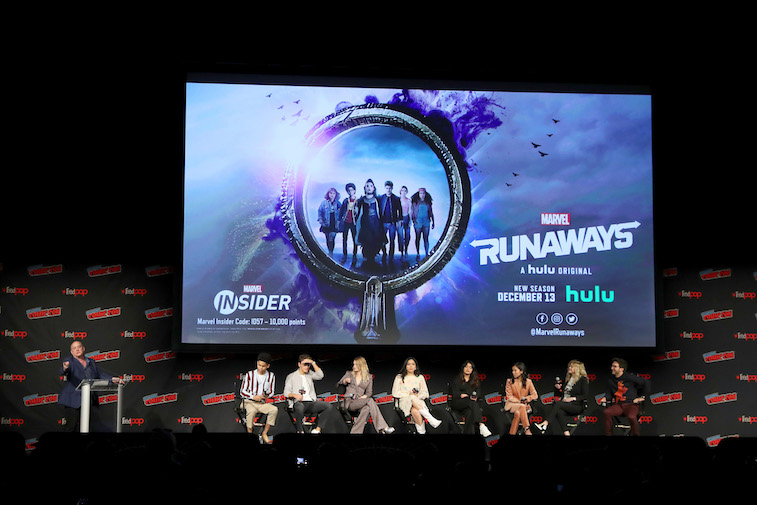 Several plotlines need closure, so having another 10 episodes will, fortunately, give the makers and the cast a chance to tie up loose ends. Here is a list of scenario arches that need to complete:
The Runaways need to find their lost friends, Chase, Gert, and Karolina.
Something has to take place regarding Jonah's Gibborim spirit taking over James Marsters' "Victor," and his alien daughter and wife taking over Stacy (Brigid Brannagh) and Tina (Brittany Ishibashi).
And what about Jonah's son? He's the worst of the bunch and could be hiding inside anyone.
The showrunners have promised that everything will be wrapped up in a beautiful package by the end of Season 3.  All questions will have answers, and all issues will be resolved or close to it.
It seems that Hulu wants the best for the show, cast, crew, and writers. After all, Marvel's Runaways was the first Marvel show to be included in the Hulu library of shows. And the fact is that the Cloak & Dagger cast is going to mesh with the cast of Runaways for Season 3.
What's this talk about Disney+?
Some fans think that Marvel wants the show to broadcast on Disney+ ongoingly. They would like to see their favorite TV characters have a closely connected association with the Marvel Cinematic Universe (MCU).
It is necessary to understand the launch of Disney+ if you wish to understand MCU. Already, 16 various titles from the MCU are going to be available on the Disney+ platform. For example, Marvel followers can watch Marvel Studio's Iron Man, which isthe beginning of the Avengers' franchise. What is called the Infinity Saga ends with Marvel Studio's Avengers: Endgame.
Interestingly, the upcoming Marvel shows delivered from Disney+ are going to be intertwined with what's coming out on the big screen, according to Marvel President Kevin Feige.
Fans are eagerly awaiting the small screen shows that will undoubtedly add much to the MCU backstories.
Is Disney+ buying Hulu?
Business Insider says after the Disney-Fox merger, Disney (which owns Marvel) now owns a majority of Hulu and is likely to purchase Hulu straight-out in the future. The plot is thickening. The business-types tell us also that Netflix canceled all its Marvel TV shows, and Disney ended its licensing deal with Netflix this year.
There are rumors that Disney will own the shares of Hulu that Comcast (who owns 30 percent of Hulu), and AT&T's WarnerMedia (who owns 10 percent of Hulu) now possess. We could say that it's all in Disney's hands. Naturally, fans are eagerly awaiting the small screen shows that will undoubtedly add much more to the MCU backstories.
Will 'Marvel's Runaways' get another season?
Once Disney+ gets situated, Marvel shows may get a boost. Feige and the Marvel film division are producing the limited series The Falcon and the Winter Soldier, coming out sometime next year.
Disney is interested in pleasing core fan bases, like Marvel-lovers. This fact, along with Disney's Hulu relationship, may mean we'll see the Runaways again.