'Masterchef' Christina Tosi Talks About Succeeding in the Male-Dominated Culinary World
Christina Tosi of Masterchef is a trailblazer in the culinary field. Founder of the renowned bakery Milk Bar and winner of two prestigious James Beard Awards, the pastry chef is expanding her brand to store shelves. She recently partnered with Nestlé Toll House on a forbidden favorite, soon to hit your local grocery store.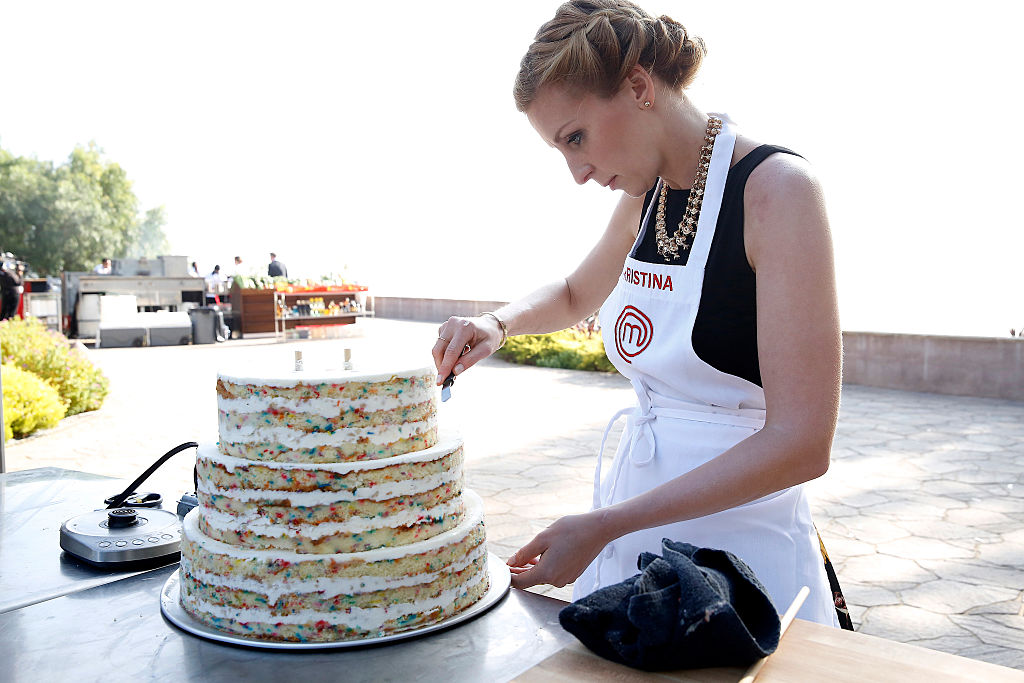 Blazing a trail for women
According to her website, Tosi was a math major who "fell into baking." She clearly landed on firm footing, making a name for herself with innovative creations like Compost Cookies and Cereal Milk Panna Cotta. Her Milk Bar bakery currently has 16 locations, and she's still growing.
"I would say it's been 20 years of a pursuit. And I'll let you know the second that I think I've gotten there," Tosi told Showbiz Cheat Sheet with a laugh on being successful in the male-dominated culinary world. "I was raised by a mom and dad that really put the foundation down in basic and meaningful terms … to passionately pursue the thing that I chose to do for a living. To always be myself. Because no matter what happens, the one thing that I could always fall back on … that I was myself without apology."
Tosi also talked about the importance of being an individual and not to give compare herself to others. "What really did help me, especially in my first 10 years of being a young pastry cook in demanding male-dominated kitchens, was to not be worried about other people … to be passionate about this craft and be myself and not worry about how I measure up against someone else," Tosi shared. "It kind of helped build a force field around myself and allowed me to not think about what was different about me in the landscape of an all-male kitchen, but instead to say I want to be the best pastry cook this kitchen has ever seen and go out pursue it, and not to define myself as the only female or the only this or that."
Masterchef mentors
When Tosi began getting offers to work her magic on television, she sought opportunities that represented the breadth of the food industry. "It's really important for me that the choices I make from a TV standpoint are ones where I can help my industry show its diversity in skill, and what success looks like," she shared. "To show that I am a real person and role model for people that are thinking about a career in food or as a woman in a world that there might not be a lot of women, trailblazing in any way. Someone that just says, 'I want to bring more imagination, magic, and color to an otherwise perhaps bland or seemingly boring space.'"
Tosi has judged several seasons of Fox's Masterchef and Masterchef Junior, most recently working alongside award-winning chefs Gordon Ramsay and Aarón Sánchez. "It's really interesting. We're all on the same team but we all have very different personalities," she told Showbiz Cheat Sheet. "We all have different pet peeves and tendencies in the way that we support and coach … even in the way that we see a tomato or a cut of ribeye. I think what that means is that we see different potential in different home cooks."
The Milk Bar founder chooses to assess home cooks on the show in different situations, and how they respond under pressure. "I see a way that they handle themselves under stress, or season something, or bake. I see something in their intuition and I attach to it and I invest in it," Tosi shared. "Gordon has other pet peeves and other nuances in the way that he's thought about building his own teams, where he spots talent differently. Ditto with Aarón. I think we end up having a very passionate team amongst the three of us judges, one that's also respectful enough to challenge when we disagree, and to give one another the space to bond with the home cooks and mentor them in any given challenge scenario."
A childhood favorite
Tosi is partnering with Nestlé Toll House to launch two new products – Edible Cookie Dough and Unicorn Morsels. She loved the creativity and imagination of the new items. "I grew up in the suburbs. My access to inspiration and innovation was in the aisles of the grocery store. I would have died when I was 8 years old if my mother told me that she would buy me a pint of edible cookie dough! It's still my favorite thing in the world. So this is really, just for me, a love letter full circle." Tosi said of the venture.
The James Beard Award winner shared that she has specific factors that drive her creations. "I make a lot of choices At Milk Bar. I say, 'How do I inspire the world to engage like my 8-year-old self?' That helps lead my instincts and intuition. It's really exciting what Nestlé is doing in their own right to inspire these generations at their local grocery store. It's more magic, more fun, more permission to indulge and create community."
Look for the two new Nestlé Toll House products on your supermarket shelves!