Matt Damon and Christian Bale Reveal Top Movie Skills They Use In Real Life
The two stars of Ford v. Ferrari have skills and they know how to use them. Matt Damon and Christian Bale learn lines for the roles they play, but they've also become good at — and use in real life — the most random things they've learned on set.
'Ford v. Ferrari' is based on a true story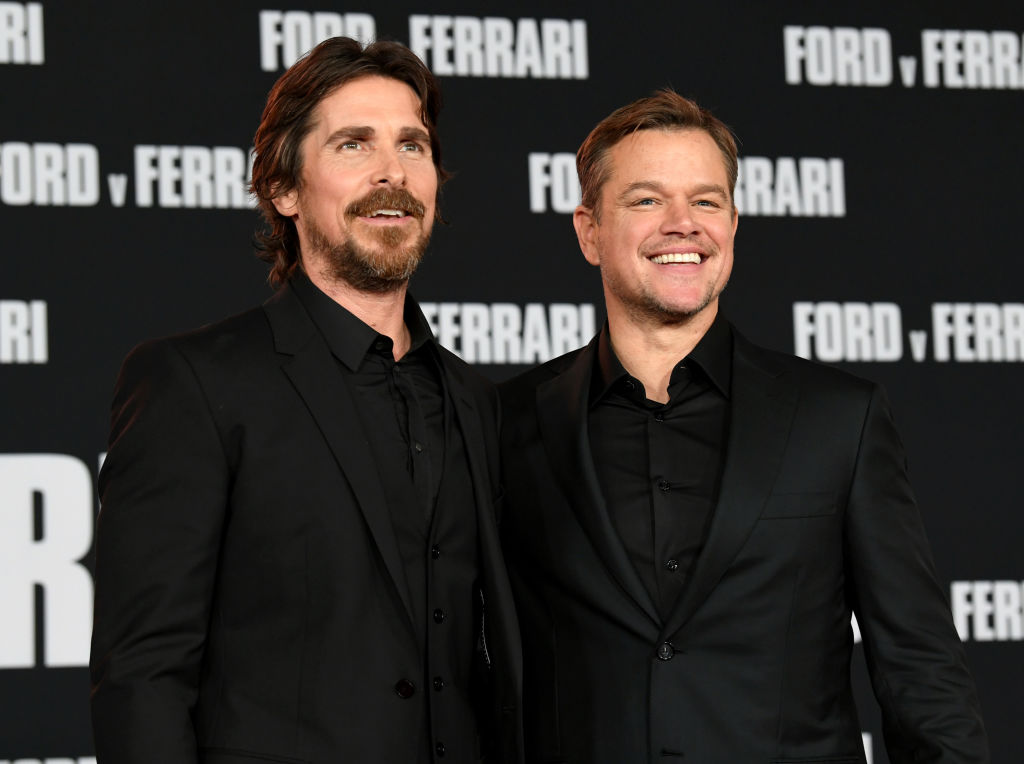 Bale lost around 70 pounds to play British World War II veteran and professional race car driver, Ken Miles for Ford v. Ferrari. Damon plays a car designer, Carroll Shelby, who's tasked with creating a "revolutionary car" for Ford to challenge Ferrari 24 hours later at Le Mans in 1966.
The feat is something that once seemed impossible, but Ken and Carroll come together to prove cynics wrong. Tom Cruise and Brad Pitt were both attached to the film in the early stages, which was around 15 years ago. The story changed a lot in the time since.
Director, James Mangold recreated a track to mimic the original because it no longer exists. The movie, producer Peter Chernin explained to The Hollywood Reporter, had tricky racing scenes.
"We shot in four different locations at different times, months apart. Le Mans doesn't look anything today like what it looked like, so we had an idea of how to re-create the race track," he said.
"We built the grandstands in an airport up in Santa Clara. But we shot two of the turns in Georgia. And we were shooting them months apart with different cars, so it was incredibly complicated to just get the choreography of the race going."
Driving professionally is a skill and some actors take to method acting to get the job done. However, as far as how much Bale actually drives in the movie, Chernin told Cinema Blend the answer may surprise you.
"He is doing very little driving. [Laughter] He is driving to work in the morning."
What movie skills do Damon and Bale use in real life?
Bale may not drive much in a movie about driving, but what about skills learned in other movies? He told People he learned some applicable race car driving skills in the movie.
"I do think the driving skill is very practical," Bale said. "I do feel confident, I feel like justifiably, we've learned how to put a car through its absolute extremes and paces. It's not just the speed, but also just testing breaks and really pushing that, and so I do feel good about that."
Damon's skillset differs ever so slightly, saying he's learned a lot of "fake fighting," to which Bale said he'll fight anyone, "as long as I could just miss you by an inch."
Another of Bale's real-life offerings include ropes.
"I can do a bit of trick roping," he sais. "It's not in use every day, but I can do it a little bit. I learned that a while back. Horseback riding too, with that I could jump on [the horse] backward and whatnot."
While trick roping sounds cool, Damon learned something a little more practical.
"I had never played golf, and I learned how to play golf and for the last 20 years of my dad's life, we'd always play around the golf, just me and him walking around together."
He added that though he hasn't played since his father passed, someday, he may play a round with his kids. Damon also knows how to play Poker, which isn't something he did before a role.
Bale and Damon both admitted it takes them a while to learn the skills, then they forget them almost as soon as each movie wraps.
Here's what Damon and Bale have coming up
Damon is gearing up to write a script about 14th-century knights in the Ridley Scott-directed The Last Duel. His bestie, Ben Affleck, will help write the script and one, or both, may also star in it.
The movie follows best friends who become enemies. Both are sentenced to a duel to the death where whoever loses, that wife will then be found guilty and burned at the stake. No pressure.
That aside, Damon's also been busy trying to get his kids to watch his Oscar-winning film, Good Will Hunting, but said they're not having it.
"It's total resistance," he said. "I am kind of trying to force them, it's not working. I'm like, 'Are you sure you don't want to see Good Will Hunting? You know your dad and Uncle Ben wrote it, right?' 'Yeah, dad, I know.' It's like, 'Nope.'
Bale's IMDb page doesn't show any projects lined up yet, but that doesn't mean he's out of work. If nothing else, the Ford v. Ferrari star can advocate to Damon's kids why they should watch Good Will Hunting.