Mattel Scores From Barbie's Latest Career Choice: Swimsuit Model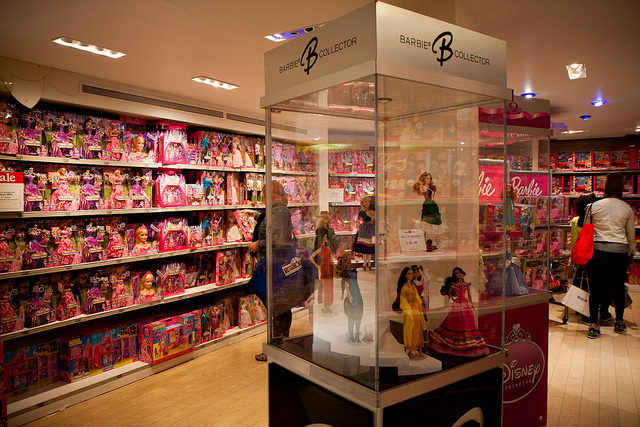 It was a big risk for Mattel Inc. (NASDAQ:MAT) to decide to put Barbie in this month's Sports Illustrated issue, but it was a risk that the company decided to take, and now it's clear that that gamble is paying off. Bloomberg reported Wednesday that Target's (NYSE:TGT) website, the only place one can find the limited-edition Barbie, is witnessing impressive sales for the iconic doll, having already sold out half of its inventory in just two days, and now the success is even pouring over to eBay.com (NASDAQ:EBAY), where Barbie is going for $59.99 — three times the product's $19.99 retail price.
It's now interesting to see such heightened demand for the doll that was first introduced in 1959, because truth be told, Barbie's appearance in Sports Illustrated was actually highly controversial, and many blasted the publication for featuring an icon that many believe degrades women. Critics took to social media this month to criticize Mattel — the world's largest toymaker — for once again putting a spotlight on Barbie and the unrealistic message she sends to girls.
But company spokespeople have stood by their assertions that there is nothing wrong with being a model or wearing a bikini, because, as Barbie said in her recent open-ed, "Today, truly anything is possible for a girl. Let us place no limitations on her dreams." Barbie appeared in the Sports Illustrated issue that went on sale February 11 wearing a black and white striped one-piece bathing suit.
According to Bloomberg, Mattel has been plotting its Barbie feature for eight months now, and it operated with the intent to promote Barbie as an icon, even in a day and age when the role of women in society is still highly contested. February 2014 conveniently worked out to be the perfect time to feature the doll because it was the month that Sports Illustrated planned to celebrate its 50th anniversary and feature legendary swimsuit models, and considering Barbie wore a swimsuit back when she was introduced in 1959, Mattel saw the opportunity as a clear way to reintroduce her to the public and once again boost her pop culture appeal.
When questioned about the spot, Mattel Senior Vice President of Marketing Lisa McKnight maintained that the company's primary goal was to "start a conversation," and that the Barbie feature definitely did, as many debated in the press and via social media channels whether the move was the right one for the Mattel brand, while others simply took to Target.com and eBay to purchase the doll themselves.
When crafting Barbie's Sports Illustrated campaign, Bloomberg reports that Mattel purposefully set up her spot to show she is unapologetic for who she is. As previously mentioned, Mattel published an op-ed this week where Barbie stands by the idea that there is nothing wrong with a woman in a bikini, and Mattel spokespeople told Bloomberg that Barbie's persistence is supposed to be a nod to the bold attitude found in "Lean In," the best-selling book by Facebook's (NASDAQ:FB) Sheryl Sandberg.
Some applauded the connection, while others didn't, but regardless, Mattel is still celebrating its victory all the way to the finish line, because the Barbie brand desperately needed a sales boost prior to the doll's feature — and that it definitely got.
More From Wall St. Cheat Sheet: