'Mayans MC' Season 2: Everything We Know About 'Sons Of Anarchy' Crossover Characters
Season 1 of Mayans MC featured a surprising number of crossovers with Kurt Sutter's original series, Sons of Anarchy. Those special crossover moments are expected to continue in the spin-off's sophomore season and beyond. Given how everything ended in Season 1, the scenes that feature Sons of Anarchy characters are likely going to be very stressful moving forward. With the Season 2 premiere of Mayans MC just around the corner, here is everything we know about the Sons of Anarchy crossover characters.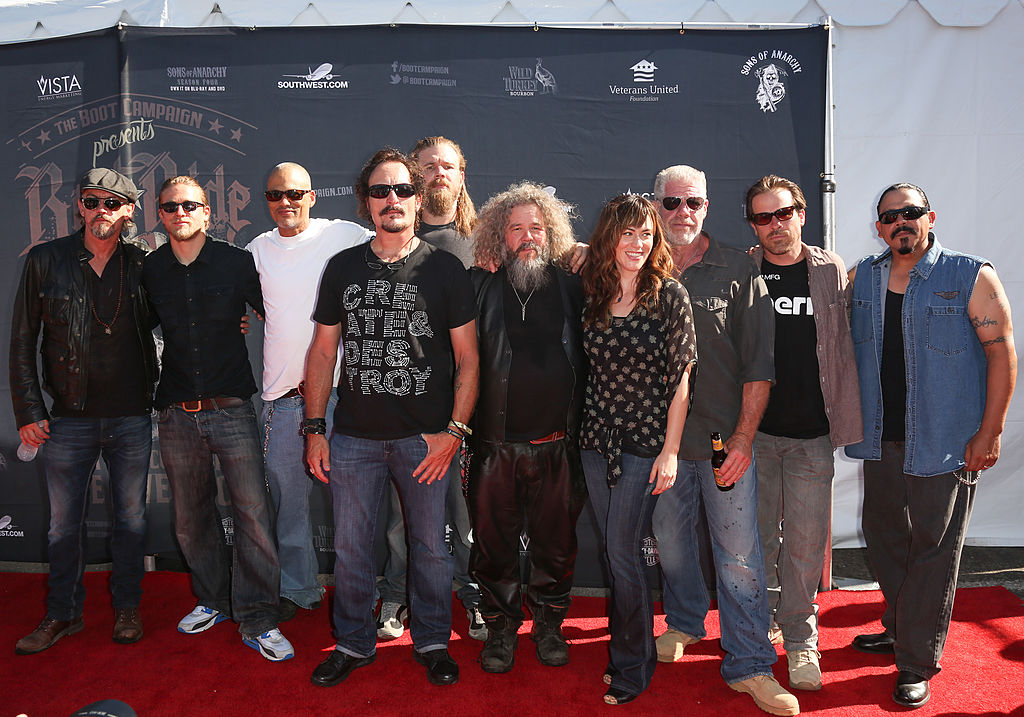 Happy Lowman
David Labrava's Happy was one of the few characters who survived all seven seasons of Sons of Anarchy. Fans were thrilled when Happy appeared on Mayans MC, even if it was at the very end of Season 1.
While it was great to see Happy back in action, we also learned that he was responsible for murdering EZ's (JD Pardo) mom, whom we have not met. Happy's involvement in the killing will have a significant impact on his storyline in Season 2, though his journey will likely not end well.
According to Cinema Blend, co-creator Elgin James opened up about Happy's story in Season 2 and revealed that we have not seen the last of Labrava's character. James said that working with Labrava was great and that Happy's story this season has a lot of facets to explore. James did not go into any details about what's ahead for Happy on Mayans MC, but he did say that the character will get plenty of screen time. There is no telling how long Happy will live, but it sounds like it will be a little bit before EZ gets his revenge.
"Working with D.L. has been amazing, you're going to see a lot of Happy this season because there's a lot of stuff to unpack. I can't say where it ends because we're still figuring it out, but you can expect to spend a lot of time with the character this season," James shared.
Marcus Alvarez
Marcus Alvarez (Emilio Rivera) kept his position as a respected leader for the Mayans in Season 1. Not only did he ensure that the club did everything right, but he also made sure EZ got the full experience of being a prospect.
The Season 1 finale of Mayans MC, however, showed Alvarez taking a deal to work for the Galindo cartel over the club. The decision will affect Alvarez's story moving forward, especially when it comes to his relationship with the Mayans. Rivera has remained quiet about his character's journey in Season 2, but he did recently open up about the possibility of another exciting Sons of Anarchy crossover.
Jax Teller
Ever since Sutter announced his plans to create Mayans MC, fans have dreamed of Charlie Hunnam returning as Jax Teller. Jax, of course, died at the end of Sons of Anarchy and is not alive during the events of the spin-off. But that does not eliminate the possibility of Hunnam making a cameo in future seasons.
Unlike the original series, Mayans MC has already used flashbacks as an element of storytelling. We saw this last season in the form of Katey Sagal reprising her role as Jax's mom, Gemma Teller.
This opens the door for any Sons of Anarchy character to make an appearance on the show, and Rivera would love nothing more than to see Hunnam back in action.
In a recent interview, Rivera explained how he would love to work with Hunnam again and that Sutter seems open to including more flashbacks in future seasons of Mayans MC. That does not mean Hunnam will be back for sure, but it is definitely a step in the right direction.
Lincoln Potter
Lincoln Potter (Ray McKinnon) was one of SAMCRO's most successful adversaries, coming closer than anyone to actually taking Jax and his club down. While his efforts were ultimately sidelined for bigger purposes, Potter is determined to bring that same level of intensity to the Mayans. In fact, James recently teased that we have not seen the last of Potter, whom he characterized as an "agent of chaos."
Although Potter has his grip on a lot of characters, James promised that the new season is all about retribution, something that might not bode well for Potter and company.
Season 2 of Mayans MC is scheduled to premiere September 3 on FX.