'Mayans MC' Season 2: Everything We Know About The 'Sons Of Anarchy' Spin-Off
After a strong showing last year, FX officially renewed Kurt Sutter's Sons of Anarchy spin-off, Mayans MC, for another run. The first season wrapped up relatively peacefully for JD Pardo's Ezekiel "EZ" Reyes, though he still has some unfinished business ahead of him. From filming scheduled to plot lines, here is everything we know about Season 2 of Mayans MC.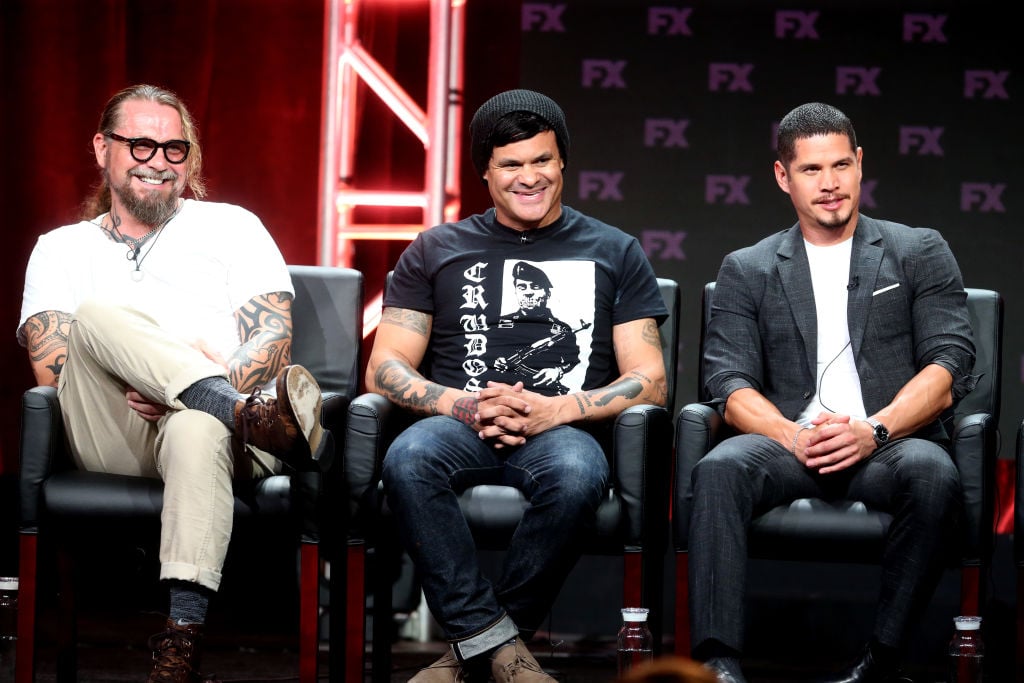 FX renews 'Mayans MC' for Season 2
Between the high ratings and large fan base, it was almost a given that FX would renew Mayans MC for another year. According to Deadline, the network officially announced the renewal in October, a few weeks before Season 1 ended. The president of FX's programming department, Nick Grad, praised the series for attracting new viewers while keeping the franchise's original followers happy, something most spin-offs fail to do.
"Mayans MC is performing fantastically, proving to be a breakout first season," Grad shared. "We couldn't be more excited to take this ride to a second season."
Sutter started working on the script for Season 2 of Mayans MC back in January. The SOA creator previously revealed that production will begin sometime in May, so fans should learn more on that front in the coming weeks. As far as a premiere date is concerned, FX has yet to make an announcement. If the show stays on schedule and repeats what it did in Season 1, it should be back by the time fall rolls around.
What 'Mayans MC' storylines are ahead?
Sutter recently shared that he is still working out the major details for Mayans MC Season 2, but we do know what some of the main storylines will be moving forward. One of the biggest plot points will be how EZ deals with Happy (David LaBrava). Last season, EZ found out that Happy was the person who murdered his mother. EZ will undoubtedly look for revenge in Season 2, but he will need to tread lightly because of Happy's ties with SAMCRO.
The Mayans will also be dealing with Lincoln Potter (Ray McKinnon), who is now in control of EZ's case. Last season, EZ struggled with being an informant to the FBI and ended up killing the agent working on his case. Potter has already given EZ a clean slate, but he stills owes the district attorney a favor for clearing his name. Given how Potter almost took down SAMCRO in Sons of Anarchy, EZ will definitely need to watch his back whenever Potter is around.
Galindo cartel and EZ's family drama
Another story that will drive the upcoming season is related to the Galindo cartel. The drug organization is now headed by Miguel Galindo, who is juggling a strained relationship with the FBI and a tentative association with a group of rebels.
Miguel has also removed Marcus Alvarez (Emilio Rivera) from the Mayans and has him working with his team. It is unclear how the Mayans will deal with the absence of their president, but it should definitely make things interesting.
Lastly, the drama between EZ and Angel will likely continue next season. Last year, Angel tried to push EZ away from the club and admitted that he always felt like he was living under his shadow. Given how family drama played an integral part in Sons of Anarchy, there is a good chance things will boil over in Season 2.
Richard Cabral dishes on Sutter's creative process
Shortly after the end of Season 1, Mayans MC star Richard Cabral discussed what it is like working under Sutter and how he creates such intense storylines. Cabral, who plays the part of Johnny "Coco" Cruz, revealed that Sutter never knows exactly where the story is headed and usually just goes with the flow. This is one reason why the scenes seem so organic, though it can be a bit tricky not knowing what is going to happen to your character.
When it comes to Season 2, Cabral did not divulge any spoilers about what is ahead. The actor did, however, say that he hopes his character continues to develop a close bond with EZ and that the show dives deeper into their stories.
Season 2 of Mayans MC is expected to feature 10 episodes and premiere later this year.