'Mayans MC' Sets Premiere Date As JD Pardo Opens Up About Those Charlie Hunnam Comparisons
FX just announced when the new season of Mayans MC will premiere. The exciting announcement comes amid a Sons of Anarchy cast reunion, which has generated a lot of buzz about what's ahead on the spin-off's sophomore season. Here's a look at everything we know about Season 2 of Mayans MC, including the official premiere date.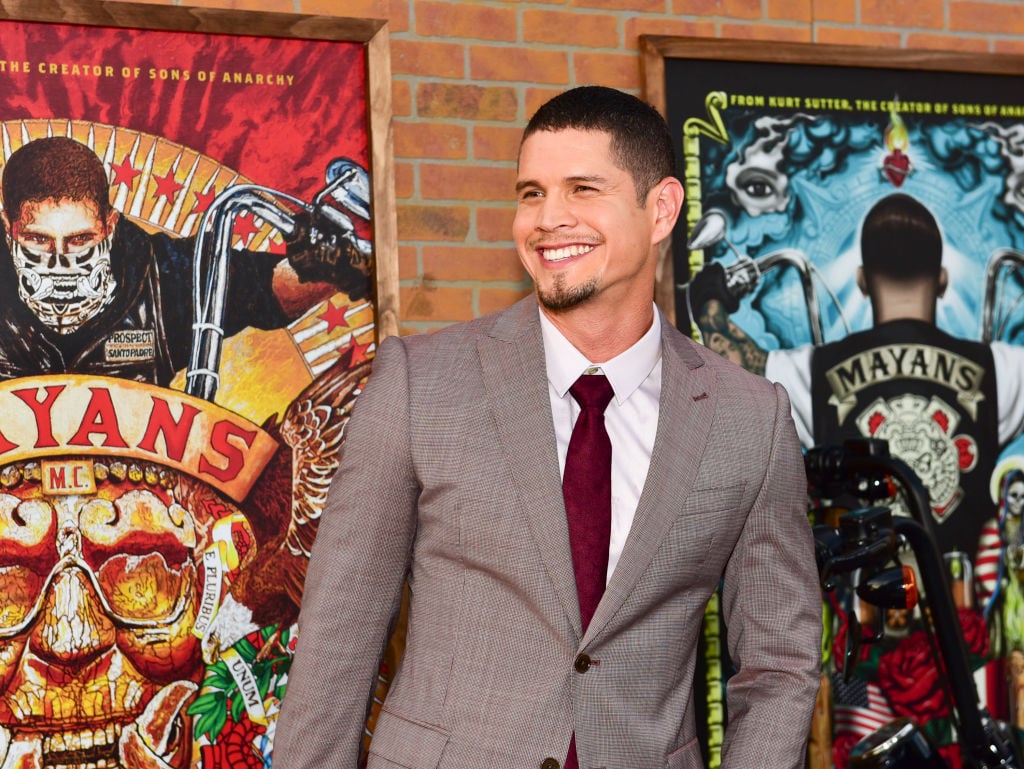 When will 'Mayans MC' return to FX?
FX officially confirmed that Mayans MC will return on the night of Sept. 3. The premiere is almost exactly a year after the series debuted on the network. FX announced the renewal before the first season was even over and Nick Grad, the president of programming at the network, could not be happier about Kurt Sutter's new show.
"Mayans M.C. is performing fantastically, proving to be a breakout first season," Grad shared. "The series premiered as the highest rated cable series this year and continues to sustain a committed fan base, reflecting the talent and drive of creators Kurt Sutter and Elgin James."
According to Pop Culture, Sutter and his team started writing the second season of Mayans MC at the beginning of the year. The cast had their first table read in May, when Sutter revealed that one of the themes of the season is "power."
Sutter previously shared that he usually takes 16 to 18 weeks to write a full season and once everyone is onboard, production begins. Sutter did not reveal any details about the new season outside of saying they have many directions they could go.
JD Pardo opens up about Charlie Hunnam comparisons
With production underway and a premiere date set, JD Pardo recently opened up about what it is like picking up where Sons of Anarchy star Charlie Hunnam left off. Because they both play the lead in their respective shows, Pardo is used to being compared to Hunnam. Although it is scary following in Hunnam's footsteps, Pardo revealed that was why he took the role in the first place.
While he enjoys the comparisons, Pardo understands that Jax Teller and EZ Reyes are completely different characters who are introduced at contrasting points in their lives.
Sons of Anarchy, for example, begins with Jax as the vice president of SAMCRO, whereas EZ is a prospect in Mayans MC. With that in mind, Pardo wants to avoid playing a "karaoke version" of Hunnam's Jax, which would be a disservice to fans and the original show.
What's ahead in Season 2 of 'Mayans MC'?
One of the stronger points of Season 1 of Mayans MC was the presence of strong female characters, like Sarah Bolger's Emily. In season one, Emily rekindles things with EZ shortly after he gets out of prison. Emily played an important role in EZ's journey last year, but she also embraced the violent world of biker gangs in a way that even she did not expect.
The series will explore Emily's story even more in Season 2, largely thanks to the female writers Sutter and Elgin James have brought to their table.
James recently opened up about how the majority of the writers on the show are women and why they opted to hire a diverse staff. Between Sutter and James, they both had experience writing television shows and living criminal lives, but neither of them could bring a female perspective to the series. Sutter has a history of incorporating strong female leads into his shows, and bringing female writers to the team ensured they did it right.
A 'Sons of Anarchy' reunion
While Sutter gears up for another season of Mayans MC, several Sons of Anarchy alums recently got together for a short reunion. This month, Kim Coates, Tommy Flanagan, David Labrava, and Drea de Matteo got together to celebrate Mark Boone Junior's wedding. The stars even got the chance to snap a selfie together and shared the photo on social media for all of their followers to enjoy.
On the original show, Coates appeared as Alex "Tig" Trader, Boone played Robert "Bobby Elvis" Munson, and de Matteo portrayed Wendy Chase. Labrava, meanwhile, starred as Happy Lowman.
This, of course, is not the only Sons of Anarchy reunion that took place this year. A few months ago, Charlie Hunnam and Ryan Hurst, who played Opie Winston, teamed up to teach a yoga class at a comic-con in Detroit, Michigan.
Mayans MC returns to FX Sept. 3.