MCU Leak: Marvel Reveals When And Where 'The Eternals' Is Set
Exciting news, Marvel fanatics! We're one year out from the scheduled release of the 24th entry in the MCU: The Eternals. This film is a brand new property based on comics that have yet to be explored in the Marvel Cinematic Universe thus far. Here's what we've recently learned about the movie.
'The Eternals' is due out Nov. 6, 2020
This is a property that not many are quite as familiar with. Thus, it was a bit of a surprise to many (though not for avid trackers of the message boards) that Marvel's next new IP is based on the comics of the same name. It was first teased back in 2018, but it wasn't until San Diego Comic-Con in July 2019 that the film was officially announced.
Here's what you need to know about The Eternals (referred to as Eternals in the artwork, but most sources are using the comic book name): They are an ancient race of superpowered humanoids created by the Celestials. Their comic origins date them back one million years, but their adventures occur throughout the ages, including during Ancient Greek times.
Here's who's set to star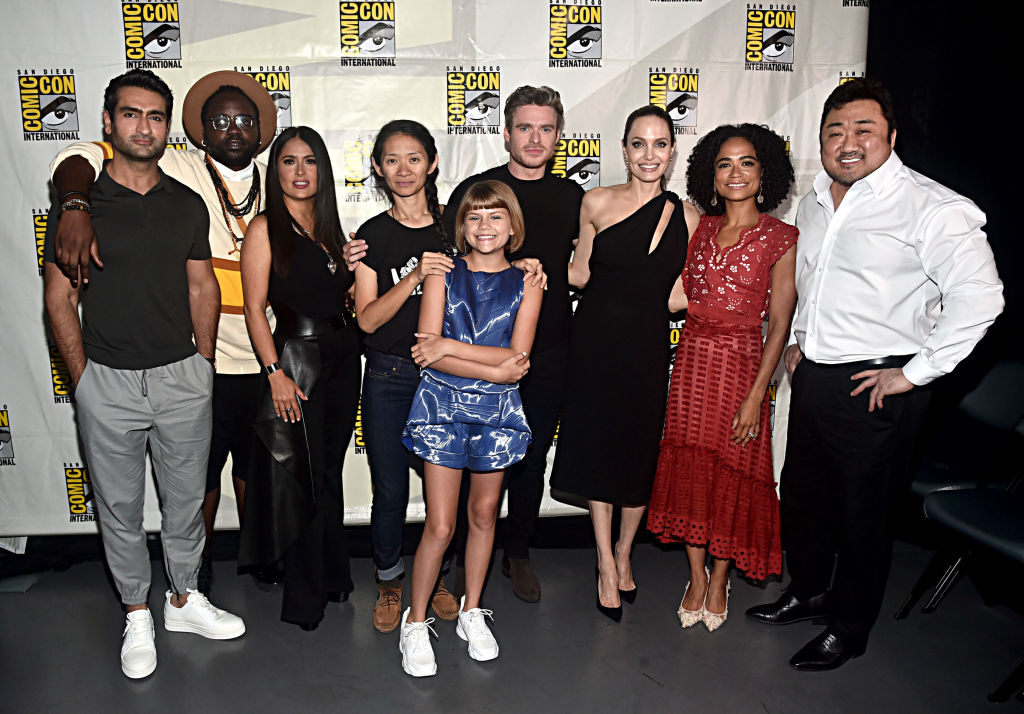 Several of the characters from The Eternals comics are being adapted for the big screen. And at Comic-Con, a star-studded ensemble gathered together to announce that they will be portraying them in the upcoming MCU adaptation.
As seen above: Kumail Najiani is Kingo Sunen. Brian Tyree Henry is Phastos. Salma Hayek is Ajak. The film is directed by Chloe Zhao. Lia McHugh is Sprite. Richard Madden is Ikaris. Angelina Jolie is Thena. Lauren Ridloff is Makkari. Don Lee is Gilgamesh. Not pictured are: Karry Keoghan (Druig), Gemma Chan (Sersi), and Kit Harrington (Dane Whitman).
Where and when 'The Eternals' is set
According to ComicBookMovie.com, the film will take place throughout different periods of time, and the present day is likely to be one of them. These characters have been on early for centuries, and so, while Greek mythology is a bit part of comic book canon, we don't know exactly when and where we'll see them.
However, a new leak has revealed one location in time. Ridloff posted a photo on her Instagram Story holding up a costume she may be wearing as Makkari. In the background, fans identified a sign which read "Babylon 800BC." So now we have a where and a when for one scene! That's pretty exciting.
What else do we know about the film?
So far, there's very little information available about The Eternals. However, with set photos beginning to leak from London, the Canary Islands, and more, we're beginning to put pieces together.
For now, though, we're mostly concerned with the safety of those working on the film. After a bomb was found nearby, stars Jolie and Madden were evacuated from the area. It appears as though no one was hurt, fortunately. Let's hope they can continue to film in peace as the one-year countdown to the release of The Eternals begins.